Jessica Simpson's Bachelorette Body and Kendall Jenner's Restaurant Rudeness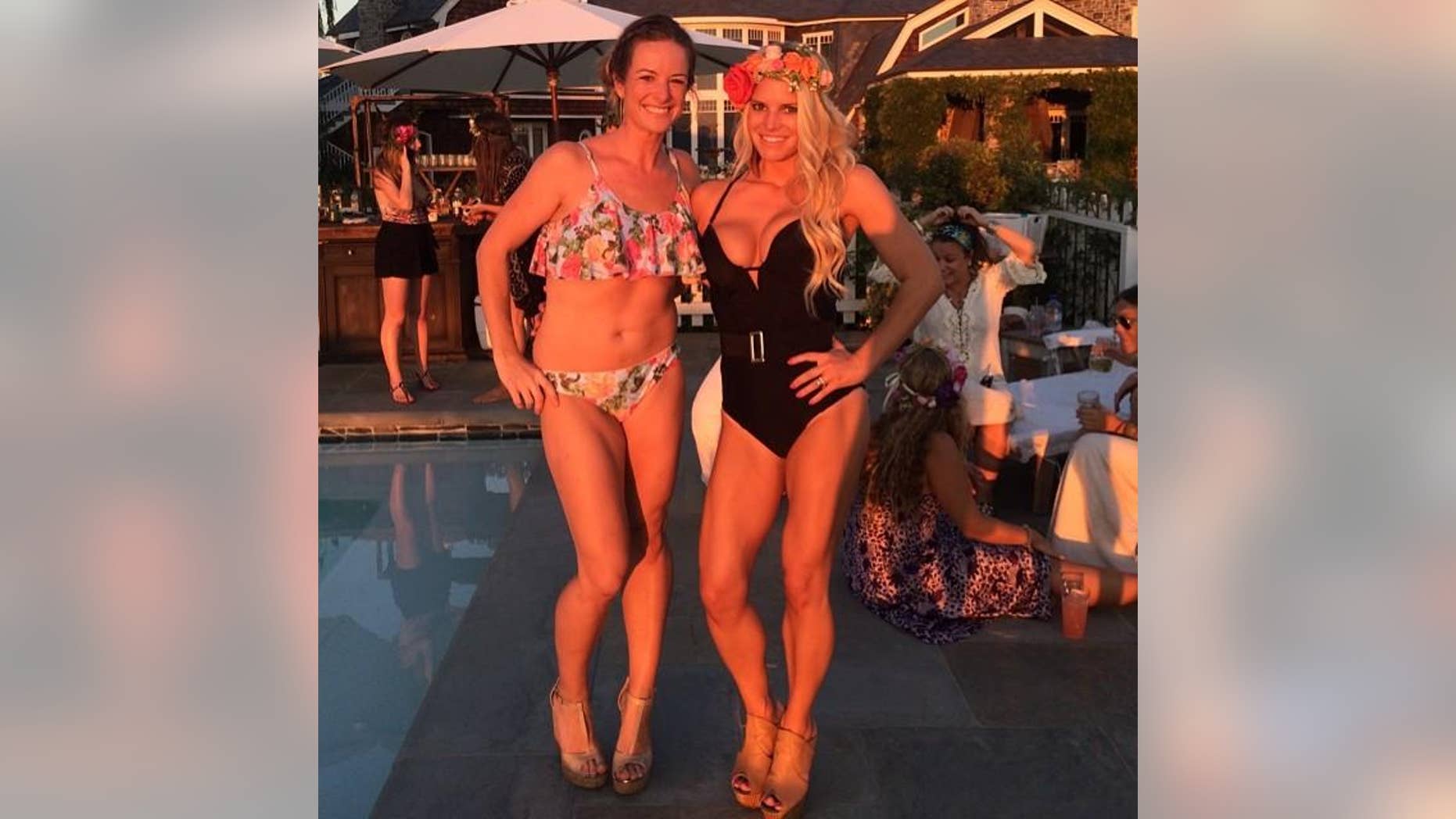 Here's what everybody's talking about today:
On Monday, Jessica Simpson shared a photo from her sister Ashlee's bachelorette party (above) in which she's sporting a figure-flaunting black swimsuit and the awesomely toned leg muscles of an underground Muay Thai fighter.
Kendall Jenner, 18, reportedly walked out on her bill at a New York City restaurant after the servers refused to bring her alcohol. Then, when confronted by a waitress, Jenner allegedly threw a few $20 bills in the woman's face, which might be the first time we've ever heard of someone literally throwing money at a problem to make it go away.
On Monday, Oscar-winning actor and comedian Robin Williams was found dead of a suspected suicide at his home in Tiburon, California. He was 63.
This past Friday, Mark Wahlberg was spotted in Boston filming "Ted 2" looking more muscular and ripped than a man playing a lazy stoner has any business looking. Perhaps his stuffed friend Ted becomes a personal trainer in this installment?
In exchange for a $10 donation to the Make a Wish Foundation, actor Zac Efron is giving his fans the chance to win his first car. It's said to be the first vehicle he learned to drive, the first vehicle he sustained a fender-bender in, and likely, the first vehicle he spilled an entire mocha latte in. (Go to Prizeo.com/Zac to enter.)
As evidenced by Taylor Swift's latest Instagram photo (below), she and "Royals" singer Lorde took a cooking class together at a Rhode Island restaurant. We're not sure what they made, but it's safe to assume that whatever it was, it came out of the oven studded with cat hair and smudges of black eyeliner.
After moving him from Washington to Canada, Casey Kasem's wife is reportedly transporting Kasem's remains yet again, this time to a secret location suspected to be Norway. Nobody should be put in the ground before seeing the fjords, after all.
Britain's The Sun is reporting that Paris Hilton has already earned almost $2.7 million during the first four nights of her DJ tour. That's the equivalent of $347,000 per hour of actual DJing, but only if you're willing to define what she does as "actual DJing."
On a recent episode of "Keeping Up With the Kardashians," Kris Jenner bought her elderly mother marijuana-infused gummy bears to help ease her back pain. It's unclear whether Kris' plan actually worked, but it really pissed off Bruce, so she had to be doing something right.
A few nominees from Sunday night's Teen Choice Awards have claimed that the show was rigged, as they were notified of the results six days before voting officially ended. So forget everything you thought you believed about the recipient of the Choice Web Star award; he may not have been the choicest of the web stars.
Model (and former child bride) Courtney Stodden is re-engaged to Doug Hutchinson, who you might recognize as the 51-year-old actor who made the questionable decision to marry a 16-year-old in 2011, and the guy who is currently making the similarly questionable decision to remarry that same woman.
And finally, James Franco debuted a new blonde hairdo on Monday, but even he doesn't look that thrilled with it in his recent Instagram photo (below). Evidently, you need to be an actual, genetic blonde to experience all that "more fun" they're always bragging about.