Is Jennifer Lopez Dating Backup Dancer Casper Smart?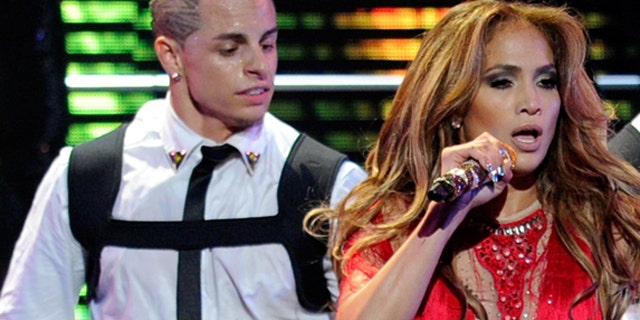 JLO may have developed a special bond with one of her backup dancers. At least this is what entertainment news hounds The DailyMail, The Insider, TMZ and US Weekly are reporting about the bodacious singer and boy toy Casper Smart.
Smart, (indeed he is), 24, allegedly became Lopez's friend first. TMZ reports that a source has come forth claiming in the last few months the two have been flirting and getting to know each other with no commitment and no strings attached (for now.)
Since Smart and Lopez have gotten closer, the source reveals to TMZ that "the mood of rehearsals has shifted" because JLO is "a lot more focused on Casper."
The DailyMail caught Lopez and Smart together after the Glamour event last week, where Lopez showed off her sexy figure rocking a Versace, thigh high slit gown that left everyone's jaw on the floor.
The Insider reports that in a recent trip to JLO's native New York, Smart and the diva "hooked up," according to another source.
Smart is an experience dancer, who has worked with other pop music queens such as Beyoncé, Jordin Spark, and has been on TV segments such as Glee and the dancing film Step Up 3D.
On his website, capesmart.com he mention his work for the King of Pop "This Is It" world tour prior to MJ's death in 2009.
Us Weekly writes on their website that Smart "dances at Club Boulevard in L.A" according to yet another anonymous source and that the 24-year-old is "popular with the ladies because he goes shirtless!"
The rumors of a romance between Lopez and Smart comes just as in recent weeks she was spotted with "The Hangover" actor Bradley Cooper in what many were assuming was the beginning of a new love for La Lopez.
You can reach Alexandra Gratereaux at: Alexandra.Gratereaux@foxnewslatino.com or via Twitter: @GalexLatino
Follow us on twitter.com/foxnewslatino
Like us at facebook.com/foxnewslatino