Investigators Remove Bags of Medication From Michael Jackson's Home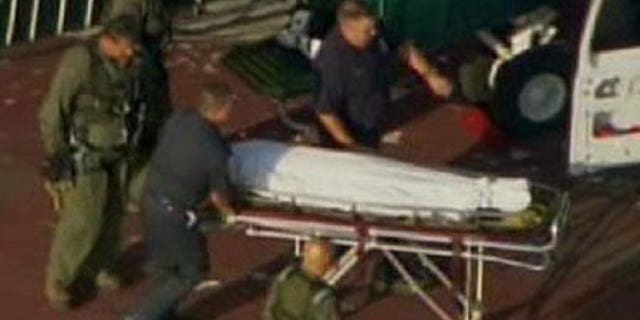 As his family makes plans for his estate and the guardianship of his children, authorities continue their probe into singer Michael Jackson's death.
Officials with the Los Angeles County coroner's office returned to the mansion he was renting at the time of his death and left with two large plastic bags of evidence.
Assistant Chief Coroner Ed Winter said the bags contained medication. He declined to elaborate.
Lawyers for Jackson's cardiologist Dr. Conrad Murray, who was with Jackson when he collapsed, said the physician never prescribed the powerful drugs Demerol or Oxycontin for Jackson and did all he could to revive the singer.
Attorney Matt Alford said it took as long as 30 minutes for paramedics to be called after Murray found Jackson with a faint pulse and performed cardiopulmonary resuscitation.
The delay was partly because Jackson's room in the rented mansion didn't have a telephone and Murray didn't know Jackson's street address to give to emergency crews, Alford said.
Eventually, Murray found a chef in the house and had him summon a security guard, who called for help while the doctor continued to perform CPR.
Lou Ferrigno, the star of TV's "Incredible Hulk" who was helping Jackson train for a planned concert tour, said he "looked fantastic" at the end of May, the last time the two met.
"When I saw him, he was not frail," Ferrigno told CNN's "Larry King Live" on Monday night, adding, "He seemed fine, alert, no pain at all."
Jackson's father Joe Jackson, 79, told reporters at the family compound that his son's funeral was still in the planning stages but added that his son would not be buried at Neverland.
Michael Jackson's parents wasted little time demanding authority over their son's financially strained empire and guardianship of their fatherless grandchildren. The big question is who, if anyone, will contest them?
Early Monday — just four days after the death of the King of Pop — lawyers for Katherine and Joe Jackson won temporary custody of Michael Jackson's three children and moved to become administrators of his estate.
Judge Mitchell Beckloff granted 79-year-old Katherine Jackson temporary guardianship of the children, who range in age from 7 to 12. He also gave her control over some of her son's personal property that is now in the hands of an unnamed third party. But the judge did not immediately rule on her requests to take charge of the children's and Jackson's estates.
The swiftness of the legal motions underscores the fact that Jackson's death leaves a vacuum if he died without a valid will, as the parents assert in documents filed in Superior Court. If no will is filed, the number of potential claimants that could emerge seeking custody of the children or a piece of his empire are many.
About the same time a judge granted Katherine Jackson authority over at least some of her son's estate Friday, pickup trucks and a large dump truck towing a flatbed were seen entering the 2,500-acre (1,000-hectare) Neverland Ranch, a major piece of the singer's debt-strapped financial empire. It was not clear who had requested the fleet or for what purpose.
L. Londell McMillan, the family's attorney, said in a statement that the Jacksons are pleased with the results of their Monday filings.
"The personal and legal priorities are focused on first protecting the best interests of Mr. Michael Jackson's children, his family, his memorial services and then preserving his creative and business legacy with the dignity and honor it deserves," the statement read.
Clearly one of his most valuable assets is his recording catalog, which his father could potentially rerelease through his new record company if the family gains control of his assets. There could also be recordings in Jackson's estate that he had never released.
There's also a financial bonanza to be had in the Sony/ATV Music Publishing catalog of which Jackson owned 50 percent. The 750,000-song catalog includes music by the Beatles, Bob Dylan, Neil Diamond, Lady Gaga and the Jonas Brothers, and is estimated to be worth as much as $2 billion.
When Jackson died Thursday, he also left behind a 12-year-old son and 11-year-old daughter by his ex-wife Deborah Rowe, as well as a 7-year-old son born to a surrogate mother.
The Jackson family said the children — Michael Joseph Jackson Jr. (known as Prince Michael), Paris Michael Katherine Jackson and Prince Michael II — are living at the Jackson family compound in Los Angeles' San Fernando Valley.
"They have a long established relationship with paternal grandmother and are comfortable in her care," the family said in court documents.
Family patriarch Joe Jackson, 79, said at a news conference that the children were enjoying playing with other kids — something they do not normally do.
The documents state that although Rowe is the mother of the two older children, her whereabouts are unknown. The document simply listed "none" for the mother of the youngest child, Prince Michael II.
The Jacksons say they have not heard from Rowe since their son's death. Rowe's attorney, Marta Almli, did not respond to an e-mail message seeking comment Monday. She previously said, "Ms. Rowe's only thoughts at this time have been regarding the devastating loss Michael's family has suffered."