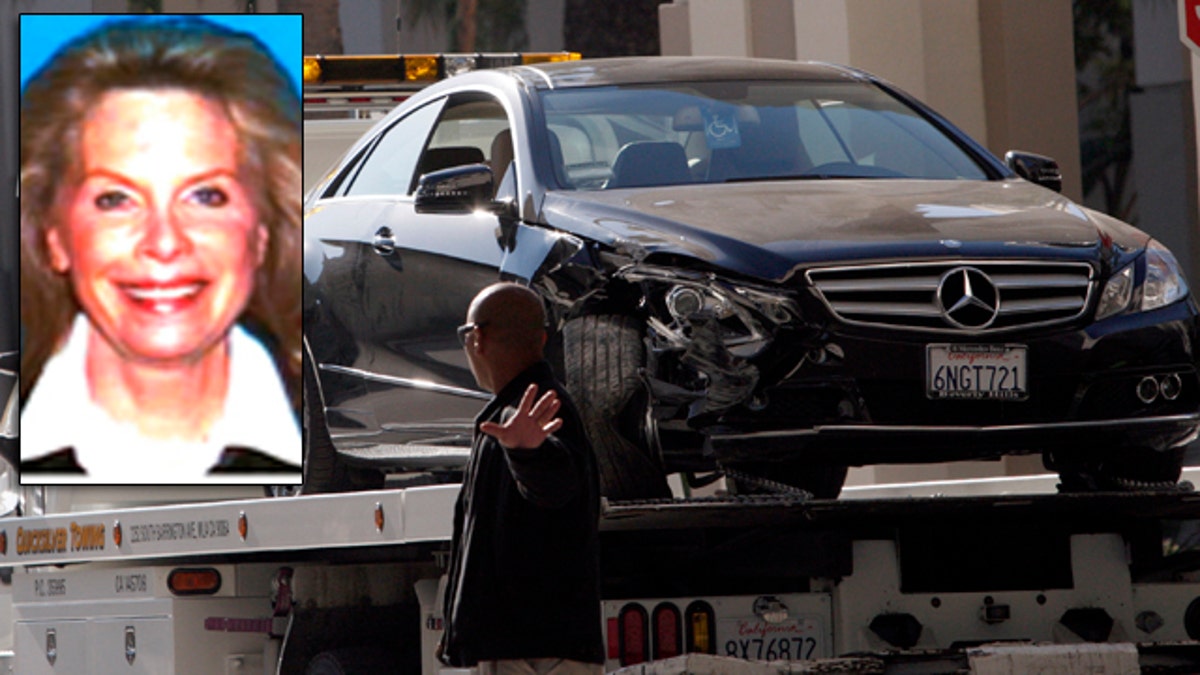 Friends and family of veteran Hollywood publicist Ronni Chasen, who was shot to death early Tuesday morning, gathered in Los Angeles on Sunday to say their final farewells, in a service funded by high-powered Hollywood movie studios.
Among the thousand-plus crowd of mourners was actor Michael Douglas, composer Hans Zimmer, and Chasen's brother, writer/producer Larry Cohen.
But almost a week after the tragedy, police are still at a loss for leads or motives behind the 64-year-old's slaying. Her car was not hijacked. Her purse was not stolen. There is nothing to indicate a road rage altercation, and she certainly wasn't considered a shady lady within industry circles.
After leaving the after-party for the premiere of "Burlesque" in Hollywood last Monday, Chasen is believed to have been en route to her Westwood home when she was shot five times in the chest at the corner of Sunset and Whittier, a prestigious Beverly Hills neighborhood just blocks from the iconic Beverly Hills Hotel. Chasen then crashed her Mercedes Benz E-Class into a lamppost, triggering an array of 911 calls from people who heard the shots and/or the crash.
Now some evidence is starting to suggest that Chasen's murder was a premeditated, professional drive-by shooting and not a random act of violence as initially speculated, experts said.
"I was up late when I heard the shots, it sound like a hammer. They were immaculately timed," Beverly Hills resident Claude Dauman told Pop Tarts. "BOOM. BOOM. BOOM. BOOM. BOOM. It was perfect rhythm."
Another 90210 resident, who requested anonymity, said that one of his children heard the crash, and that the evening before the incident, the resident was surprised to hear motorcycles traveling up and down the area.
"Never before in my 40 years have I seen motorcycles pacing Whittier Drive," a surprised Michael Sands, who has spent several decades working with police officials and the FBI on high-profile cases, told Pop Tarts. "It's all speculation, but if it was a hired hit job – which it sounds like it was – there is usually a scout, a tracker and a wet man who finishes the job. It is possible the location was being properly scouted out the night before."
Former FBI Special Agent and Forensic Accountant Harold Copus, who now works as a private investigator for his firm Copus Security Consultants, said if shell casings from the bullets were not left at the scene, and if the shots were indeed methodically timed, that would indicate the work of professionals.
"It seems to be somebody who knows exactly what to do with no hesitation, somebody familiar with military or weapons who was watching their target closely," Copus told Pop Tarts. "Investigators will now have to go over everything with a fine-tooth comb – check her office, emails, cell phone records, and try to establish anybody she may have had a problem with in the past."
Yet according to Chasen's good friend of 30 years, fellow Hollywood publicist Michael Levine, the film rep who worked with numerous Oscar-winning films and talent over the years didn't have many enemies.
"Ronni was a feisty gal and certainly not a pushover," Levine told us. "But she was a wonderful woman, always beautifully dressed and incredibly passionate about movies and her job. She was a great symbol for all young women in PR. I just can't imagine anybody that would begrudge her to such an extent."
The NewYork Post reported over the weekend that Chasen suspected she was being followed by an unknown back in March, and she revealed to friends that she was "scared."
But despite the eerie murder, Beverly Hills Police Chief David Snowden is urging residents not to be fearful in their highbrow community.
"I would like to assure the public that this was a rare, isolated incident," Snowden said in a statement on Friday. "The Beverly Hills community remains one of the safest in the world."
Nonetheless, this isn't the first time tragedy has struck that very area where Chasen was killed.
In 1946, controversial filmmaker Howard Hughes crashed his plane into a nearby home on Whittier Drive. While he miraculously survived despite severe third-degree burns and broken limbs, the plane was destroyed and the house burned down. The following year, in an unsolved mystery, infamous L.A organized crime professional Bugsy Siegel was shot dead when an unknown assailant fired at him through the window of his home in that same area. And in 1979, just a block away, the wife, son, and young friend of Lloyd Cotsen, the president of skincare empire Neutrogena, were murdered in Cotsen's Beverly Hills home.
In the wake of Chasen's mysterious death, Dauman said the neighborhood is understandably on high alert.
"It's very disturbing," he said. "I'm much more aware now when going on my walks, everybody around is very concerned."
Those close to Chasen are offering a $100,000 reward for information surrounding the shooting, and Copus says he's confident that despite the lack of leads, the details of her death will be uncovered.
"There is still a lot of work to be done, but it isn't as bad as it seems right now," Copus said. "It sounds as though it was more a crime of passion than anything else. This case has generated a lot of publicity, and somewhere along the lines people are bound to run their mouths."
In more disturbing news, reports emerged last week that six unnamed Hollywood casting directors had filed reports after receiving anonymous death threats at their offices. While there is no proof suggesting the incidents could be in any way related, as Chasen was a publicist and not an agent, Hollywood seems to be showing its dark side.
"Hollywood is a very vicious place now, it is not how it used to be," Sands said. "The mob has always been here, but this place has really changed. You have to really watch where you're going, be mindful of everyone around you."