Gary Sinise, KJ Apa will star in faith-based film 'I Still Believe' about singer Jeremy Camp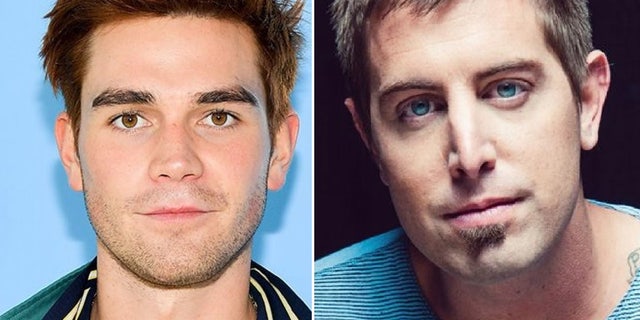 NEWYou can now listen to Fox News articles!
KJ Apa, who plays Archie Andrews on the CW's hit teen drama "Riverdale," has a new role. He is playing Grammy-nominated Christian music artist Jeremy Camp alongside "Forrest Gump" star Gary Sinise, who plays his father, Tom, in the Lionsgate film announced at CinemaCon Thursday.
Camp has an impressive career as a Christian contemporary singer with four RIAA-certified Gold albums, more than 4.5 million albums sold and 41 radio No. 1's, including "There Will Be a Day."
"I Still Believe" is based on the 2013 book of the same name and will focus on Camp's true-life spiritual "journey of love and loss."
CHRISTIAN SINGER JEREMY CAMP TALKS DEATH OF FIRST WIFE
"Through tragedy has come healing and restoration," Camp told Fox News.
In October of 2000, Camp married Melissa Lynn Henning, a recovering ovarian cancer patient who had unwavering faith and loved worship. After their honeymoon, doctors informed the newlyweds that her cancer had spread. She died four and a half months later, in February 2001.
In the wake of her passing, Camp wrote the song, "I Still Believe," the song the film is based on.
'FORREST GUMP' STAR GARY SINISE RECEIVES AN ALL-STAR THANKS FOR DEDICATING HIS CAREER TO VETERANS
The story is expected to follow Camp's rebellious teen years growing up in Indiana, the tragic loss of his first wife and his rise in the Christian music industry. It also delves into how he re-found hope and love after meeting his wife, Adrienne, with whom he has three children.
The movie follows the success of Erwin Brothers Entertainment's "I Can Only Imagine," based on the life of MercyMe lead singer Bart Millard.
The role makes sense for Apa, an actor and aspiring musician, who acted with the late Luke Perry as his son on "Riverdale." He last appeared in FOX's "The Hate U Give." Sinise, who was recently recognized for his life-long support for veterans, was most recently in "Criminal Minds" and "CSI: NY."
CLICK HERE TO GET THE FOX NEWS APP
Shooting for the new faith-based movie is set for this spring with a planned release date of March 20, 2020.