'Forrest Gump' star Gary Sinise receives an all-star thanks for dedicating his career to veterans
NEWYou can now listen to Fox News articles!
Gary Sinise has dedicated his career to helping veterans and their families — and now an all-star crew that includes Gen. Colin Powell and several high-caliber actors is taking time to show their gratitude in a special surprise video tribute.
"Completely shocked and speechless by this surprise video," the "Forrest Gump" actor wrote on Facebook. "Incredibly touched and grateful by everyone's support. I'm crying, so choked up, I thought I'd share," People magazine reported Wednesday.
'FORREST GUMP' STAR GARY SINISE SAYS HE'S DEDICATED TO HONORING WOUNDED VETERANS: 'WE CAN NEVER DO ENOUGH'
Some of the numerous stars who participated in the video were Steve Buscemi, Tim Allen, Robert De Niro, Maria Shriver, Jay Leno and Patricia Heaton, just to name a few.
"Your commitment, your dedication, you are awesome," declared "Apollo 13" director, Ron Howard.
"Thank you for all the things you have done for our men and women who have served our nation," chimed Gen. Powell. "Not only what you've done for them but for their children, what you've done for their families, what you've done to help them rebuild their lives."
The video also highlights words of gratitude from war veterans and their loved ones from all over the country, including recipients of brand new homes through the Gary Sinise Foundation's RISE program, which builds specially adapted smart homes for wounded heroes.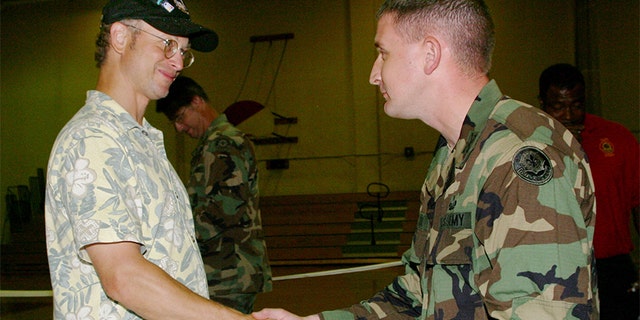 TOM HANKS SURPRISES CUSTOMERS AT IN-N-OUT RESTAURANT IN CALIFORNIA WITH FREE MEALS
"As you can see we're in front of this beautiful house right now," said one veteran. "We wouldn't have had it were it not for your kindness, graciousness and your wonderful gift giving."
The video ends with an appearance by "Forrest Gump" co-star, Tom Hanks.
"Thanks, Lieutenant Dan!" said the 62-year-old with a smile, referring to Sinise's iconic role in the film.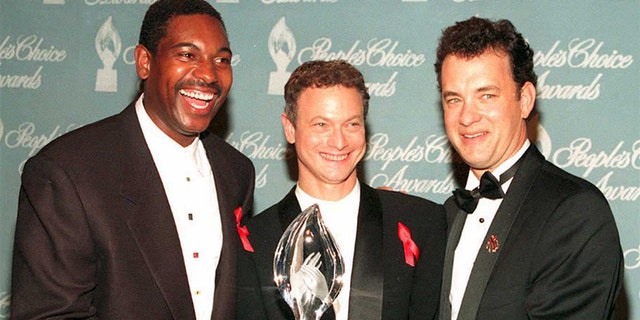 People magazine reported the idea for the heartfelt surprise came from Four Star General (RET) Robin Rand, CEO of the Gary Sinise Foundation. He rallied everyone featured in the video to help surprise Sinise, and also use the opportunity to inspire others to give back to their communities via the social media campaign #GratefulLikeGary.
Since the making of 1994's "Forrest Gump," Sinise has continued to dedicate his life to supporting the American troops.
Throughout the '90s, Sinise worked on behalf of the Disabled American Veterans organizations. He also embarked on several USO handshake tours in 2003 and then formed the Lt. Dan Band in early 2004.
CLICK HERE TO GET THE FOX NEWS APP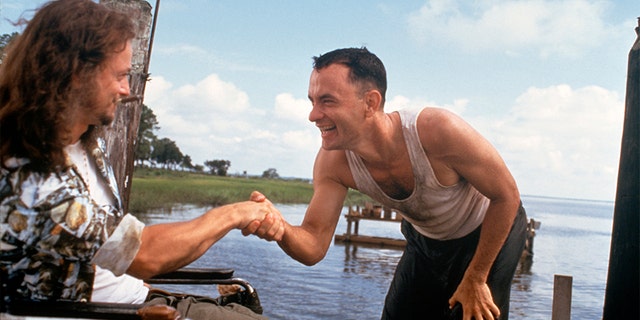 Sinise and his group then began entertaining the troops serving at home and abroad. Lt. Dan Band now performs close to 30 shows a year at military bases, charities and fundraisers supporting wounded heroes.
In 2011, the star established the Gary Sinise Foundation. According to its website, its mission is "to serve and honor our nation's defenders, veterans, first responders, their families, and those in need by creating and supporting unique programs that entertain, educate, inspire strengthen and build communities."
Back in January, Sinise told Fox News America's real-life heroes still recognize him as Taylor — and he wouldn't have it any other way.
"I found out that when I started visiting our wounded in the hospitals and walking into those hospitals, they would look at me and they would recognize me as Lt. Dan," he explained. "They wouldn't know what my real name as, but they'd call me Lt. Dan."
Sinise, 63, added the countless wounded veterans he's encountered over the years found inspiration in Taylor.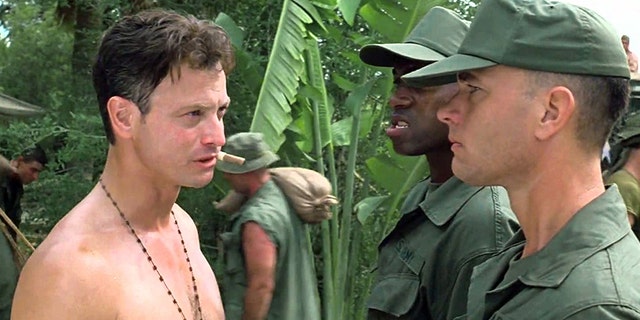 "They [wanted] to talk about the story of Lt. Dan and how positive it was at the end for him," said Sinise. "He's recovered at the end. He's standing up on new legs. He's moving on with his life, and every one of our wounded soldiers, every one of our wounded service members, they want that story. They want to be able to move on and be OK. And that's just what I'm trying to help them do."
Sinise's love for the American troops run in his veins — he has veterans in his family going back to World War I. His grandfather, who served during the Battle of the Argonne in France, transported the wounded from the battlefield. He later had three sons and two of them served in World War II. Sinise's father served during the Korean War in the Navy. And Sinise's wife of 38 years, Moira Harris, also has veterans in her family that she cherishes.
Sinise stressed that the many wounded veterans he's encountered over the years have taught him crucial life lessons. And because of them, Sinise insisted he will never stop being there for them and doing whatever possible simply to say thank-you.
"I've seen them multiple times over a period of two, three years sometimes, in various stages of their recovery," said Sinise. "I've seen their families standing by them, day in and day out, enduring these long rehabilitations, sometimes multiple surgeries. I've met guys that have had over 200 surgeries. I've been inspired by their resilience and never quit attitude, and that has been a big motivating factor me — to continue to go out there and support these families."