Elizabeth Taylor's 'Suddenly, Last Summer' was nearly banned over racy white swimsuit, author reveals
Long before the Sports Illustrated Swimsuit Issue, stars were stripping down.
Curator and photo preservationist David Wills recently published his collection of photographs featuring movie icons from the '30s to the '70s strutting their stuff on the coastline titled "Hollywood Beach Beauties."
The collection highlights more than 100 vibrant color photographs of Marilyn Monroe, Audrey Hepburn, Sharon Tate and Edy Williams – just to name a few.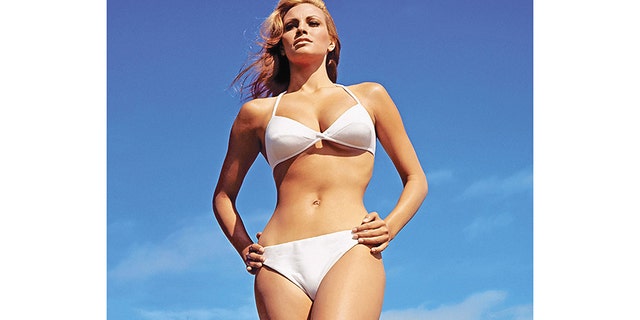 During his research process, Wills said he was surprised at how many of the swimsuit photographs were not actually snapped while the stars were soaking up the sun, but rather inside a studio.
"Back in the day, studios caught on very fast, like the '30s and '40s, that photographs of stars in bathing suits would sell magazines," he explained. "And of course, in turn, they would publicize their upcoming films.
"And on top of that, you had the demand of bathing suit pinups because of World War II. So a lot of time, these great movie stars didn't want to pose at a public beach because that would just be too out in the open and they would be put on display. They felt vulnerable or they couldn't be themselves.
"So the studios would actually build a beach – and some of them were quite horrendous, even laughable… They would bring in a little bit of sand in a studio setting. And you'll find right up until 1970 they did that."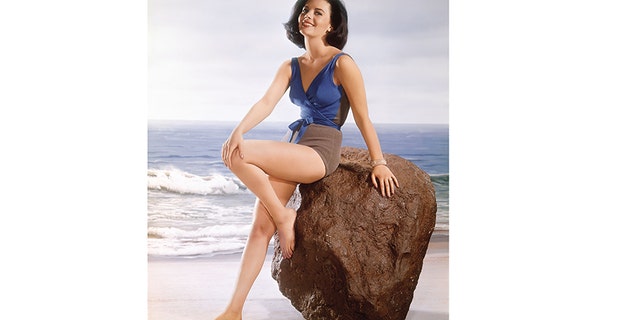 But there were rules these actresses needed to strictly follow to stay in good graces with their studios. For starters, flaunting the navel was strictly forbidden and bathing suits weren't allowed to be shown wet.
When Elizabeth Taylor wore a plunging white one-piece for 1959's "Suddenly, Last Summer," it nearly got the film banned.
"She couldn't get out of the water wet," explained Wills. "And it was a white bathing suit. You could see her nipples. But that was part of the storyline at the time. It was a very controversial film. But there were ways around it. You couldn't show the navel. You could in European films, but it wasn't until the 1960s that the bellybutton became more liberated."
But just years before, actress and Frank Sinatra's future wife Ava Gardner caused a stir when she flaunted her thighs in a laced-up two-piece in 1944.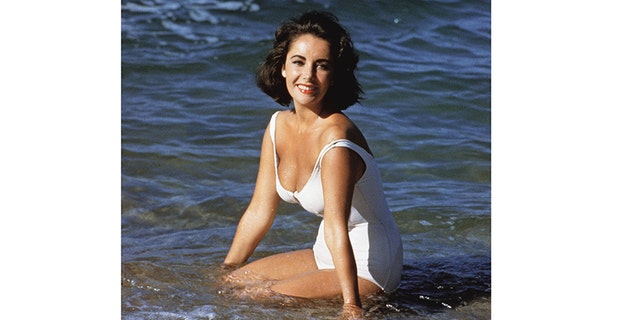 "I don't believe that's an illusion," chuckled Wills. "I believe you're seeing her underneath the lace there, actual skin. And this sort of natural progression of the bathing suit turning into a bikini and getting smaller and smaller."
During the '50s, actresses had to be careful about showing cleavage in a bathing suit. But stars like Jane Russell, Mamie Van Doren and Diana Dors popularized the eye-popping bullet/torpedo-shaped bra.
Good Housekeeping previously reported the style gained popularity during World War II because of claims that it allegedly offered added protection for women working on the production lines.
"It was really just getting around the censors and being as sexual as you could get away with," added Wills.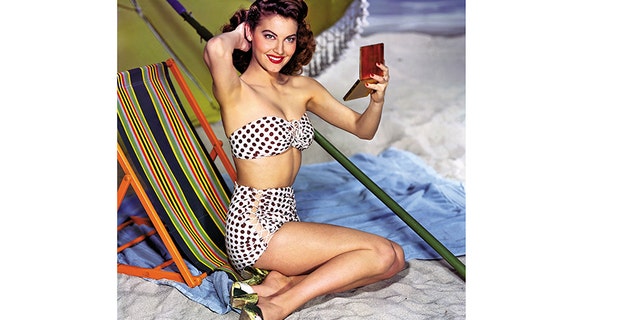 One star who wasn't shy about breaking the rules was French film icon Brigitte Bardot.
"I think she really pushed people into the dawn of the sexual revolution," Wills explained. "She was really the one who I think popularized the bikini… And I think a lot of women enjoyed being able to show a little bit of midriff. The two-piece was more comfortable… And in the '60s, fashion was getting smaller and smaller."
And in 1962's "Dr. No," it was Bond Girl Ursula Andress who had pulses racing in movie theaters, easily outshining Sean Connery as the famous British secret agent.
"She created the look of the Bond Girl," said Wills. "The two-piece with the halter and the knife in it? It completely sold the movie. She's emerging from the water, her hair is all wet and she has that killer bone structure. It just said one thing — danger. That look was really a new kind of sexual animal that really hadn't been seen on screen."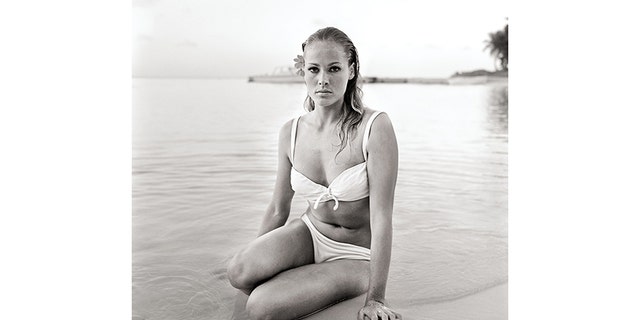 But not every star was keen on stripping down for good publicity. While Marilyn Monroe gained popularity as a sought-after pinup before she became a movie star, the blonde bombshell yearned to be recognized for more than her appearance.
"I don't know if she thought much about it at the time, because I know later in her career she didn't want to be associated with that, but it certainly helped her get a lot of attention," said Wills. "You look back as early as 1945 and she was posing in bathing suits.
"Then at a certain time, she didn't want to do that anymore… So for the last 10 years of her life, you rarely saw her posing in bathing suits. Only a few occasions, like the ones taken by Sam Shaw, which are in the book... But professionally at some point, she just stopped."
On the other hand, Joan Crawford, who originally launched her career in 1925, used swimsuit shots to boost her image during the later years.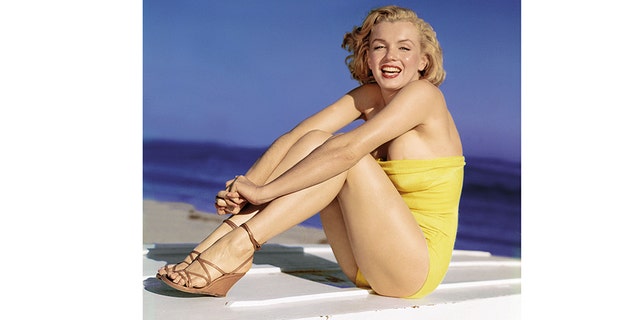 "I feel she was one of the first women who believed just because you were over 50 didn't mean you couldn't be viewed in a sexual way," said Wills. "She wasn't afraid to get out there over the age of 50 to show her legs, to show her midriff.
"[At the time] once a woman was over the age of 35, the studio basically handed her a gold watch, so to speak. And I know in the case of Joan Crawford, even as late as the 1960s… she was still playing strong female romantic leads opposite leading men who were 20-30 years younger than her."
Wills told Fox News his team spent quite an amount of time and effort in restoring the old images. "I have a very large archive of negatives and transparencies, which a lot of my previous books have been based on," he said.
"I always, when possible, go back to original transparencies. Original studio negatives," he explained. "A lot of the time, [the] color will deteriorate over the years. Now, we're able to digitally restore and correct a lot of that. A lot of time was definitely spent restoring these images and bringing them back to their previous lives."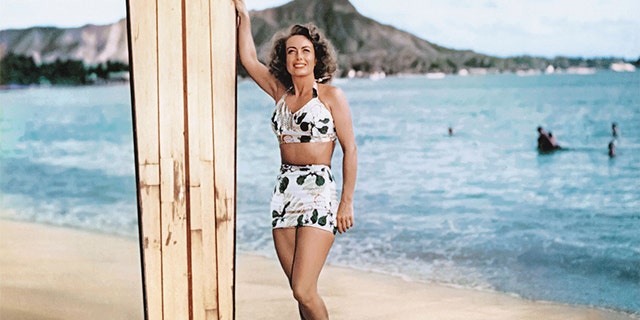 Ultimately, Wills hopes his rare images will display a new side to some of the most beloved women in Hollywood.
"I wanted to do a fun book, something that captured the spirit of summer," he said. "Beaches are a universal playground… For many of us, some of our earliest and happiest memories involve playing on the beach. I hope when people look at the book, they'll view it like a visual cocktail. I want readers to go back to their nostalgic, happy time."