Hollywood sex symbol Jane Russell was a 'God-fearing' conservative
As an American sex symbol, Jane Russell was at the center of one of the most highly publicized censorship episodes in movie history when she wore a cleavage-revealing blouse while holding a gun in the 1943 Western "The Outlaw."
But by the time she settled into old age, the sultry brunette with the 38-inch bust was more interested in family values than fame.
VINTAGE HOLLYWOOD FLASHBACK: THE GOLDEN GLOBES IN THE '50S, '60S AND '70S
James Bawden, a former TV columnist for the Toronto Star, recently co-authored a book titled "You Ain't Heard Nothin' Yet," which chronicles his numerous interviews with some of Hollywood's top stars from its golden era of filmmaking.
Russell died in 2011 at age 89 from a respiratory-related illness.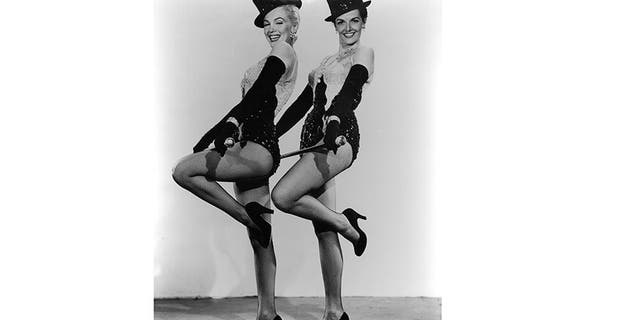 Bawden first met Russell in 1984 when she was appearing in the NBC series "The Yellow Rose" as Sam Elliott's mother. He described the actress as a devoutly religious woman and proud conservative who led a reasonably scandal-free life.
"Jane said, 'When my little children were starting school, I decided I was going to get out of movies because I didn't want to cause them any kind of embarrassment,'" Bawden recalled to Fox News.
"The kids were already starting to make fun of them… She got out of the business and became a singer in Las Vegas and all around the world," he added.
Bawden said he was surprised that, despite her notoriety, Russell was a no-nonsense right-wing Republican. She later told The Daily Mail in 2003, "These days I'm a teetotal, mean-spirited, right-wing, narrow-minded, conservative Christian bigot but not a racist." She added bigotry "just means you don't have an open mind."
"Her Christianity was so deep… she was very, very right wing," Bawden said.
Russell described herself to Bawden as "God-fearing" and "family-oriented."
Bawden also revealed that Russell, who famously starred alongside Marilyn Monroe in 1953's "Gentleman Prefer Blondes," believed being a sex symbol was "boring."
"She said, 'I never took that seriously,'" he claimed. "'The difference between me and Marilyn Monroe is that Marilyn had so many problems in her life because she thought being a sex symbol and a big star would solve everything. It just gave her a whole new set of problems. In my case, I came from a very Christian background. When I was 18, I was turned into this sex symbol by a very strange man named Howard Hughes. I never believed in it at any time… But Marilyn believed in everything. The business then turned around and killed her.'"
Bawden insisted Russell believed the idea of becoming a screen siren had long changed since she first embarked on her journey to Hollywood.
"[She said], 'In my day, the censorship restrictions were so severe that I wasn't even allowed to show my belly button,'" he said. "'Then you had Brigitte Bardot and Jayne Mansfield showing everything! It's a lesson in anatomy. It's not a lesson in being a sex symbol.'"
Still, Russell would still face trouble of her own. The New York Times previously reported that after the death of her third husband in 1999, Russell coped with becoming a widow for the second time with alcohol. Her grown children would later insist she go to rehab at age 79.
Despite the many ups and downs she faced privately, Russell relied on her faith. The New York Times added she organized Bible study groups in Hollywood and published a memoir in 1985 where she detailed her relationship with Christianity.
Bawden said Russell also mourned the death of Monroe, a co-star she considered her friend.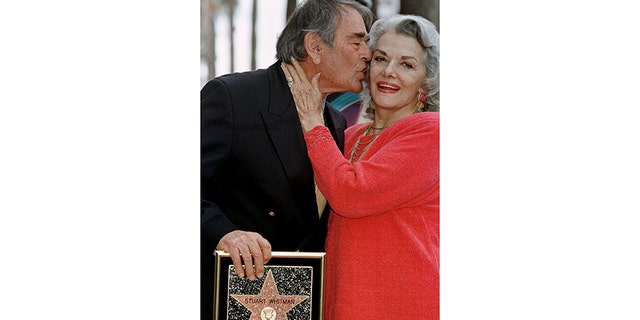 Monroe died in 1962 at age 36 from an apparent drug overdose.
"When Marilyn was spending time with Jane Russell's children, she seemed very happy," said Bawden. "She had been fired from the movie she was on… but then she told Jane, 'I think I'm in love with the most powerful man in the world.' And Jane Russell said, 'She wouldn't tell me the name, but I now believe it was President Kennedy and something was done to shut her up or something.' She never believed Marilyn would have killed herself."
Russell would never forget her friendship with Monroe and their time working together in the iconic film musical.
"First, I was surprised that she spoke naturally and not in that silly baby talk she used in movies," Russell recalled to Bawden. "I just adored her from the start: so sweet, silly, and drop-dead gorgeous without any makeup and with her hair uncombed… She had this God-given gift of making people laugh and feel better. Why tamper with that?"
Russell, who made about two dozen films, later launch the World Adoption International Fund which she described as her most important life's work. She adopted three children of her own.
"I had an abortion when I was 18 and it was a botched back-street affair," she told Bawden. "I found I could not have children. So I adopted three. They're my life. And their children. I wanted to share that with others. Because to be adopted is the most wonderful thing in the world."