Audrey Hepburn nearly starved to death during World War II: 'She survived by eating tulip bulbs'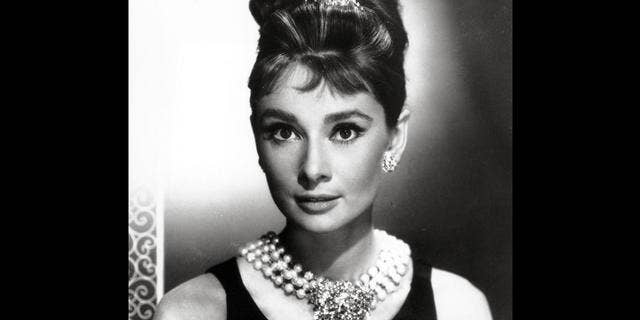 Audrey Hepburn has been long celebrated as a fashion icon who expertly modeled the finest couture created by French designer and friend Hubert de Givenchy. However, there was a dark secret behind her famous figure.
Her son Luca Dotti told PEOPLE Magazine Wednesday Hepburn survived starvation during World War II, which her family believed may have contributed to her thinness.
AUDREY HEPBURN'S STUNNING GRANDDAUGHTER COVERS HARPER'S BAZAAR
The movie star, who was the daughter of a Dutch baroness and a British father who left the family when she was just 6-years-old, struggled to survive in Holland when Germany occupied the country, which began when she was 11.
"By the end of the war, she was very close to death," explained Dotti. "She survived by eating nettles and tulip bulbs and drinking water to fill her stomach. She was almost 5'6" and weighed 88 pounds. She had jaundice and edema. She suffered from anemia the rest of her life, possibly as a consequence… She was the same age as Anne Frank and [later] said: 'That was the girl who didn't make it and I did.' Her voice would crack, and her eyes would fill with tears."
Throughout her adult life Hepburn, who was 5'7", weighed 110 pounds. Christies, which is preparing the family's first-ever auction of some of her personal collection of dresses, had to order mannequins with a 22-inch waist.
Actor Robert Wolders, her romantic partner from 1980 until her death in 1993, added that while Hepburn didn't diet, she enjoyed exercising to stay healthy, but also happily savored chocolate and Scotch.
"We'd walk for miles. She could outwalk me," he recalled. "She had a healthy metabolism, but she was not excessive. She never said, 'I have to do five miles today.' She didn't diet. We had brown bread with jam for breakfast, lunch would be chicken or veal or pasta, often with vegetables from the garden, and for dinner we often had soup with chicken and vegetables. She had chocolate after dinner, baking chocolate. She had a finger or two of Scotch at night."
During the final years of her life Hepburn stayed active through her charity work. The New York Times previously reported Hepburn was named a special ambassador for UNICEF, the United Nations Children's Fund, in 1988. She made a few films, but frequently traveled the world raising money and awareness for the organization.
The actress passed away at age 63 in 1993 from cancer.
Dotti, along with her other son Sean Ferrer, are currently working with Christie's for the highly anticipated auction featuring their mother's prized possessions, which will take place in London on September 27.