'DWTS' downsizing: 'Property Brother' Drew Scott loses 30 pounds, Sasha Pieterse drops 37
A couple of celebrities have been slimming down in a major way on this season's "Dancing with the Stars."
"Pretty Little Liars" actress Sasha Pieterse, who earlier disclosed she'd lost 15 pounds while doing the show, said on Monday night her weight loss was up to 37 pounds.
"It really is magical," Pieterse said of getting slimmer — before learning on Monday night that she and partner Gleb Savchenko had been eliminated from "DWTS" on week five of the competition. Pieterse had previously shared that she'd gained about 70 pounds over two years due to Polycystic Ovary Syndrome.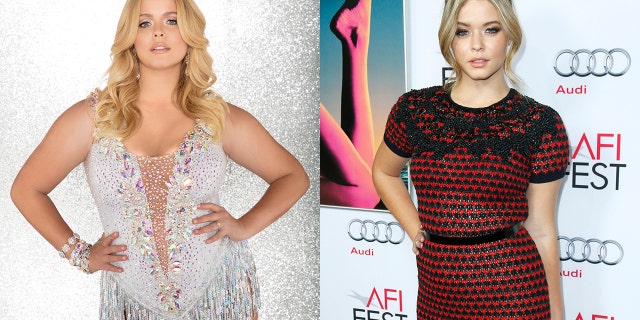 However, she's not the only one who has downsized thanks to dancing; backstage, "Property Brothers" star Drew Scott told Fox News he's lost 30 pounds.
"It's a lot. I'm seeing my abs like I've never seen them before, yeah," Scott exulted.
"But I'm eating a lot more now just because I need to keep that weight on. This is like back in my high school and college days. I could eat like a horse and never put on weight," tall and gangly Scott told reporters.
"I want to keep [the weight] off where I am now. I just love this, but instead of going to the gym to do weight training, I'm getting all the cardio and everything I need here.
"I haven't done cardio like this since I was a teenager," Scott said, with dance partner Emma Slater by his side.
Because of work commitments, Scott doesn't have time to go to the gym: "Literally, I fly out in an hour, I have to head to New York," he said on Monday night after the "DWTS" Los Angeles taping.
Scott said he is now a 32 waist, the smallest he's been since the eighth grade! He added that previously, he had been squeezing into a 34.
The HGTV star laughed that his fiancé, Linda Phan, loves his new body. The two are planning their wedding.
On Monday, Scott received 25 out of 30 points for his Viennese Waltz with Slater, dancing to The Muppets song "Rainbow Connection" on Disney night.
The property brother continues to receive raves from the judges, but Pieterse was always in the middle of the pack and got ousted on Monday. Still, after weeks of dancing, she has a whole new body!