Comedian T.J. Miller denies accusations of sexual assault, punching female college classmate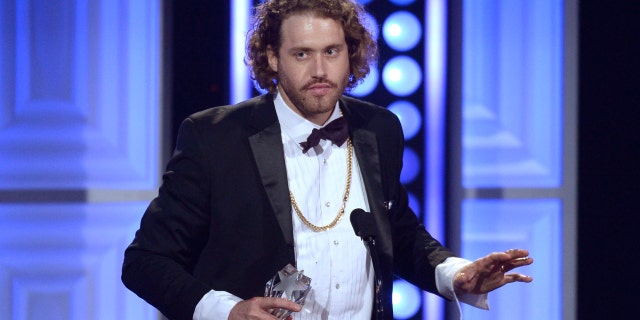 "Silicon Valley" star T.J. Miller has been accused of sexual assault by a former college classmate, but he and his wife say the accuser has been peddling the same lies for years.
The woman, who came forward anonymously to the The Daily Beast, told the news organization that what began as a consensual relationship turned into her private nightmare.
"He just tried a lot of things without asking me, and at no point asked me if I was all right," she told The Daily Beast. "He choke[d] me, and I kept staring at his face hoping he would see that I was afraid and [that he] would stop… I couldn't say anything."
A rep for Miller denied the allegations to The Daily Beast.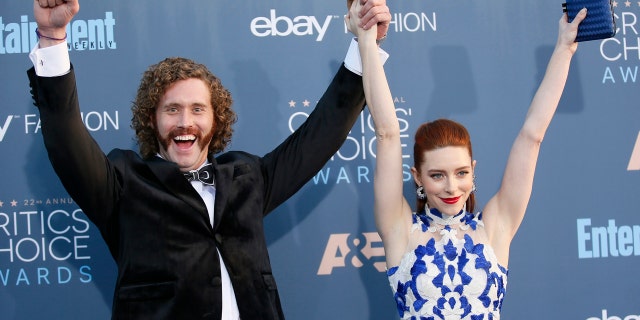 The victim admitted to being in a consensual relationship with Miller, but recalls distinct moments of unwanted and violent encounters with the comedian. One morning the woman recalled waking up with a fractured tooth and bloody lip after Miller had allegedly shook her violently and punch her in the mouth during sex and on a separate occasion, the victim was forced into engaging in unwanted intercourse.
The accuser described graphic details of the alleged assaults which some readers may find disturbing.
"He pulled me back to bed and more things happened," she said. "He anally penetrated me without my consent, which I actually believe at that point I cried out, like, 'No,' and he didn't continue to do that—but he also had a [beer] bottle with him the entire time. He used the bottle at one point to penetrate me without my consent."
The woman accusing Miller then said that her accusations against him were eventually addressed at GW student court. Her story was also corroborated by five other classmates who attended the school at the time.
"He choke[d] me, and I kept staring at his face hoping he would see that I was afraid and [that he] would stop… I couldn't say anything."
Miller and his wife Kate Gorney denied the allegations saying the victim "began again to circulate rumors online once [my and Kate's] relationship became public. Sadly she is now using the current climate to bandwagon and launch these false accusations again," the Millers wrote. "It is unfortunate that she is choosing this route as it undermines the important movement to make women feel safe coming forward about legitimate claims against real known predators."
According to The Daily Beast, rumors of his alleged behavior have been an open secret in Hollywood stand-up circles for years. But Miller assured friends and family over the years that he has been wrongfully accused.
Four industry sources from L.A. and Chicago, confessed to knowing about the allegations against Miller because the comedian had told them himself during private conversation. Two other comedians also told The Daily Beast that Miller would lightly tell jokes about punching women in college.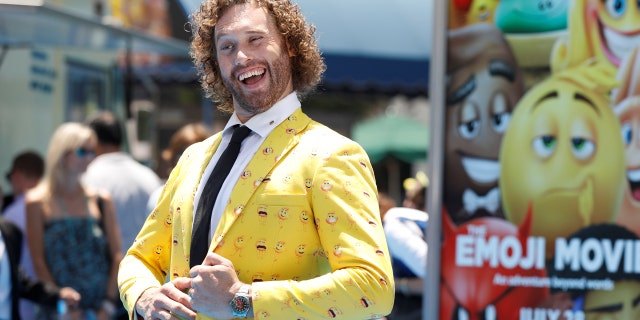 Maura Brown, a comedy festival organizer and from L.A. said she too had been aware of the allegations against Miller. "Very commonly, women have warned each other [in entertainment] about him… and about what happened in college," said told The Daily Beast. Brown went on to say that the negative word of mouth against Miller made her never want to work with him or "promote him in any way."
Adult film star Dana DeArmond tweeted Miller and director Jordan Vogt-Rober while shooting for Comedy Central's "Mash Up."
"I've been saying Tj was an asshole for years. So there you go," she tweeted.
Despite current controversy surrounding Miller, the actor's stardom continues to grow in Hollywood. Miller is currently set to appear in an upcoming movie co-starring Kristen Stewart and another starring Ryan Reynolds and this year, HBO aired his stand-up special.
Additionally, Comedy Central was airing, what Miller has previously told The Daily Beast is his "passion project," talk show, "The Gorburger Show." However, Variety reports that the Comedy Central has cancled the series, saying that the decision came prior to the accusations against the star.
Miller joins a long list of high profile celebrities currently under fire for sexual assault. He is also not the first Hollywood comedian to face accusations this year. Last month, Louis C.K. was accused of sexual harassment by five women. The comedian later admitted his wrong-doings in a statement confessing that the stories were true.