Chris Pratt reveals he's 'so thrilled' to work with re-hired James Gunn on 'Guardians of the Galaxy 3'
"Avengers: Endgame" star Chris Pratt is thrilled that he will work with writer and director James Gunn on the third "Guardians of the Galaxy" movie.
Gunn was fired by Disney in July 2018 after decade-old tweets resurfaced in which he joked about topics like pedophilia and rape. Walt Disney Studios Chairman Alan Horn told Fox News at the time that the studio had "severed our business relationship" with Gunn. However, the studio reversed that decision in March.
"I was so thrilled, so excited. I think it's the right move, I really stand behind it," Pratt, 39, told People. "I'm really proud of Disney for hiring James back and ultimately thrilled for not only us, but also for the fans. I think it's going to wrap up the trilogy in the best way."
SCARLETT JOHANSSON SIZZLES IN SILVER AT 'AVENGERS' PREMIERE WITH BOYFRIEND COLIN JOST
He continued, "And Guardians of the Galaxy are really all about second chances and giving people an opportunity to be their best. We're a ragtag squad of people coming together and having each other's back. I think it really worked out the way it was supposed to, and I feel good about it."
Pratt was among the eight cast members to share a note with Disney urging it to rehire Gunn in the wake of his controversy. At the time, Gunn had already apologized for his past comments noting that, early on in his career, he tried to be provocative with his comedy and regretted it.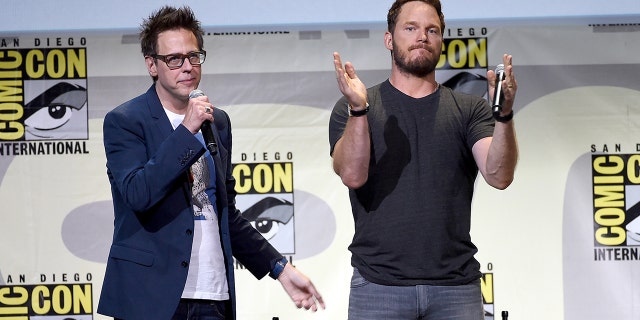 "My words of nearly a decade ago were, at the time, totally failed and unfortunate efforts to be provocative," Gunn wrote at the time. "I have regretted them for many years since — not just because they were stupid, not at all funny, wildly insensitive, and certainly not provocative like I had hoped, but also because they don't reflect the person I am today or have been for some time."
MARK RUFFALO WAS ASTONISHED TO LEARN THIS FACT ABOUT HIS 'AVENGERS: ENDGAME' CO-STAR BRIE LARSON
Disney announced that not only would it work with Gunn again, but it will use his script for "Guardians of the Galaxy 3" as well as reinstate him as director.
"I am tremendously grateful to every person out there who has supported me over the past few months. I am always learning and will continue to work at being the best human being I can be," Gunn wrote following his reinstatement. "I deeply appreciate Disney's decision and I am excited to continue making films that investigate the ties of love that bind us all. I have been and continue to be incredibly humbled by your love and support. From the bottom of my heart, thank you. Love to you all."
CLICK HERE TO GET THE FOX NEWS APP
Before his third adventure with the Guardians, Pratt is expected to appear again in "Avengers: Endgame," which hits theaters April 26. Meanwhile, Gunn will helm the sequel to "Suicide Squad" for DC and Warner Bros.