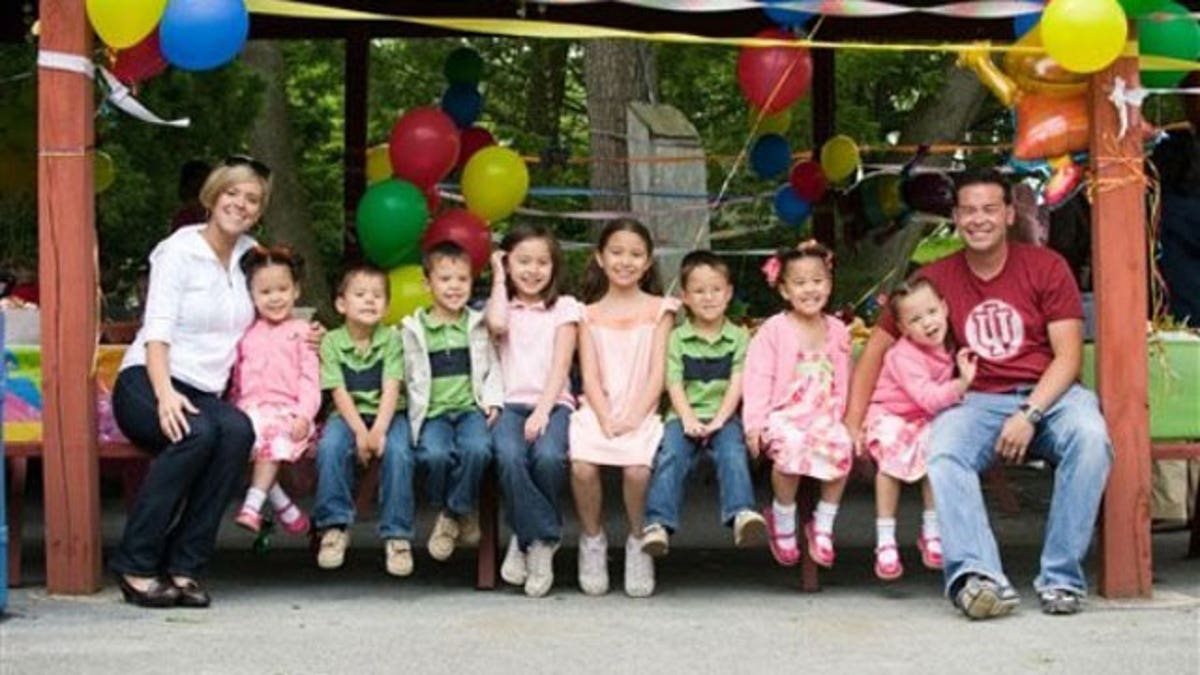 The new HBO series "Boardwalk Empire" is set on the colorful, carnival-like Atlantic City boardwalk of the early 20th century.
One of Atlantic City's popular, real-life sideshows back then was premature babies in incubators, being cared for by nurses around the clock.
People were fascinated by the tiny children, and paid money to gawk at the scene through picture windows facing the boardwalk, money that went to help the nurses care for the struggling kids.
Turn the clocks to 2010, and the current state of reality television, where a raft of "extreme family" shows vie to provide what some say is the same kind of voyeuristic thrill.
It started in 2007 with "Jon & Kate Plus 8," which explored the ins and outs of a Pennsylvania couple raising multiple children -- including sextuplets -- and earned The Learning Channel its highest ratings ever.
Since then, the genre has expanded, and viewers can't seem to get enough, whether its observing the struggles of extremely young parents in "Teen Mom," watching parents raise several children as in "19 and Counting," or following women with unexpected pregnancies in "I Didn't Know I Was Pregnant."
Add "Quints By Surprise," "Sextuplets Take New York," "Table for 12," and the new TLC polygamy show "Sister Wives" to the mix, and no fewer than nine shows on TV today are based on so-called "extreme families."
So what's driving America's fascination?
"It's like yesterday's Elephant Man is today's Octomom," said Hollywood pop culture expert and host Carrie Keagan. "These shows are a train wreck. We hate to see it, but we can't take our eyes off it."
As Pop Tarts recently reported, teen moms have become big celebrities. Aside from garnering big ratings on MTV's reality shows, the stars of "Teen Mom" and "16 and Pregnant" are now tabloid cover stars as big as Angelina Jolie and Jessica Simpson.
"One can only hope the false glamour of teen pregnancy, as portrayed in television dramas and magazine newsstands, gives way to a more realistic sociological picture," pop culture expert Mark Turner told Pop Tarts. "The idea of a mother and father raising a child in a loving, stable, home is lost on most Americans."
These TV shows certainly don't represent the typical American family. The average household size in the U.S. is 2.61, according the most recent census data, and the average age for giving birth is 25. What they do showcase a life rife with chaos, stress, love, highs and lows.
"This makes other moms feel less guilty about sometimes feeding kids mac n' cheese instead of a strict diet of organic fruits and vegetables," editor Jessica Grose writes on her website DoubleX.com. "And sometimes we're intrigued by the sense of control that these families seem to have over their offspring. Michelle Duggar's household appears to run like a mini-factory, with each of her attractive, well-mannered children doing their proper chores without any back-talk."
And while many of these shows may tout themselves as "educational," Los Angeles-based clinical psychologist Dr. Leslie Seppinni warns audiences not to be fooled.
"It is no different than going to the circus to see the fat lady, the sword swallower or small people used as cannon balls," Seppinni said.
Or, say, going to Atlantic City in the early 20th century to see premature babies behind a picture window.