Ambitious Savannah Guthrie purges Lauer ally, installs 'best friend' atop 'Today,' report says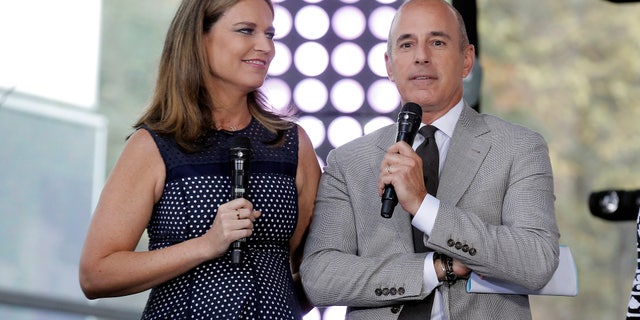 NEWYou can now listen to Fox News articles!
NBC's "Today" co-host Savannah Guthrie used her newfound clout to force out longtime executive producer Don Nash so that she would have someone "looking out for her" running the show, according to the New York Post.
In addition, NBC insiders tell Fox News that Guthrie's power play has rankled her newly named co-host, Hoda Kotb, who is concerned that Guthrie is taking a page from Matt Lauer and Katie Couric and trying to make herself into an "anchor monster." Anchor monster is a playful term in the television industry for the handful of tyrannical TV news stars who ruled broadcast news in the 1990s and 2000s.
Guthrie grew in prominence at the network's flagship morning show after Matt Lauer -- who previously ruled supreme at the Peacock Network -- was suddenly fired in November for sexual misconduct at the height of the #metoo movement. A few weeks after Lauer was sent packing, Guthrie pulled a "power grab" to have her "best friend," Libbie Leist, replace Lauer ally Don Nash as the show's top producer, the paper reported.
"Libby is Savannah's best friend, and Savannah pushed Don out to put Libby there. It is a power grab by Savannah to make sure she gets the best assignments and has someone at the top looking out for her," an "insider" told the New York Post.
"Libby and Savannah are very close. They're workout buddies and old DC allies," a different source told the Post.
The popular Nash had been at NBC for 30 years and started his career right out of college in the coveted NBC page program. Sources told the Post that insiders were "shocked" and "puzzled" when he was forced out.
Leist lacks the deep morning show experience of Nash or his longtime deputy, Tom Mazzarelli. A longtime staffer at the "Today" show who asked to remain anonymous told Fox News that the staff has been "demoralized" by Leist's appointment and is pointing the finger at Guthrie, who five years after her appointment as "Today" co-anchor is still viewed as an interloper by the close-knit "Today" staff.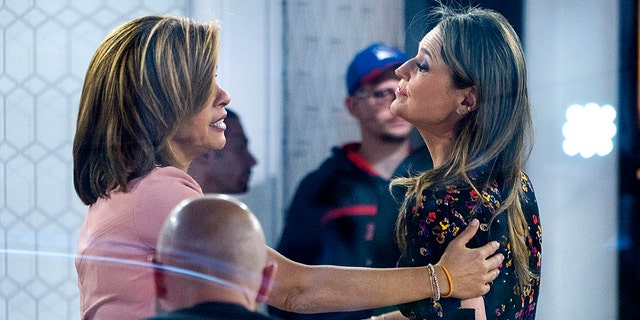 "Savannah is the Eve Harrington of television news," the staffer said, referring to the treacherous Hollywood super-fan in the 1950 classic film "All About Eve."
A "Today" source told the Post that "Libby is an incredibly accomplished and talented producer" and for "anyone to suggest that NBC would entrust her with the reins of its morning show that brings in over half a billion dollars a year because she's 'besties' with the anchor makes zero sense and smacks of sexism."
A "Today" insider asked by Fox News about the Post report refuted the sexism argument, saying that Nash was removed and Mazzarelli passed over because NBC News chairman Andy Lack and his beleaguered deputy, Noah Oppenheim, wanted to appoint a woman to the top producer post.
Lack and Oppenheim have been grappling with various sex harassment scandals at NBC News, including an internal investigation into who knew what about Lauer's behavior, and growing questions about why NBC News sat on or passed on two blockbuster exclusive sex harassment stories about Donald Trump and Harvey Weinstein.
Lack had nothing but nice things to say about Nash in an internal memo that was quickly leaked to the media in mid-January when the executive producer change was announced. "I cannot thank Don enough… He leaves with every aspect of the show on top and with a legacy he should be proud of," Lack wrote.
However, a Florida NBC affiliate quickly reported that the internal memo was "met with skepticism inside and outside NBC, given the network's firing of 'Today' co-host Matt Lauer last November."
Insiders say Nash -- who in a statement last year denied any knowledge of Lauer's bad behavior -- served entirely at Lauer's pleasure and was never in a position to control the powerful TV star. These insiders told Fox News that ever since Lauer engineered Ann Curry's ouster and signed a new contract in 2012, NBC management, including Lack and NBC Universal boss Steve Burke, had given Lauer absolute control over the program.
When reached for comment an NBC News spokesperson offered the following statement: "Not a single story you've written about the internal workings of NBC News has been accurate, and neither is this one."