Allison Mack groomed and branded 'slaves' for alleged cult leader at her home, sources say
NEW YORK – When Allison Mack was arrested last week on sex trafficking charges, the tiny, pre-war apartment complex in Brooklyn where she was staying became the last in a slew of residences spanning North America where the former television star allegedly carried out bizarre and violent rituals as part of a purported cult she joined more than a decade ago.
Mack, who played high school newspaper editor Chloe Sullivan on the CW's "Smallville" for 10 seasons, is believed to have created a secret society within the self-help organization NXIVM called "DOS" - an acronym based on a Latin phrase that loosely translates to "Lord/Master of obedient female companions" – along with NXIVM's controversial founder, Keith Raniere.
Many of the lurid acts that Raniere and Mack are purported to have carried out – which included branding their "slaves," forcing women to have sex with Raniere and various forms of public humiliation – are believed to have taken place in a light blue townhouse that Mack purchased in suburban Albany, sources familiar with NXIVM told Fox News.
Both Mack and Raniere face between 15 years to life behind bars if convicted of charges ranging from conspiracy to commit forced labor to sex trafficking.
Mack moved to Clifton Park, New York, from Vancouver shortly after "Smallville" ended its run in 2011 so she could be closer to Raniere, and it was during this time that, sources close to NXIVM say, the man who his followers call "Vanguard" began to espouse his more nefarious ideas to the actress.
"Some of the branding took place in Mack's living room in Clifton Park," Frank Parlato, NXIVM's former publicist and an investigative journalist behind FrankReport, told Fox News. Parlato added that Raniere and Mack lived together from time to time and another woman from Mexico, Mariana Fernandez, was also allegedly involved in a relationship with the two and lived in the house.
As pressure on Raniere and NXIVM began to mount following the revelations of branding that were first exposed by Parlato and then in a lengthy piece in The New York Times last year, the alleged cult leader fled to a $10,000 a week villa inside a luxury gated community in Puerto Vallarta, Mexico, sometime between late October and early November.
For a time, it is believed that Mack remained behind in the U.S. – living in the Brooklyn apartment and working to recruit new members to NXIVM and, ultimately, DOS.
"She was the principal recruiter for young slaves for Raniere," Parlato said. "They nicknamed her 'Pimp Mack.'"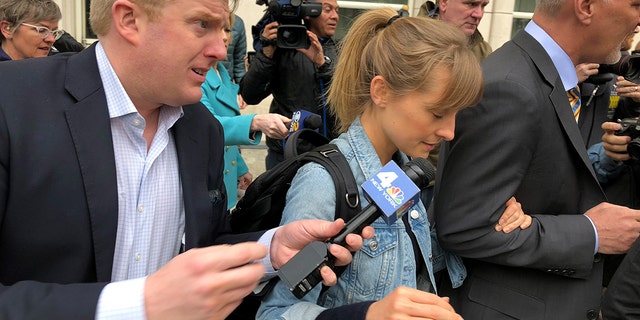 Parlato said that at any given time there were between four and 12 DOS slaves at the apartment on the corner Hicks and Pineapple in the Brooklyn Heights neighborhood and that Mack also used a rented building in the up-and-coming neighborhood of East Williamsburg as a recruiting center.
The graffiti-covered building, which features a heavy steel door and has multiple security cameras, was where women were told of NXIVM's supposed, disease-curing technology and where they provided collateral to Mack before being groomed for sex with Raniere.
It is unknown when Mack left New York and traveled to Mexico, but she was captured on video chasing after a Mexico police car following Raniere's arrest.
Following Mack's arrest last week in New York, she was detained at the Metropolitan Detention Center in Brooklyn, but a judge on Tuesday granted her release on $5 million bail.

As a condition of her bail, Mack is to have no connection with any current or former NXIVM members and will be monitored by an electronic bracelet.
Upon her release, Mack returned to California to live with her parents in the suburban Los Angeles city of Los Alamitos until her next court appearance on May 3.