Allison Mack seemingly tried to recruit Emma Watson for alleged sex cult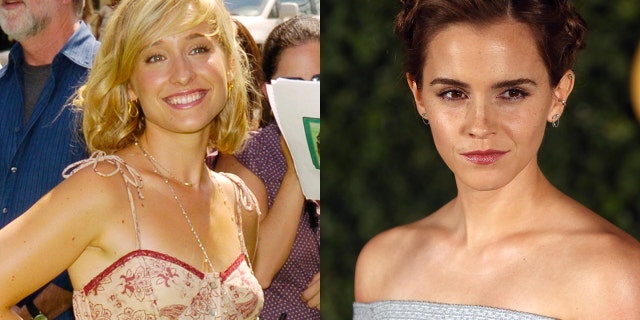 Allison Mack may have tried to recruit superstar "Harry Potter" actress Emma Watson to be a part of the alleged sex cult NXIVM.
On Jan. 23, 2016, Mack tweeted "@EmWatson I'm a fellow actress like yourself & involved in an amazing women's movement I think you'd dig. I'd love to chat if you're open."
Watson's current Twitter handle is @EmmaWatson. Watson became an activist for women's issues and gender equality and was named a UN Women Goodwill ambassador in 2014. It appears Mack was attempting to reach the "Beauty and the Beast" star to tell her about the organization that she touted as a female mentorship group.
A rep for Watson did not immediately return Fox News' email seeking comment.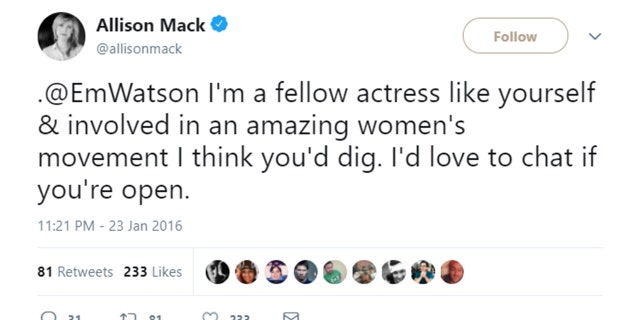 Mack, now 35, is best known for her role in "Smallville" on the CW. On Friday, she pleaded not guilty to sex trafficking after federal prosecutors said she worked as a slave "master" recruiting unsuspecting women to the cult-like group led by a man who sold himself as a self-improvement guru to the stars.
Keith Raniere, the co-founder of NXIVM, stands accused of keeping numerous women as slaves and branding his initials into their skin. In March, Mack was seen in March running after him as police hauled him away from a $10,000-a-week Mexican villa where the pair had reportedly been hiding out.
"As alleged in the indictment, Allison Mack recruited women to join what was purported to be a female mentorship group that was, in fact, created and led by Keith Raniere," U.S. Attorney Richard P. Donoghue said in a statement. "The victims were then exploited, both sexually and for their labor, to the defendants' benefit."
A bail hearing for Mack will be held Tuesday.
"She was the principal recruiter of young slaves for Raniere," Parlato told Fox News on Friday. "They nicknamed her Pimp Mack."
Prosecutors said she required women she recruited to engage in sexual activity with Raniere, who paid Mack in return.
Assistant U.S. Attorney Moira Kim Penza said in court that that "under the guise of female empowerment" Mack "starved women until they fit her co-defendant's sexual ideal."
Founded in 1998, NXIVM promoted Raniere's teachings as a kind of mystical, executive coaching designed to help people get the most out of life. Enrollees in its Executive Success Programs paid handsomely for his advice. The organization also drew criticism from people who likened it to a cult.
Last year, the accusations took a new twist, with women who were part of a NXIVM subgroup coming forward to say that they had been physically branded with a surgical tool against their will.
Fox News' Stephanie Nolasco, Andrew O'Reilly and The Associated Press contributed to this report.