Alec Baldwin arraigned in parking spot punch assault case, enters not guilty plea
Alec Baldwin arrived at a New York court Monday morning to answer assault and harassment charges after being accused of punching a man in the face over a parking space.
The hot-headed actor, who arrived solo in a black SUV and ignored reporters' calls for comment as he was escorted into the courthouse by police officers, entered a plea of not guilty on the misdemeanor and violation-level charges. He has said any assertion that he punched anyone over a parking spot is false.
Baldwin was arrested on Nov. 2. Police were told a driver pulled into a Manhattan parking space that one of Baldwin's relatives was holding for him, and the two men started quarreling and pushing each other.
VIDEO: BALDWIN ARRIVES IN COURT
The other driver told police Baldwin punched or slapped him. The 49-year-old man was taken to a hospital complaining of jaw pain and redness around his neck.
Baldwin later tweeted the episode was "egregiously misstated."
ALEC BALDWIN'S ARRESTS AND SCANDALS THROUGH THE YEARS, FROM PARKING SPACE FIGHT TO WRONG-WAY BIKE TICKET
He is expected back in court on January 23.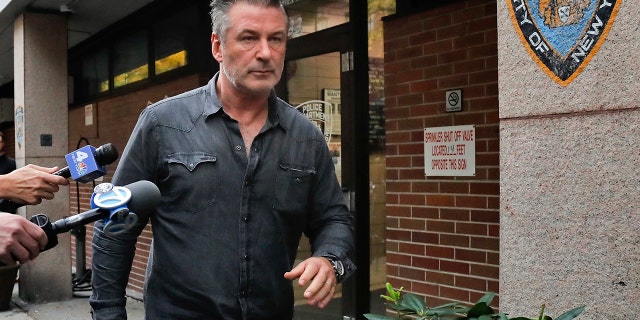 Hours after his arrest, Baldwin took to his family foundation's Twitter account to address the incident.
"Normally, I would not comment on something as egregiously misstated as today's story," Baldwin tweeted hours after his arrest earlier this month.
"However, the assertion that I punched anyone over a parking spot is false," he continued. "I wanted to go on the record stating as much. I realize that it has become a sport to tag people was many negative charges and defaming allegations as possible for the purposes of clickbait entertainment."
This is not the first arrest for the notoriously tantrum-prone star. Baldwin was cuffed in 2014 after he became "belligerent" with a police officer who stopped him on his bike after he was riding in the wrong direction.
ALEC BALDWIN'S ABC TALK SHOW TANKS IN RATINGS
NYPD told Fox News at the time that Baldwin, who had no identification on him, "refused to [identify] himself, became belligerent, cursing and yelling. He was then placed in handcuffs."
Baldwin went on a Twitter rant after that arrest, posting the arresting officer's name and badge number. The actor tweeted that he was taken into custody while "photographers outside my home ONCE AGAIN terrified my daughter and nearly hit her with a camera. The police did nothing."
He then added, "New York City is a mismanaged carnival of stupidity that is desperate for revenue and anxious to criminalize behavior once thought benign."
Baldwin has also had several other run-ins with the general public that did not involve law enforcement.
ALEC BALDWIN CALLS FOR 'OVERTHROW' OF TRUMP AT DEM FUNDRAISER
In 2011, the former "30 Rock" star was removed from a flight after refusing to stop playing the game "Words With Friends" on his phone.
In 2012, he was accused by a photographer of getting aggressive with him on a New York City street, and in 2013 another photographer filed a harassment claim against Baldwin.
The prickly man about town had been laying relatively low recently when it came to street scuffles, making more headlines for his frequent attacks on President Trump and his popular parody of the president on "Saturday Night Live."
Fox News' Tamara Gitt and the Associated Press contributed to this report.