Actress Meryl Streep renews harsh criticism of Trump in emotional speech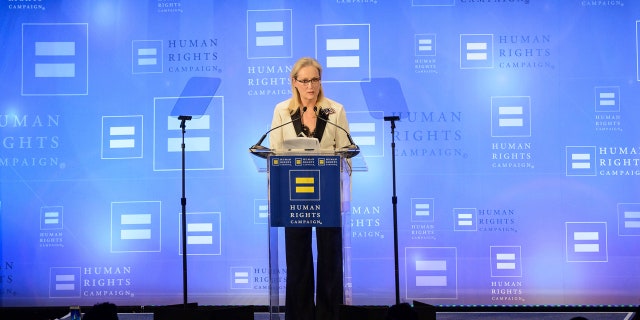 In an emotional speech on Saturday night, actress Meryl Streep doubled down on her harsh criticism of President Donald Trump, and spoke of becoming a target at the Golden Globes in January.
At a fundraising gala for the Human Rights Campaign, a national LGBT group, Streep referred to Trump's tweet after her Globes speech, in which he called the celebrated actress "overrated."
"Yes, I am the most overrated, over-decorated and currently, I am the most over-berated actress ... of my generation," Streep said.
Streep said she wished she could stay at home and "and load the dishwasher" rather than take a podium to speak out adding that "the weight of all these honors" she's received in her career compelled her to speak out.
"It's terrifying to put the target on your forehead," she said. "And it sets you up for all sorts of attacks and armies of brown shirts and bots and worse, and the only way you can do it is if you feel you have to. You have to! You don't have an option. You have to."
Streep was receiving the group's National Ally for Equality Award.
She clarified that she indeed likes football too after previously saying that football and martial arts weren't arts in her Globes speech.
The actress also praised the organization for defending LGBT rights.
Streep then spoke about cultures used to put men at the top, but that women, people of color and other minorities began achieving their deserved rights at some point in the 20th century. "We shouldn't be surprised that fundamentalists, of all stripes, everywhere, are exercised and fuming," she said.
Turning to Trump, she said: "But if we live through this precarious moment — if his catastrophic instinct to retaliate doesn't lead us to nuclear winter — we will have much to thank this president for. Because he will have woken us up to how fragile freedom really is."
Streep said the country has now learned "how the authority of the executive, in the hands of a self-dealer, can be wielded against the people, and the Constitution and the Bill of Rights. The whip of the executive can, through a Twitter feed, lash and intimidate, punish and humiliate, delegitimize the press and all of the imagined enemies with spasmodic regularity and easily provoked predictability."
"All of us have the human right to life, liberty and the pursuit of happiness," the actress said.
"If you think people were mad," Streep said, "when they thought the government was coming after their guns, wait until you see when they try to take away our happiness."

The Associated Press contributed to this report.