Yemenis press anti-government protests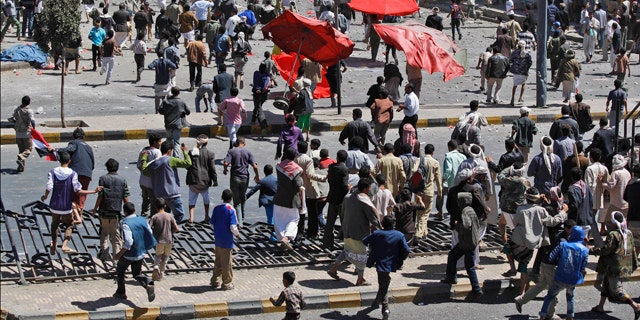 NEWYou can now listen to Fox News articles!
SANAA, Yemen – Thousands of protesters defied appeals for calm from the military and the country's most influential Islamic cleric and marched in cities across Yemen on Thursday, pressing on with their campaign to oust the U.S.-allied president.
In the capital Sanaa, protesters fought off attacks by police and government supporters swinging batons and daggers. Municipal vehicles ferried sticks and stones to the pro-government side, witnesses said.
In the port city of Aden, protesters burned tires and government vehicles the day after security forces killed two demonstrators there, witnesses said.
For seven straight days, protests have hit the capital, Sanaa, and other cities in the Arab world's poorest country, a mountainous territory wracked by tribal conflicts, armed rebellion and other serious woes.
Inspired by uprisings in Egypt and Tunisia, Yemenis have poured into the streets to demand the ouster of President Ali Abdullah Saleh after 32 years in power — three years more than Egypt's Hosni Mubarak. Their main grievances are poverty and government corruption.
Saleh's promises not to run for re-election in 2013 or to set up his son as his heir have failed to quiet the anti-government storm sweeping Yemen and other nations in the region. Similar protests also swept into Libya and Bahrain this week.
The Yemeni president is an important U.S. ally in fighting al-Qaida. The terror group's Yemen-based offshoot has been linked to attacks beyond Yemen's borders, including the failed attempt in December 2009 to blow up a Detroit-bound airliner.
Thursday's protests in the capital began with small gatherings of students marching toward the downtown area. Others joined them as clashes broke out with police and government supporters. The number of protesters reached about 6,000.
"People want to topple the president, people want to topple the regime," they chanted.
Witnesses said police fired shots into the air to disperse the protesters. A dozen protesters and an unknown number of policemen were injured.
Security officials said police arrested about 50 protesters.
New York-based Human Rights Watch said 10 protesters were injured in clashes with police, who also tried to prevent journalists from working.
"Yemenis have a legitimate right to freedom of expression and assaults against both them and journalists covering their protests are totally unacceptable," said Philip Luther, the group's regional deputy director.
In Aden's Mansoura district, protesters burned tires and at least four government vehicles, one day after security force killed two demonstrators there in an attempt to quell the unrest.
Protester Adib Salam said police shot rubber bullets and live rounds at protesters and attacked them with batons and stun guns. He said many injured were lying in the streets because cars and ambulances could not move freely in the city.
Local council head Omar Abdel-Nasser called the police's tactics against protesters "illegal."
"The killing in cold blood of youths protesting peacefully that we are seeing now and that we saw yesterday are a terrible crime" committed by security forces, he said.
Health officials said 10 injured people had reached a local hospital.
The violence flared as Yemeni Vice President Abd Rabu Mansour arrived in the city at the charge of the president to try the quiet down the situation, Yemeni TV said.
Protesters held smaller demonstrations in several other towns. The Yemeni army blocked entries to some towns to prevent more demonstrators from entering.
Seeking to hold on to the momentum, activists have called for a "day of rage" Friday.
Yemen's official news agency, Saba, reported that President Saleh chaired a meeting of the army's top officers Wednesday night to discuss the turmoil. The Defense Council later called for calm.
Another appeal to end the protests came from Yemen's most prominent religious figure, Sheik Abdul-Majid al-Zindani, who is close to Saleh. The United States considers him an al-Qaida-linked terrorist.
"Change by street protest is rejected. It leads to chaos," al-Zindani said.
.