World Cup fever hits UN as ambassadors don their nations' soccer shirts
Russia, so often seen as a bad actor in the international arena, got a break Thursday at the United Nations and throughout the universe as World Cup fever began.
Standing next to U.S. Ambassador Nikki Haley wearing her U.S. soccer shirt, Russian Ambassador Vassily Nebenzia looked to be enjoying the occasion as he hosted a team picture with the 15 members of the U.N. Security Council, who also donned their nations' jerseys.
U.N. Secretary-General António Guterres, a Portuguese national, entered the Security Council chamber blowing a whistle and wearing a traditional black referee's shirt.
Earlier in what looked like a World Cup fan zone, Russia, who holds June's rotating Security Council presidency, which sets the agenda and program of work for the Council that month, invited diplomats to join them in watching the opening game that featured Russia playing Saudi Arabia.
Russia has set up TVs all over the U.N. so all can keep an eye on their team.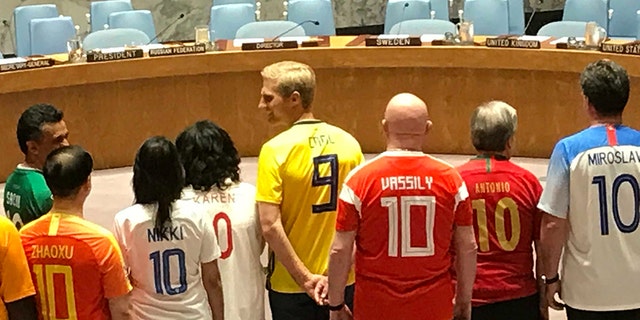 2018 FIFA WORLD CUP: WATCH LIVE MATCHES STREAMING ON FOX SPORTS FROM JUNE 14 TO JULY 15
Standing in front of the World Cup mascot, Zabivaka, Nebenzia welcomed U.N. diplomats.
He said: "I earnestly hope that it will be a peaceful month to enjoy both peace and football, and sports as you know is a great medium and a great uniting force in the world … may the best team win, and let's enjoy football together."
Russia went onto win the game 5-0 against a much weaker Saudi Arabia team.
Fox News spoke to several ambassadors and asked for some predictions.
Peru's Ambassador Gustavo Meza-Cuadra diplomatically said that he believed the World Cup would go back to South America, and was ecstatic that Peru was back in the tournament for the first time in 36 years.
2018 FIFA WORLD CUP: FULL MATCH SCHEDULE
"We have a wonderful team," he said.
Standing next to the Peruvian ambassador was Brazil's Deputy Ambassador Frederico S. Duque Estrada Meyer, who said none of his colleagues want to take a bet with him, saying it was "a pity."
Brazil is going for its sixth World Cup final win.
His prediction: "Brazil, then Peru."
Perhaps a country the U.S. could learn a thing or two from in building up a winning soccer program is the tiny European nation of Iceland with a population of 300,000 — the smallest country playing at this year's World Cup.
Two years ago Iceland shocked the world beating England on its way to a quarter-final birth before losing out to France at the European Championships.
Asked by Fox News for his advice to U.S. soccer, its U.N. Ambassador Einar Gunnarsson said that, "The basis for our success was to invest in the young — in the youth. So two decades ago, we started a very strong focus on building up facilities, training the trainers and focusing on the youth movement, and that is really the basis for what we have been doing."
On his hopes for winning the whole thing, Gunnarsson seemed somewhat confident: "Of course, we can go all the way, everything is possible. But it's a tall order for a small country with 300,000 people."
Mexico's U.N. Ambassador Juan José Gómez Camacho believed his country is in there with a chance, too: "We are always very hopeful, we always feel very strong, and hoping we will go very far."
Following Russia's 5-0 win, it was back to business for the Security Council for an important meeting on the ongoing crisis in Yemen.
The Russian ambassador read out a statement on Yemen to the press — while he was still wearing his red Russian team shirt, perhaps in anticipation for the Security Council photo-op that was the next order of business before resuming for another meeting — this time on peacekeeping.
Only six of the 15 members of the U.N. Security Council have teams in this year's final.
On present form, France, England and Peru seem most likely to progress to the later rounds at the expense of their Polish, Swedish and Russian colleagues.