Winter Storm Makes Another Appearance In Northeast, Skiers Rejoice While Travelers Grumble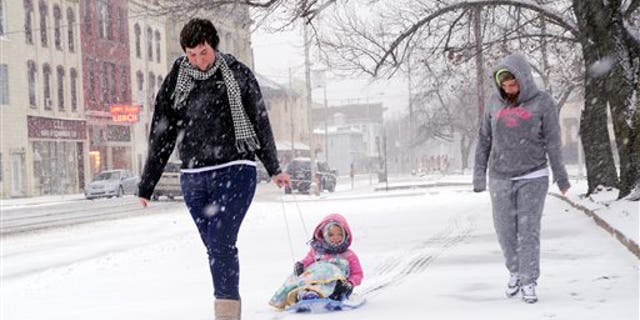 HARTFORD, Conn. (AP) – A weekend storm that dumped a foot or more of snow in parts of the Northeast made ski area operators and snow removal workers happy, but travelers were still dealing with slippery roads and flight cancellations Sunday.
Molly Taaffe, 23, was on the slopes at Loon Mountain in Lincoln, N.H., by 8 a.m. for her 10th day of skiing this season. She said it was her best outing yet.
"There's nothing like powder," she said. "It's incredible. It's really busy, everyone's so excited. You don't get a lot of days like this on the East Coast, so when you do everyone's psyched."
Snowfall in the region ranged from 2 to 8 inches in Connecticut and Rhode Island to almost 11 inches in northern Massachusetts and nearly 17 inches on Maine's southern coast, according to the National Weather Service.
"We term it a kind of low-end nor'easter," said Bill Simpson, a meteorologist for the Weather Service. "It's a pretty typical winter storm."
Car accidents were reported across the region, including a crash in central Pennsylvania that killed two people late Saturday morning. Police tell The Altoona Mirror that an SUV was traveling too fast for weather conditions when it lost control and slid into the path of an oncoming pickup truck. The two people in the SUV died, and the truck driver was seriously injured.
Airports were also trying to get back to normal after hundreds of flight cancellations. Many morning flights at Logan International Airport in Boston and other airports in the region were canceled, but most afternoon flights were listed as on time.
"There weren't any lines, and passenger flow in the terminals was light to moderate," said Miraj Berry, a spokeswoman for the Massachusetts Port Authority, which runs Logan. "We are open, but it's very important that passengers check with their airlines before coming to the airport."
Flights in the New York City area, which received significant snowfall totals, were taking off on schedule Sunday.
New York City's Central Park Zoo recorded 6 inches of snow Saturday, while Westchester County in suburban New York netted 7.5 inches. The snow turned to rain in the metropolitan area overnight and left behind a coating of ice, resulting in slick sidewalks and roadways.
In Connecticut, Angel DeJesus and John Rosario began clearing snow at apartment complexes on Hartford's south end at about 5 a.m. Sunday. Freezing rain was falling early in the morning, making the use of snowblowers more difficult, said DeJesus, a manager for Carabetta Management.
"We love the snow," DeJesus said. "Overtime for us. And we like to take care of our tenants."
Skiers and snowboarders throughout New England also rejoiced in the cold, snowy weather and a chance to get out on the slopes.
Mount Sunapee ski area in Newbury, N.H., got a fresh 13 inches of snow and a big skier turnout Sunday morning, said marketing director Bruce McCloy.
"Cars are pouring into the parking lot as I look out the window," he said. "People are excited."
Utility companies reported only scattered power outages in Massachusetts, Connecticut and Rhode Island and a few hundred total in New Hampshire, Vermont and Maine.
Follow us on twitter.com/foxnewslatino
Like us at facebook.com/foxnewslatino