Powerful Winter Storm Slams West Killing At Least 8, Could Cause Trouble For Holiday Travelers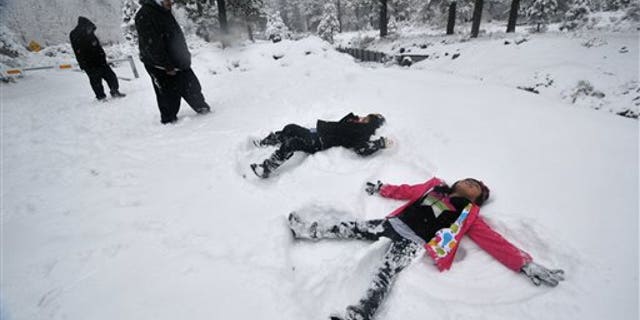 ALBUQUERQUE, N.M. (AP) – Stormy weather across the West blamed in eight deaths moved steadily eastward, prompting alerts of wintry conditions in New Mexico and Texas.
Forecasters said the storm system in the West would sweep across the South and toward the Atlantic coast the coming week, causing problems for holiday travelers.
The "Nordic outbreak" will "produce a mixed bag of wily weather that will end up impacting much of the nation," National Weather Service meteorologist Joe Harris said.
With a winter storm warning in effect for parts of New Mexico, snow was falling across much of the state early Sunday and forecasters predicted up to 5 inches for many areas.
The state Department of Transportation said motorists on several major roadways, including parts of Interstate 40, faced difficult driving conditions because of packed snow and ice, while some roads in the south were closed. Low temps were predicted to be mainly in the 20s statewide.
Station KOB reported strong winds and near white-out conditions late Saturday night along a stretch of I-40, about 80 miles west of Albuquerque.
Parts of the state had already been hit with snow and freezing rain that caused a rollover accident that killed a 4-year-old girl in the eastern part of the state.
Three other storm-related deaths were reported Saturday in a crash in the Texas Panhandle involving nearly a dozen vehicles.
In California, where the storm system hit first, prompting flooding and water rescues in recent days, three deaths have been linked to the storms since Thursday, as authorities found one body near downed power lines, one man crashed his vehicle into a tree and a woman was killed when a tree fell on a parked car.
In Arizona, firefighters recovered the body of a man who was swept away by high waters Friday in the Santa Cruz River in the southern part of the state.
The storm already has affected much of the West, causing hundreds of rollover accidents and prompting officials to cancel events and close roads.
In Nevada, snow in high elevations temporarily bogged down travel.
In Arizona, more than 8,000 cyclists competed Saturday in rainy conditions in the annual El Tour de Tucson. One cyclist died in a collision with a vehicle, but there was no immediate indication that the accident was storm related. Also, high school football games, soccer tournaments and parades were cancelled across the state.
Forecasters said parts of both California and Arizona could expect severe weather with winter storm warnings through Saturday.
In Texas, freezing rain and cold temperatures have already hampered travel and much of the "heavy stuff" will hit south of I-20, Harris said. Several traffic accidents were reported, including the fatal crash late Friday that left several injured hurt in Vega, about 30 miles west Amarillo, and one that injured three members of singer Willie Nelson's band when their bus struck a pillar on Interstate 30 near Sulphur Springs, about 75 miles northeast of Dallas.
The National Weather Service has issued a winter weather advisory for much of the Texas Panhandle until Monday morning, while the Dallas-Fort Worth area was under a winter storm warning until Monday.
Follow us on twitter.com/foxnewslatino
Like us at facebook.com/foxnewslatino