Washington governor will not direct special prosecutor in police shooting of Mexican man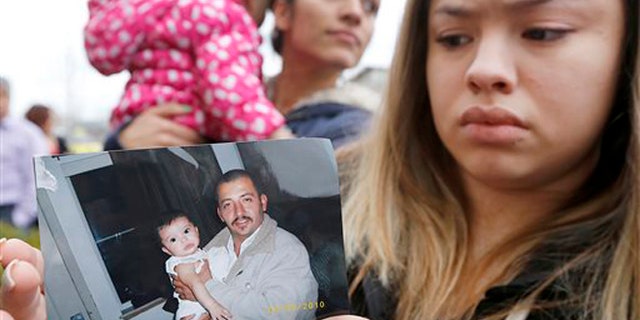 SEATTLE (AP) – Washington Gov. Jay Inslee said he will not direct the state Attorney General to appoint a special prosecutor to investigate the deadly police shooting in Pasco.
Inslee declared his position in a letter to the Consejo Latino activist group on Tuesday in response a request the group made earlier this month. Retired Col. Felix Vargas, chairman of the group, wrote in a March 16 letter that they are concerned about Franklin County Prosecutor Shawn Sant's ability to conduct a fair investigation. Vargas urged Inslee to use his authority to make the attorney general replace Sant with an impartial, independent special prosecutor.
The fatal shooting of Antonio Zambrano-Montes by three police officers on Feb. 10 was captured on a widely seen video and sparked weeks of protest. The state Commission on Hispanic Affairs was scheduled to hold public meetings in Pasco this weekend to allow community members to discuss the shooting.
Vargas told Inslee in a letter acquired by The Associated Press that the group asked Sant directly to ask Attorney General Bob Ferguson to appoint a replacement, but Sant responded with a March 12 letter rejecting that idea.
Vargas listed several concerns about Sant's work on the case. Sant has not kept a public distance from the investigation, Vargas said in the letter. Sant has appeared alongside the Special Investigative Unit during news conferences, which "conveyed the impression that he had taken the side of the police officers involved."
Sant will use the unit's findings to decide whether to file charges against the three police officers.
Vargas also said Sant's previous work as a police officer coupled with his job as a prosecutor defending police in court "could be seen as adversely impacting his ability to make an objective and impartial decision on whether charges should be filed."
Sant did not immediately respond to messages left Saturday seeking comment.
Inslee said he was "deeply troubled" by Zambrano-Montes' death and wants to ensure "there is a thorough and objective investigation."
County prosecutors have a legal duty and moral obligation to fully investigate and prosecute crimes that occur in their regions, and they should not be removed from their positions "absent very specific, tangible and compelling reasons, and I am not confident that those reasons have been established at this point in the ongoing investigation," the governor wrote.
Inslee said he was open to re-evaluating the request at a later time "should appropriate facts and circumstances arise." Until that time, he said he will continue to monitor the situation and encouraged everyone to be "both watchful and patient."