Mexico condemns police shooting of migrant farm worker in Washington state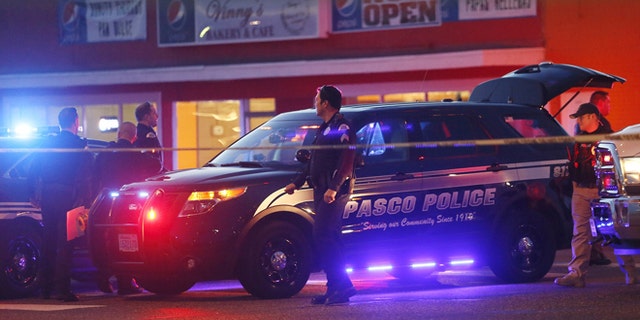 PASCO, Wash. (AP) – The fourth fatal police shooting since last summer in this agricultural city of 68,000 in southeastern Washington is drawing criticism and scrutiny from as far away as Mexico.
Tuesday's death of orchard worker Antonio Zambrano-Montes sparked protests after witnesses said he was running away when he was shot.
Mexico's Foreign Relations Department issued a statement Thursday condemning the shooting of Zambrano-Montes, who was raised in Mexico. Washington Gov. Jay Inslee said he was monitoring the situation.
Franklin County Coroner Dan Blasdel, whose office was conducting an autopsy on Zambrano-Montes, said he was considering convening an inquest jury to look into the death.
"We don't want another Ferguson here in Pasco," Blasdel told The Seattle Times, referred to the riots that followed the Aug. 9 shooting death of an unarmed black man by a white police officer in Ferguson, Missouri, and a grand jury's decision not to indict.
Police say Zambrano-Montes' threatening behavior led officers to open fire. The 35-year-old threw multiple rocks, hitting two officers, and refused to put down other stones. They say a stun gun failed to subdue him.
He had a run-in with Pasco police early last year, having been arrested for assault after throwing objects at officers and trying to grab an officer's pistol, court records show.
In three previous fatal police shootings in Pasco, prosecutors cleared officers with the Pasco Police Department and a sheriff's deputy who was working on a regional SWAT team.
Pasco Police Chief Bob Metzger has appealed for patience during an investigation by the Tri-City Special Investigation Unit and an internal review.
"The officers are ... on administrative leave — until they are reviewed and everything is done, they will not be back to work," he said. "It's important we get the right information."
Blasdel says he won't decide about an inquest until the investigation is complete.
"This was really not a racial issue," Metzger told KING-TV of Seattle. The chief met for two hours with the dead man's relatives at a small bakery near where he died.
"Three police officers against one man throwing a rock?" an aunt, Angela Zambrano, said to The Times. "This was murder in cold blood."
Some people who saw the shooting at a busy intersection videotaped the confrontation.
In one video recording, five "pops" are audible shortly after the video begins, and the man can be seen running away, across a street and down a sidewalk, pursued by three officers. As the officers draw closer to the running man, he stops, turns around and faces them. Multiple "pops" are heard and the man falls to the ground.
Protesters chanted "We want justice" in English and Spanish at Pasco City Hall on Wednesday, and they planned to demonstrate again Saturday.
Meanwhile, a handful of people showed up at City Hall on Thursday to show support for police. "It's important for these officers to know the entire community is not out to get them," Chris Black, an Army veteran, told the Tri-City Herald.
Inslee said his staff has been in contact with local officials.
"We are going to need to get to the bottom of understanding the circumstances of this," he said. "There will be, and needs to be, a very complete assessment of all of the circumstances of what happened here. And that needs to happen, in detail, in depth."
Zambrano-Montes was raised in Michoacán, Mexico, and has lived for about a decade in Pasco, where more than half the residents are Hispanic.
In its statement, Mexico's Foreign Relations Department called the shooting one of the "events in which unwarranted use has been made of lethal force."
The department said the Mexican Consul in Seattle had "sent a message of protest to the Pasco chief of police ... requesting information on the disciplinary measures that could eventually be imposed on the police officers involved in the incident."
The department said it was helping Zambrano-Montes' family "with the aim of ensuring that all available legal avenues are explored and taken to their fullest extent."
Family members told the Tri-City Herald that Zambrano-Montes battled depression after being separated from his two teen daughters.
"He was a kind person, family-oriented," his cousin, Blanca Zambrano, told the newspaper. "He was hard-working."