Body of migrant worker killed in Pasco police shooting heads to Mexico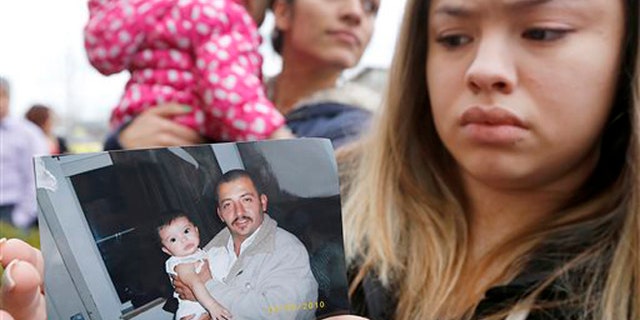 The body of a migrant farmworker killed by police in Washington is expected to be flown back to his hometown in Mexico for burial as a high profile attorney was hired by the family to represent them in their efforts to get justice.
Antonio Zambrano Montes' body is expected to be flown from Washington to Guadalajara, where government officials from Michoacan will take control, Pablo Mendicuti Villafan with the Mexican Consulate in Seattle told the Bellingham Herald.
The migrant worker, who is from the tiny village of La Parotita in Michoacán, was killed during a confrontation with police in the southeastern Washington town of Pasco.
After two autopsies performed in Washington's Franklin County were deemed not up to snuff by the Zambrano Montes legal team, his body was flown to Florida where a doctor hired by prominent lawyer Jose Baez examined the corpse.
The Feb. 10 shooting of Zambrano Montes came as police say his threatening behavior led officers to open fire.
The 35-year-old allegedly threw multiple rocks, hitting two officers, and refused to put down other stones. They say a stun gun failed to subdue him before he fled from the scene and was eventually shot to death.
Some people who saw the shooting at a busy intersection videotaped the confrontation.
In one video recording, five "pops" are audible shortly after the video begins, and the man can be seen running away, across a street and down a sidewalk, pursued by three officers. As the officers move closer to him, he stops, turns around and faces them before multiple shots are heard and the man falls to the ground.
His death sparked protests and rallies in the small city as well as comparisons to recent police-related shootings in places like Ferguson, Mo. and New York City.
"Everybody is upset at this moment for what happened and we want to see justice served to the police officers involved in the shooting," Fabian Ubay, the spokesperson for Zambrano-Montes' family, told Fox News Latino last month.
A local service was held in Pasco last week and family members gathered in town for more than a week to view the body, while there has been an outcry of support throughout the region for both Zambrano-Montes and the Pasco Police Department.
The Hispanic group Consejo Latino has called for a special prosecutor for the case of three Pasco officers who shot and killed a man who threw rocks at cars and police.
KNDU reports the group asked Franklin County Prosecutor Shawn Sant in a letter Tuesday to step away from the case and ask the state attorney general to appoint a special prosecutor.
The group says Sant has a conflict of interest because he has appeared at news briefings with the spokesman for a regional police unit investigating the shooting.
If the prosecutor refuses the request, Consejo Latino says it will ask the governor to intervene.
The Associated Press contributed to this report.
Like us on Facebook
Follow us on Twitter & Instagram