Lawyer wants Pasco officers charged with murder in shooting of migrant worker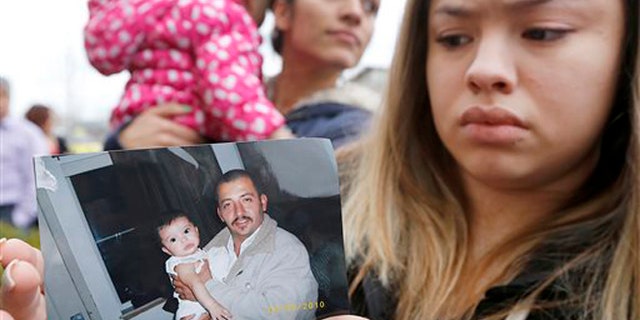 Pasco, Wash. (AP) – The attorney for the widow of a Mexican man shot to death by Pasco police wants the three officers to be charged immediately with murder.
Attorney George Trejo of Yakima has sent a letter to Franklin County prosecutors calling for the cancellation of a planned coroner's inquest and the filing of murder charges in the Feb. 10 shooting in Pasco that was captured on video.
Trejo contends that the officers executed Antonio Zambrano-Montes, 35, and should at minimum be charged with second-degree murder.
The Tri-City Herald reported Tuesday that Franklin County Prosecutor Shawn Sant was awaiting a report from the Tri-City Special Investigations Unit and then will decide if any charges are filed against the officers.
"I have insufficient information to charge anybody with any crimes at this point," Sant said.
Zambrano-Montes was fired upon by Pasco police officers Ryan Flanagan, Adam Wright and Adrian Alaniz after he reportedly threw at least one rock at them. The orchard worker was not carrying a gun or knife. A rock was found near his body.
His death has sparked weeks of protests and demonstrations in Pasco, an agricultural city that is majority Hispanic.
Trejo was recently rehired by Teresa De Jesus Meraz Ruiz, the widow of Zambrano-Montes. She originally dropped Trejo after he filed a $25 million claim with the city of Pasco shortly after the shooting. Charles Herrmann, a Seattle-area lawyer hired after Trejo was let go, was notified last week that Ruiz no longer wanted him to represent her.
In his letter, Trejo said he believes an inquest called by Franklin County Coroner Dan Blasdel is unnecessary and should be considered special treatment for the three officers.
Trejo also asked Sant in the letter if he could be part of the inquest and question witnesses.
Sant said he will not make any charging decisions until the inquest is complete, and will not allow any lawyers to participate.
Blasdel said he decided to hold an inquest because he wants facts about the case to be open to the public.
The inquest will allow a jury of six civilians to determine the cause and manner of death in the shooting. The jury also will decide if the shooting was justifiable.
Blasdel will oversee the proceedings, which will take place in a courtroom. Though the jury will reach a verdict, Sant ultimately will decide whether criminal charges should be filed.
Also on Monday, Consejo Latino, a Pasco community group that has been outspoken about the shooting, sent a letter to Gov. Jay Inslee requesting a special prosecutor to replace Sant. The group wrote that Sant was too close to the investigation and that his time spent as a police officer in Prosser and reserve officer in Richland created a conflict of interest.
The prosecutor said he was elected to make tough decisions and had no plans to step aside.
Like us on Facebook
Follow us on Twitter & Instagram