Pasco police shooting moves Latinos to flex their muscle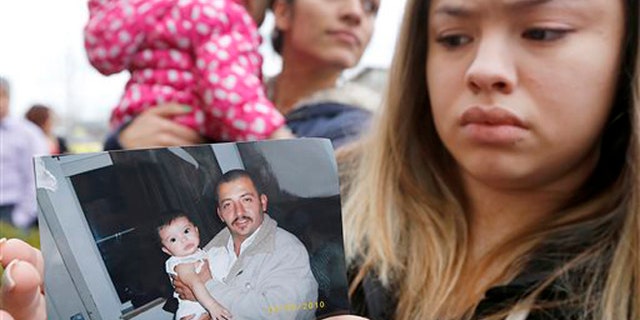 NEWYou can now listen to Fox News articles!
Latino immigrants from Mexico started arriving in Pasco in the 1960s, spurred by jobs in the region's agricultural industry and promises of a better life. Over the next five decades, they've set up homes, businesses and lives for themselves, all while making themselves an integral part of this town of just under 68,000 people located at the convergence of the Columbia and Snake rivers in southeastern Washington state.
But looking at the small city's government or police department, one sees mostly white faces in a town that is predominately Hispanic. Only 14 of the town's 68 police officers are Hispanic, one city councilman is Latino and the school board has no Latino members in a town that is 56 percent Hispanic and in a county where Hispanics make up 51 percent of the populace.
The recent shooting death of an unarmed Mexican immigrant by three city police officers, however, has cast light on this disparity and stirred many Latino leaders to demand not only justice in the killing but also to promote a concerted effort to raise the profile of the city's large Latino population.
"It's a signal of the emergence of a larger issue," Pasco city manager Dave Zabell told Fox News Latino about the rallies and marches following the shooting death of Antonio Zambrano-Montes. "It's a more purposeful engagement by the Latino leaders and the community."
In a scene reminiscent of protests over the last year in places like Ferguson, Missouri, and New York City, hundreds of protestors gathered last Saturday in Volunteer Park in downtown Pasco – some carrying signs reading "Stop Police Brutality: It was just a rock!!!" and "Shoot me on the leg but don't kill me!" – to protests the shooting death of Zambrano-Montes earlier in the week.
To make any change between the police and the community we need to do it in a peaceful way.
Police say Zambrano-Montes' threatening behavior last Tuesday led officers to open fire. The 35-year-old allegedly threw multiple rocks, hitting two officers, and refused to put down other stones. They say a stun gun failed to subdue him before he fled from the scene and was eventually shot to death.
Some people who saw the shooting at a busy intersection videotaped the confrontation.
In one video recording, five pops are audible shortly after the video begins, and the man can be seen running away, across a street and down a sidewalk, pursued by three officers. As the officers move closer to him, he stops, turns around and faces them before multiple shots are heard and the man falls to the ground.
"Everybody is upset at this moment for what happened and we want to see justice served to the police officers involved in the shooting," Fabian Ubay, the spokesperson for Zambrano-Montes' family, told FNL.
Franklin County coroner Dan Blasdel ordered a seven-member jury to decide whether the killing was justified. A prosecutor will then decide whether to pursue charges. Members of the Latino community said that they hope that at least half the people on the jury are Hispanic.
A local Hispanic advocacy group in Pasco, Consejo Latino, has also asked the U.S. Justice Department to conduct its own investigation into the death of Zambrano-Montes, arguing that having local authorities investigate the case poses a conflict of interest.
"It appears inescapable that the lethal force applied by these police officers was excessive in the extreme and, as such, it constituted a violation of Mr. Zambrano's constitutional rights," Consejo Latino Chairman Felix Vargas wrote in his letter to the Justice Department.
While the shooting of Zambrano-Montes may be impetus for the protests, some observers say that the protests and rallies being held in the wake of his death are a sign of long-held feelings of neglect and disenfranchisement in the Latino community in Pasco – and in other parts of Washington state.
"This is one of the issues in Washington," Peter Bloch Garcia, the executive director of the Latino Community Fund of Washington, told FNL. "They're not proportionately represented on any level of government in Washington state."
Bloch Garcia said that in the case of Pasco, as with many areas of the state, many Latinos feel they are being targeted for their immigration status so they remain in the shadows – and are at times at odds with police. David Cortinas, the publisher of Pasco's Spanish-language weekly newspaper La Voz, estimates that 20 percent of Pasco's Latino population is undocumented and another 20 percent have legal status.
Garcia said many Hispanics feel disenfranchised because a large portion of the population cannot vote – so they feel left out of the electoral process.
"It creates a sense of fear in the community and distrust in the community," Bloch Garcia said. "They also don't feel like their vote counts."
Zambrano-Montes' death may be a rallying cry for Latinos in Pasco to voice their anger at the system they feel left out of, but his family and friends – along with some longtime community members – worry that the furor of his death is being hijacked and misdirected by people who to keep trying to compare the case to Ferguson – which fueled violent riots in Missouri last summer and fall.
Despite the recent shooting, many in Pasco's community say that relations overall between Hispanics and police in the town have improved in recent years and they hope that these protests don't begin to work against them and cast the community in a poor light.
"In the past, in the early 2000s, I always used to hear and see the police picking on Hispanics," Cortinas, the publisher of La Voz, told Fox News Latino. "But I don't see much of that anymore."
The rally last Saturday went down peacefully, with only a few rowdy protestors later in the day. Zambrano-Montes' family will hold vigil for six more days outside the bakery on Lewis Street, where he died. But with protests planned this week from various outside organizations, such as Occupy Tri-Cities, there are concerns that the peaceful protests could turn violent.
"The important thing to do is to do is what the family wants," Ubay said. "To make any change between the police and the community, we need to do it in a peaceful way."
Pasco city officials told FNL that while they are prepared for any protests that will take place, they don't believe that the town will see the type of unrest that occurred in Ferguson or New York. Crediting the organization of Zambrano-Montes' family and Latino community leaders, Zabell praised the protestors for keeping the rallies peaceful.
"This says a lot about the community," Zabell said. "My hat goes off to the family and the community because they have been working from Day 1 to make sure it's peaceful."