Volatile Peru Elections Show Ollanta Humala Leading a Crowded Pack, Possible Runoff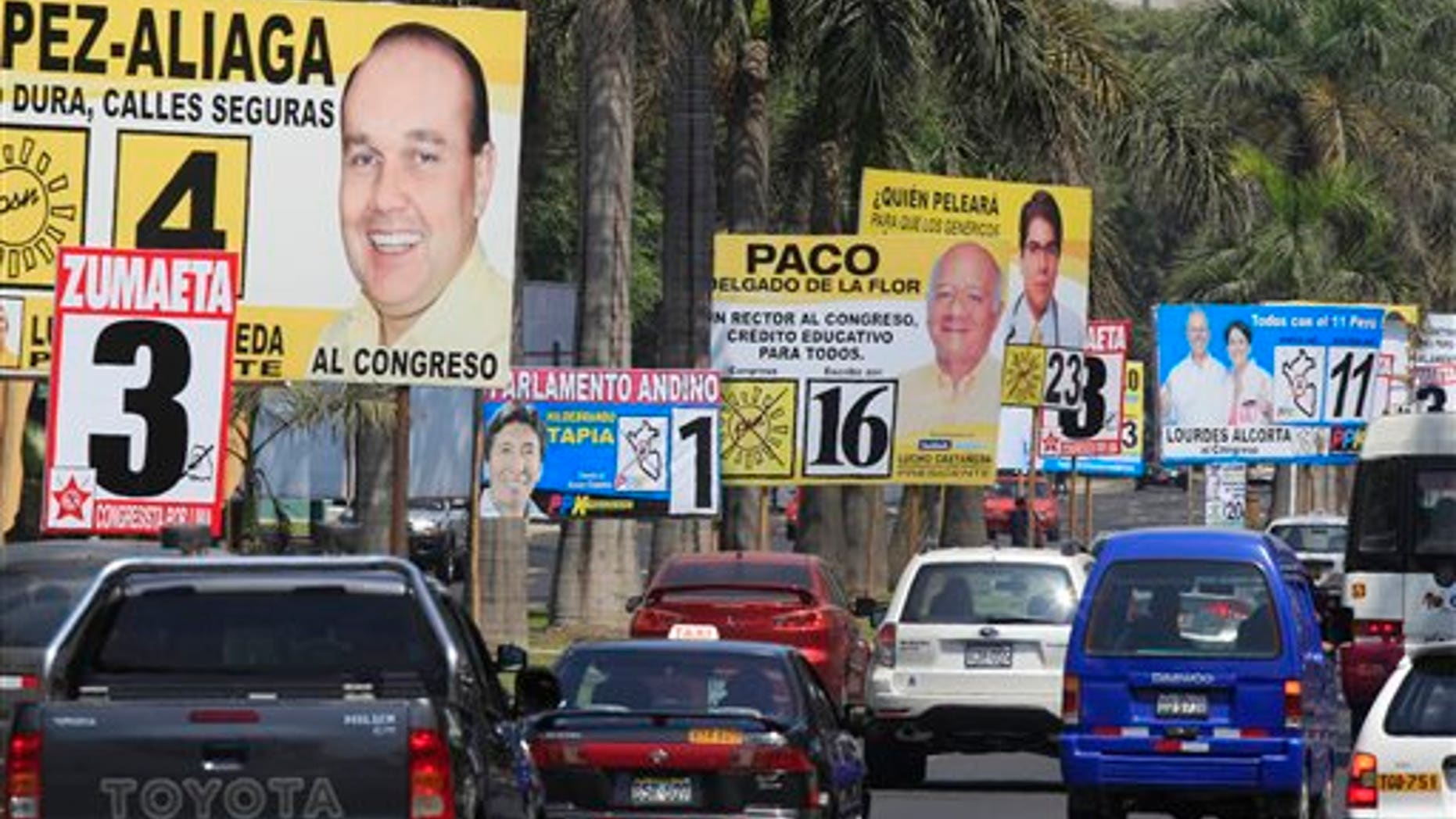 He promises to favor the poor by redistributing his country's mineral wealth. His name is Ollanta Humala, the leader as Peruvians head to the polls to vote in the presidential elections.
The leftist former military officer was expected to win the most votes Sunday but fall far short of the outright majority needed to avoid a runoff.
That made the tight battle for second crucial as no other candidate has expressed any intention of seriously shaking up the economic status quo.
Technically tied for second in an election-eve poll were Keiko Fujimori, 35-year-old daughter of the imprisoned former President Alberto Fujimori whom Peruvians alternately adore and vilify, and Pedro Pablo Kuczynski, a 72-year-old former World Bank economist and investment banker. Trailing them was Alejandro Toledo, Peru's president from 2001-2006.
Frontrunner Humala, who has spooked foreign capital by promising a greater state role in the economy and exporting less natural gas while making it cheaper for Peruvians, prevailed in the first round of the 2006 presidential election only to lose a runoff.
This resource-rich, corruption-bedeviled Andean nation has been notorious for its volatile politics since the 1980s, when its discredited political parties all but dissolved and elections became more about personality than ideology.
And Sunday's vote whose two top vote-getters will meet in a June 5 runoff promises to be the most unpredictable in decades.
Humala was preferred by 28.1 percent of voters in an Ipsos-Apoyo poll of 6,000 voters Saturday, followed by Fujimori with 21.1 percent; Kuczynski with 19.9 percent; and Toledo with 16.8 percent. The poll had an error margin of 1.6 percentage points.
Peruvian law prohibits the domestic publishing of opinion polls in the campaign's final week.
Kuczynski, a German immigrant's son who was economics and prime minister under Toledo, climbed into contention from single digit showings in the poll in the campaign's final month, during which he renounced his dual U.S. citizenship.
Nevertheless, analysts say about 11 percent of the electorate remain undecided and the electorate is even more fragmented than in 2006, when outgoing President Alan García beat Humala, 53 percent to 47 percent.
The Associated Press contributed to this report.
Follow us on twitter.com/foxnewslatino
Like us at facebook.com/foxnewslatino