Vice president Pence honors Holocaust victims in 1st visit to Auschwitz
Vice President Mike Pence paid a solemn visit Friday to Auschwitz-Birkenau, the infamous death camp in Nazi-occupied Poland where more than one million people, mostly Jews, lost their lives in the Holocaust.
The visit began with Pence and his wife, Karen Pence, walking under the notorious gate with the German words "Arbeit Macht Frei," the Nazi slogan meaning "Work sets you free." They were joined by Polish President Andrzej Duda and the Polish first lady, Agata Kornhauser-Duda.,
They also stopped at the Death Wall in a yard where prisoners were executed. Many of those shot there were Poles who were part of the underground resistance against the German occupation.
DOCTOR CLAIMS HOLOCAUST VICTIMS WERE BETTER OFF THAN AUSTRALIA'S OFF-SHORE ASYLUM SEEKERS
The two couples walked side-by-side to the wall and bowed their heads before it.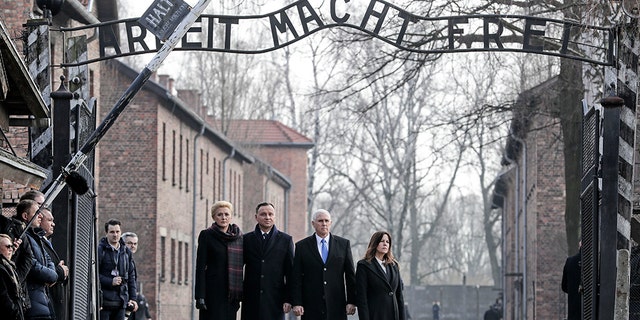 The visit also took them to the nearby satellite camp of Birkenau, the site of the murder of Jews from across Europe.
There they stood silently before a historic cattle car on the train tracks that were used to bring Jews to their deaths there.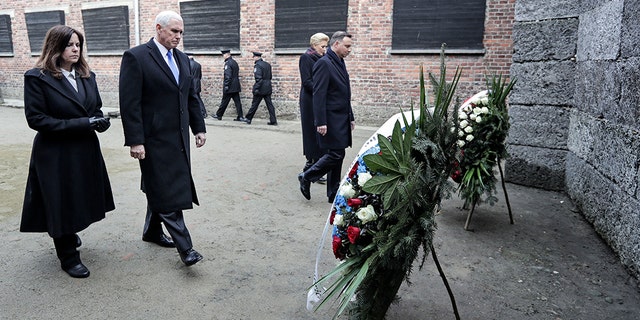 AUSCHWITZ HISTORIANS PAINSTAKINGLY WORK TO PRESERVE PERSONAL BELONGINGS OF THE VICTIMS TO KEEP 'MEMORY OF THEIR OWNERS ALIVE'
On Thursday, Pence joined prime ministers Benjamin Netanyahu of Israel and Mateusz Morawiecki of Poland laid a wreath at the Warsaw Ghetto Uprising Memorial to remember the wartime Jewish insurgents who rose up against Nazi German forces in 1943.
CLICK HERE TO GET THE FOX NEWS APP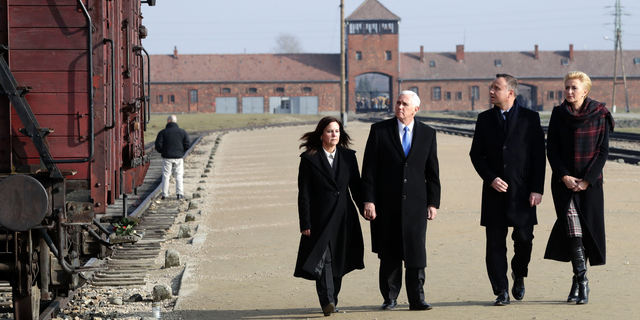 At the POLIN Museum of the History of Polish Jews, Pence, a conservative Christian, told Netanyahu that it was "very humbling for me to be here with you in this very special place on this sacred ground. To hear a prayer sung, and to remember the heroes of the Warsaw Ghetto."
The Associated Press contributed to this report.