Venezuela's ousted chief prosecutor flees to Colombia
Venezuela's ousted chief prosecutor and her husband -- two of President Nicolas Maduro's most outspoken critics -- fled the country and landed Friday afternoon in Colombia, authorities said.
Luisa Ortega Diaz and German Ferrer arrived in Bogota aboard a private plane traveling from Aruba, Colombian Migration authorities said.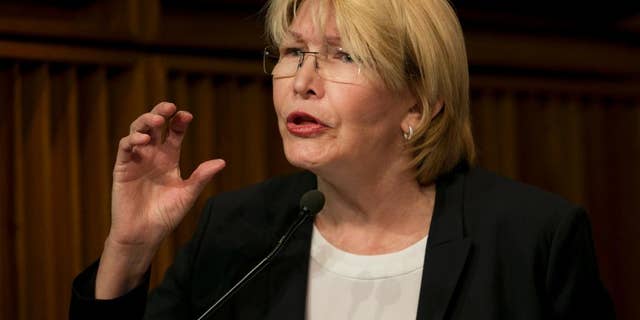 No immediate details were provided on whether the couple is seeking asylum, with officials only confirming that Ortega had completed the "corresponding migration process."
Ortega and Ferrer have long been aligned with Venezuela's ruling socialist party but recently broke with Maduro, publicly denouncing his push to convene a constitutional assembly that was installed in early August and is now governing with virtually unlimited rule.
One of the assembly's first acts was to remove Ortega and appoint one of Maduro's key allies, Tarek William Saab, as the nation's new top law enforcement officer.
On Thursday, the government-stacked Supreme Court ordered Ferrer under arrest, a day after Saab accused him of orchestrating a $6 million extortion ring that allegedly occurred under Ortega's watch.
Ferrer denied the accusations and many believe they are politically motivated.
In June, the Supreme Court barred Ortega from leaving the country and ordered her bank accounts frozen as part of its investigation into a complaint filed by a pro-government lawmaker that accused her of acting as an opposition leader and requested a probe into her "mental insanity."
Univision reported Friday that Ortega and Ferrer fled in a speed boat to Aruba, which lies a short distance to the northern coast of Venezuela.
Authorities have not yet confirmed how she arrived to the Caribbean island.
The couple's whereabouts had been unknown for several days, but earlier Friday Ortega surfaced online, addressing a gathering of Latin America's prosecutors in Pueblo, Mexico.
Ortega told the region's prosecutors that Maduro removed her in order to stop a probe linking him and his inner circle to nearly $100 million in bribes from Brazilian construction company Odebrecht.
Odebrecht officials have admitted to paying almost $100 million in bribes to Venezuelan officials in exchange for contacts.