Venezuela's Maduro Faces A Stinky Situation As Country Runs Low On Toilet Paper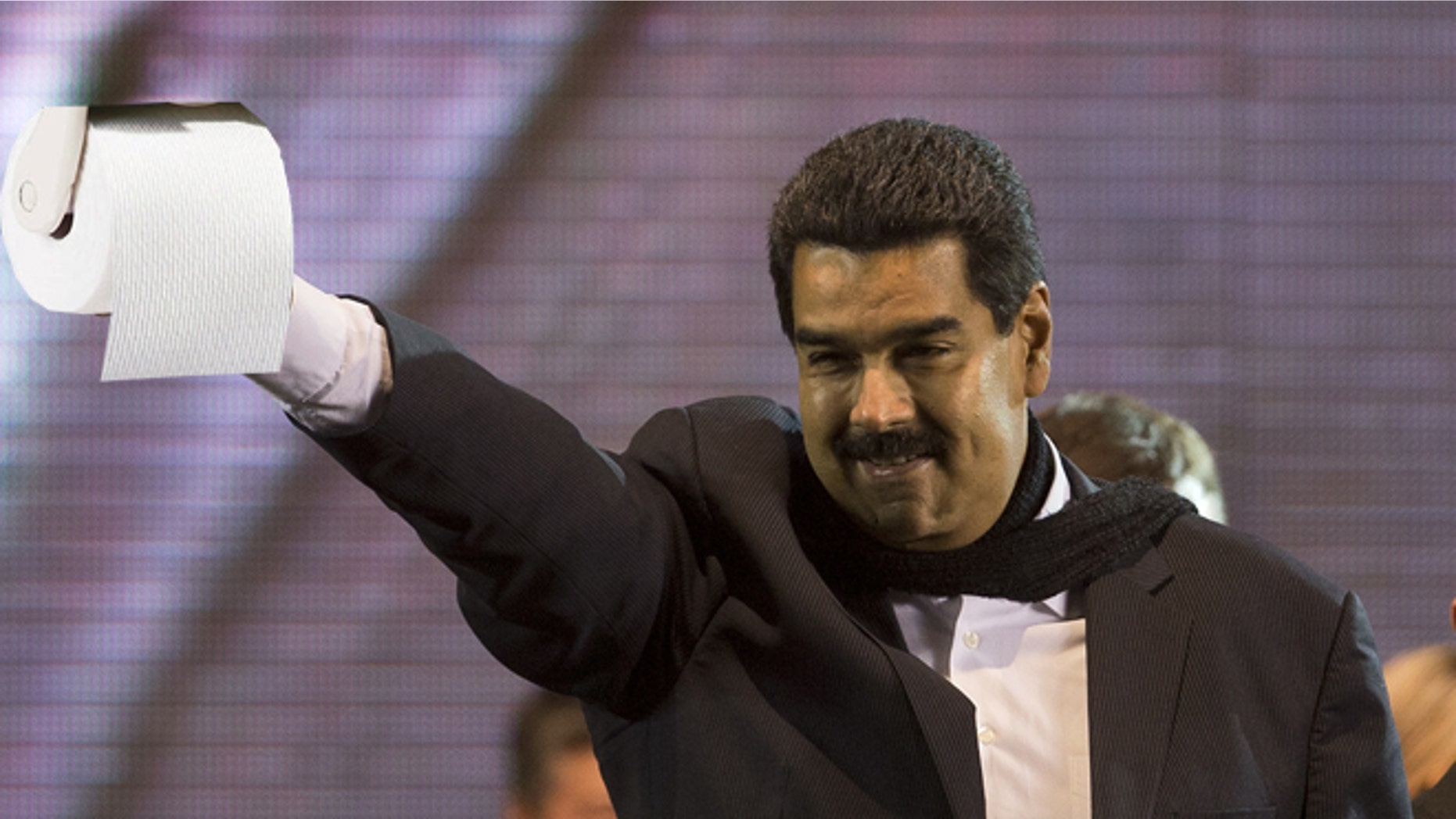 A contested election, deadly furor in the streets of Caracas, food shortages, rising crime rates and a fledgling national oil company.
Things didn't seem like they could get any worse for newly elected Venezuelan President Nicolás Maduro. But then the country ran out of toilet paper.
The Maduro administration announced Wednesday that his government will import 50 million rolls of TP to help clean up the situation and called on Venezuelans to stay calm as some opposition media opponents criticized his administration for the stinky state of affairs.
"The revolution will bring in to the country the equivalent of 50 million rolls of toilet paper," said Trade Minister Alexander Fleming. "Our people need to calm down and realize that they should not be manipulated by the media campaign of a shortage."
Over the past few days, Maduro's opponents and Venezuelan business owners have criticized the government's handling of the food crisis in the South American nation. In turn, the president has put the blame for shortages squarely on the private sector, which he accused Monday of sabotaging the domestic market through "economic warfare."
The chief executive of Empresas Polar, Lorenzo Mendoza, rejected accusations that the company has reduced production and is hoarding products to create scarcity.
"The accusations that we are producing less than last year are false," Mendoza told reporters. "I presume that Maduro is not well informed about the situation and about what's happening."
Mendoza said his company has increased production of cornmeal by 10 percent in the past four months, and he offered to buy or rent government-owned corn processing plants to boost output event further.
Shortages of basic foods including sugar, milk, butter and cornmeal are a recurring annoyance to consumers in this oil-rich nation of 30 million people. Cornmeal is a crucial ingredient in arepas, or corn cakes, a local specialty.
Food makers say the shortages stem from the socialist government's price controls, designed to make basic goods affordable to the poorest parts of society. They also point to the government's control of foreign currency they need to buy pesticides, fertilizers, animal food and machinery from abroad.
Late president Hugo Chavez, who died March 5, made agrarian reform a pillar of his "revolution" and vowed to turn Venezuela into a self-sufficient, food-exporting power. But the country still imports nearly 70 percent of its food, and it has to import products it did not need to before Chavez's 14-year presidency, including beef, coffee and rice.
"The underlying economic policies are producing the consequences foreshadowed by all serious economists," said Diana Villiers Negroponte, senior fellow and Latin America expert at the Brookings Institution in Washington.
Food shortages are just one of a series of problems facing Maduro, who narrowly won an April 14 presidential election that the opposition refuses to accept, claiming fraud and voter intimidation. Venezuela also grapples with power blackouts, high inflation and rampant crime.
The Associated Press contributed to this report.
Follow us on twitter.com/foxnewslatino
Like us at facebook.com/foxnewslatino