Venezuelan Student Protesters Coming Under Attack From Gunmen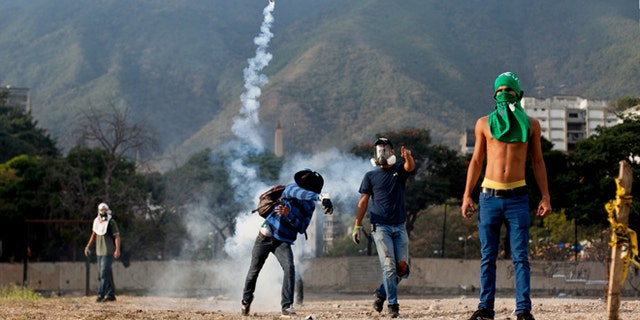 CARACAS, Venezuela (AP) – At least three people were wounded Tuesday in the central Venezuela city of Barquisimeto when student protesters blocking streets were attacked by unknown gunmen, a university official in the city said.
The attacks came one day after a student leader was shot to death by unidentified attackers in the western city of San Cristóbal.
Francesco Leone, rector of the Universidad Centroccidental Lisandro Alvarado in Barquisimeto, said two protesters suffered bullet wounds while blocking roads around the university Tuesday. Another was injured by rubber bullets. The victims said their attackers appeared to be pro-government civilians.
Barquisimeto is about 365 kilometers (about 225 miles) west of Caracas in the opposition-led state of Lara.
Leone told The Associated Press there were National Guardsmen in the area around the protest, but they did not intervene when the student protesters were attacked. The allegedly pro-government supporters then entered the university grounds where they set fire to five vehicles, the student center and library, he said.
Student-led protests in various Venezuelan cities have been erupting for a month. Many members of the middle class tired of shortages of some basic items, inflation that reached 56 percent last year and soaring violent crime have joined the demonstrations. President Nicolás Maduro has argued the political opposition is attempting to overthrow his democratically elected government. At least 22 people have died in street protests, according to the government.
A student leader in the western city of San Cristóbal was killed by a gunshot Monday and two other youths were wounded by bullets.
Venezuela's government deployed hundreds soldiers in the western city Tuesday, and the troops used armored personnel carriers and heavy equipment to clear dozens of barricades put up by anti-government protesters.
San Cristóbal Mayor Daniel Ceballos said by phone that soldiers were also blocking entrances into the city.
He said 24-year-old student leader Daniel Tinoco was manning a barricade when unidentified gunmen shot him in the chest Monday night. Ceballos said the two wounded students were with Tinoco.
Ceballos said there were indications that armed pro-government groups known as "colectivos" were involved in the shooting. He and opposition leaders have demanded the government disarm the colectivos.
Prosecutors said they would investigate Tinoco's death.
Follow us on twitter.com/foxnewslatino
Like us at facebook.com/foxnewslatino