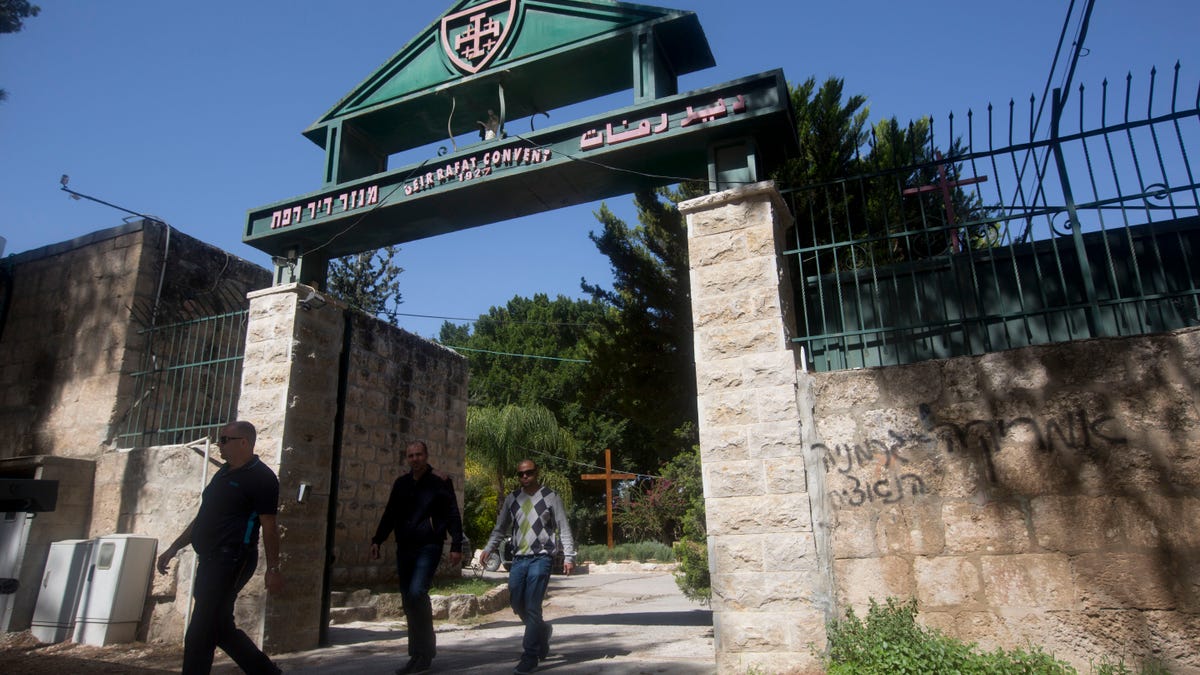 JERUSALEM – Vandals scrawled hate graffiti on a Catholic monastery in central Israel and slashed the tires of nearby cars weeks before Pope Francis visits the Holy land, Israeli police said Tuesday.
Slogans against Mideast peace talks with the Palestinians as well as graffiti disparaging Jesus and Mary were found on the outer walls of the Deir Rafat monastery close to Jerusalem.
Israeli police are investigating and searching for suspects, spokesman Micky Rosenfeld said.
A tiny fringe group of radical Israeli settlers, mostly teenagers and young men, have been carrying out acts of vandalism in recent years to protest what they perceive as the Israeli government's pro-Palestinian policies and in retaliation for Palestinian attacks.
The vandals have targeted mosques, churches, dovish Israeli groups and even Israeli military bases in these so-called "price tag" assaults. The attacks have been widely and vocally condemned by Israeli leaders across the political spectrum. The vandals are widely despised by the vast majority of Israelis. So far police have had little success in stopping them.
Latin Patriarch Fouad Twal, the top Catholic clergyman in the region, visited the Monastery and met with the nuns and viewed the damage. "This is bad for the state of Israel, it is bad for us, it is bad for everybody. In this Holy Land we do not need these actions. Especially these actions against a monastery where we have sisters just praying for peace. They are not involved in any politics so this really is a bad sign and we regret it very much," Twal said.
Francis, an Argentine Jesuit, will be the fourth pope to visit the Holy Land. He is set to visit Israel, the Palestinian Authority and Jordan in May.
His visit reflects warming relations between the Vatican and Israel in recent decades.