Van Crashes And Lands On Top Of Sedan In California, Killing 2 Adults, 3 Kids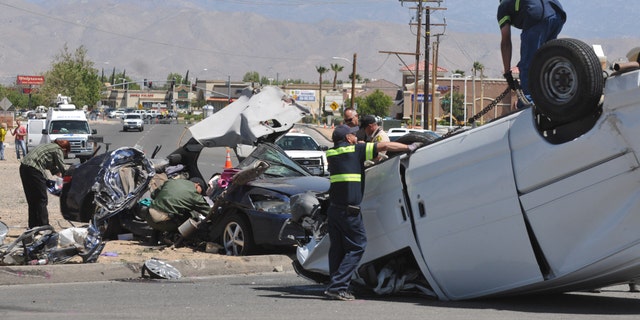 HESPERIA, Calif. (AP) – A van hit and landed on top of a sedan sitting at a stop sign in this Southern California desert town on Sunday, crushing the car and killing the five people inside, authorities said.
A man and a boy were taken from the Honda sedan to the hospital, where they were pronounced dead, said Jodi Miller, a San Bernardino County Sheriff's Department spokeswoman.
Emergency crews initially thought just two people, a woman and a girl, were dead inside the Honda, but several hours later, workers discovered a badly crushed fifth victim, a boy, once the van was removed, Miller said.
The man driving the van had only minor injuries, Miller said. He was treated at the scene and released. He had been driving alone when he drifted into the wrong lane and struck the car just before 7 a.m. in Hesperia, a Mojave Desert town east of Los Angeles.
A man who lives across the street said he heard a loud early-morning crash and sent his daughter to check it out while he called 911. She saw one man bleeding, but they didn't how many victims there were.
"My daughter came and said, 'There's a bad crash,'" Bernard Fitzsimmons told KABC-TV. "While I was on the phone with 911, she ran across the street and came running back and said, 'He's bleeding bad from the head.'"
The names and ages of the five who died and the van driver have not been released.
The cause of the crash was still under investigation.
Follow us on twitter.com/foxnewslatino
Like us at facebook.com/foxnewslatino