US troops return to Pakistan for first time since being ordered to leave to aid avalanche recovery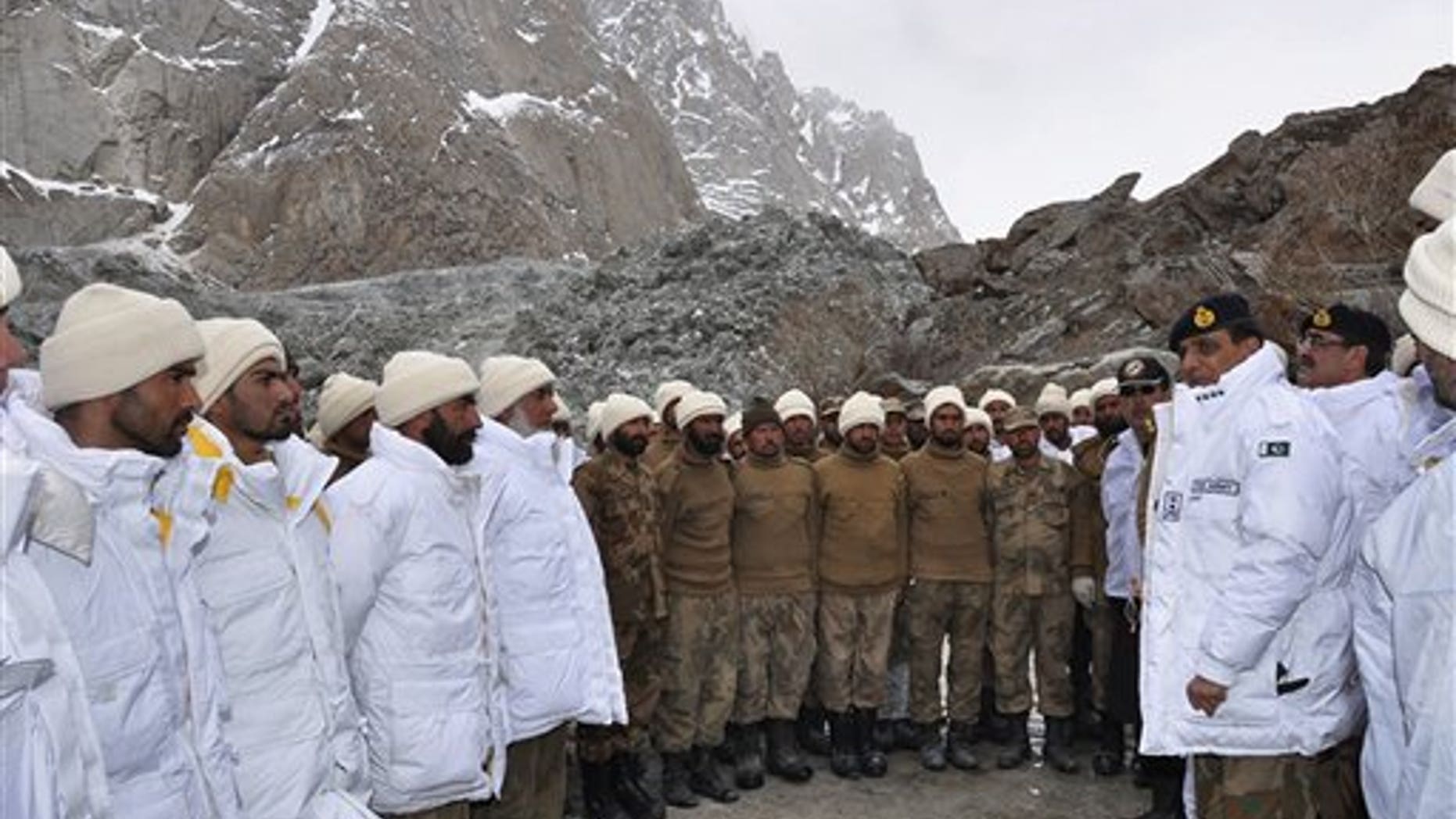 American troops have returned to Pakistan in what is believed to be the first requested-presence mission since the U.S. military was ordered to leave last year amid a meltdown in the countries' relations.
A team of eight U.S. military search-and-rescue experts has been dispatched from Afghanistan to assist in efforts to recover 138 mostly Pakistani soldiers trapped beneath an avalanche in northern Kashmir.
A U.S. military official in Kabul, speaking on the condition of anonymity due to the delicate status of the U.S.'s current relationship with Pakistan, told Fox News that the unit has not yet been tasked by the Pakistan military.
"The Pakistan military is still assessing the need, but they are there and ready to help," the official said in an email.
The U.S. was one of the first nations to offer assistance to Pakistan after the avalanche buried a small remote small base under 80-feet of snow on Saturday. The disaster happened at 22,000-ft. on the Siachen glacier in the Hindu-Kush mountains of the country's far north.
Some 112 Pakistani soldiers and 26 civilians are caught underneath the ice. So far, no one has been rescued alive and no bodies have been recovered while rescue efforts have been hampered by bad weather.
In November, the Islamabad government ordered the U.S. to withdraw its troops from Shamsi airbase where they had been supporting the Central Intelligence Agency's covert drone program amid a row over CIA operations.
The United States has maintained its Department of Defense presence at the embassy throughout that time, the U.S. military official said.
"That's a couple hundred people or so," the official added.
It is understood many are U.S. soldiers acting in an official or diplomatic capacity and are not a requested presence by Pakistan.
The Pakistani authorities, most especially the ISI spy agency, have been extremely reluctant to request American assistance in the Siachen avalanche. A Pakistani military official, requesting their name be undisclosed as they were not authorized to comment publicly on U.S.-Pak relations, told Fox News that Pakistan feels it was betrayed by the U.S. military when it last requested humanitarian assistance.
In 2010, American troops from Afghanistan were involved in months of relief missions during devastating floods but the official says the CIA used the opportunity to send in undercover agents and gain access to parts of the country where they would not normally be allowed or able to access.