Urdangarín, Husband Of Spain's Princess Cristina, Accused Of Corruption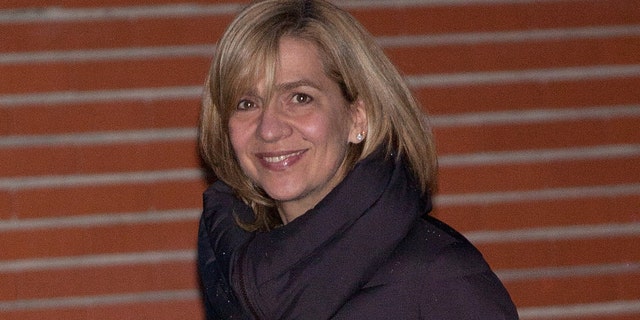 NEWYou can now listen to Fox News articles!
Princess Cristina of Spain has been ensnared in a corruption probe involving her husband, Iñaki Urdangarín.
On Wednesday the princess was summoned to court to answer questions over allegations that her husband and his business partner funneled about €5 million ($6.4 million) in public funds to companies they controlled.
Investigating magistrate Judge Jose Castro said that the princess was a board member of two of her husband's companies and that there were indications that she was aware that her husband used her name and status in his dealings, from which both benefited.
He said that for the probe to be complete and to show that justice treats all equally she would have to be questioned.
It is reportedly the first time Spanish royalty has been called in for questioning by police. Princess Cristina, the youngest daughter of King Juan Carlos, is to be summoned on April 27th by the Palma de Mallorca court.
The royal palace has refused to comment, but Urdangarín has denied wrongdoing. Neither he or his business partner, Diego Torres, have been charged with a crime. He has been questioned twice by Judge Castro since the probe began two years ago.
Speculation that the princess could be involved began when Torres reportedly turned over to the judge copies of emails he exchanged with Urdangarín.
Urdangarín, a former Olympic handball player, allegedly inflated prices to local officials for staging tourism and sporting events, and then funneling the money to a non-profit he once chaired, Noos Institute. El País newspaper published emails suggesting that the princess knew about her husband's financial affairs.
The judge recently set joint bail of €8.2 million for Urdangarín and Torres and said the two "ignored the rules of public contracting as long as they achieved their aim, which was no other than to divert public funds for their own benefit or that of others."
He said the two agreed to make as much as possible out of Urdangarín's relationship with the Royal Palace in their dealings with public and private entities.
Princess Cristina, who works as the director of social welfare at a financial services group La Caixa, has come under criticism for working while still a princess. Monarchs, who get paid by the government, very rarely hold non-government jobs.
"Princess Cristina has always been the wayward daughter of the family, I think some of the monarch's mistakes when it comes to family matters began there, by tolerating that she work at a private firm like La Caixa and collect a salary without renouncing her status as a princess," Emilio de Diego, a history professor at Madrid's Complutense University, told AFP.
Princess Cristina and Urdangarín, now the Duke and Duchess of Palma, were married in a opulent ceremony in Barcelona in 1997. He held a job in Washington as executive director of Teléfonica until the scandal broke. The couple and their four children have since returned to Barcelona.
Urdangarín comes from a wealthy Basque family but is not nobility. The royal family decided last year to sideline him from all official royal activities, and recently removed him from the family website.
The Associated Press contributed to this report.
Follow us on twitter.com/foxnewslatino
Like us at facebook.com/foxnewslatino