University of New Mexico professors asking school president to declare school 'sanctuary university'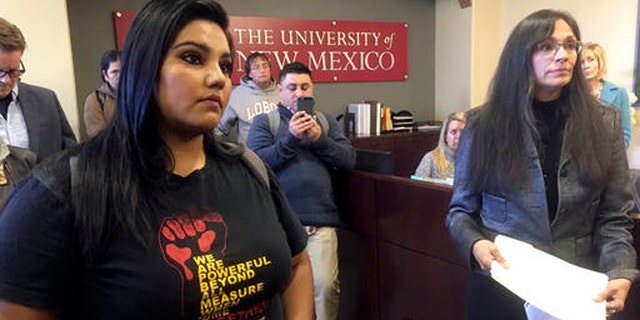 ALBUQUERQUE, N.M. (AP) – A group of professors at the largest university in the nation's most Hispanic state are asking for more protection of immigrant students joining a movement of campuses around the country.
Professors and instructors at the University of New Mexico delivered a letter Friday to the school's president, Bob Frank, amid uncertainty from immigrant students who are living in the country illegally but have temporary protective status.
Chicano studies professor Irene Vasquez said the goal was to declare the University of New Mexico and its satellite campuses a "sanctuary university" following the election of Republican Donald Trump.
"It's so important now to gather and show our solidarity," Vasquez said.
Like sanctuary cities, sanctuary universities would limit the use of student data and citizen status to federal authorities.
Advocates say the students are scared of being deported after Trump's election as since he previously said he wanted a "deportation force" to remove immigrants living in the country illegally. He also has promised to reverse an executive order by President Barack Obama that gave immigrant students temporary protective status.
The University of New Mexico has long allowed immigrant students who are living in the country illegally to attend at in-state tuition rates.
Frank, who accepted the letter in his office on Friday, said university lawyers are looking into a "sanctuary" designation, and he will present their finds to the school's board of regents.
"We are beginning to do research on it," said Frank told faculty and immigrant students. "In the interim, we are very much committed to your safety."
The move comes as university professors, instructors and students around the country are organizing petitions and letter writing campaigns to college administrators asking them to declare their campuses "sanctuary universities" for immigrant students.
Latino professors and students at the University of Houston, for example, are gathering signatures for a letter to University of Houston System President and Chancellor Renu Khator seeking a sanctuary designation.