UN spends millions on security programs for terror-afflicted Somalia without overseeing results, study says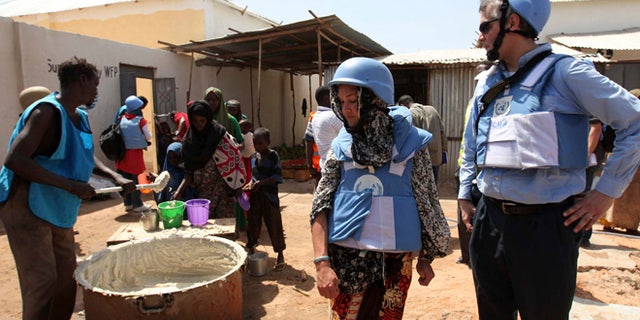 EXCLUSIVE: The United Nations Development Program, the U.N.'s flagship anti-poverty agency, spent tens of millions to make terrorism-battered Somalia safer, but never verified that the work was done, or even that its government partners had the capacity to do their jobs, according to a scathing internal auditors' report.
According to the United Nations Development Program's project website, about $25 million was spent in 2013 on the audited projects mentioned in the organization's internal report—roughly half the $59 million spent on UNDP programs and management in Somalia that year.
The project website shows the work as being mostly centered in the capital of Mogadishu and intended to provide "coordination and support to Somali security sectors," develop an "efficient, effective, professional civilian police service" and "policy and law making processes," as well as a "community security" projects aimed at reducing "armed violence."
In a brutal counterpoint to those activities, in June 2013, radical Islamic Al-Shabaab militants struck the main U.N. compound in Mogadishu, killing eight local and international security staffers, and forcing other U.N. staffers to remain in Kenya, where U.N. operations for Somalia have centered for years, in fear for their lives.
The report, prepared by UNDP's Office of Audit and Investigations, or OAI, was based an examination this past spring of UNDP's Somalia country office in Kenya—the hub of coordination for some 20 U.N. agencies—which maintains senior management offshoots in Mogadishu and outlying Somalian centers. The OAI probe aimed at assessing "the adequacy and effectiveness" of UNDP leadership, coordination and management in Somalia during the preceding year.
What the auditors found in examining the office's operations were financial records in disarray, a tangled skein of bureaucratic lines of authority , special boards intended to oversee the accomplishment of projects meeting sporadically or never, and project reports that were "either poorly written or not prepared at all."
Some of the financial accounting lapses that the auditors noted seemed especially egregious. In one case, $3 million had been spent by UNDP's top official, known as the Resident Coordinator, for "support to U.N. coordination."
According to the audit, the support is supposed to provide for "analysis, planning, tracking and reporting" on the use of resources. In 2013, the auditors noted, no report was filed on how the coordination money was spent.
In other words, the money that was supposed to be spent on tracking how UNDP spent the rest of its money apparently wasn't tracked.
Overall, the auditors noted, many other spending records had not been set up in UNDP's global financing tracking system—and when they were entered, were sometimes set up so that expenses couldn't be tallied.
In one case, the auditors noted $6.6 million had been handed over to government partners as "grants" for projects rather than "advances," meaning UNDP "could not track how such advances were expensed and how accountability for those funds was discharged."
When it came to actual project oversight, the auditors rated UNDP's lapses as even worse than its financial pecadillos: they were labeled as "high (critical) priority," for fixing, meaning that "failure to take action could result in major negative consequences for UNDP."
Chief among them was a lack of "capacity assessment," meaning a tough and detailed evaluation of the ability of UNDP's partners in Somalia, which included both central and regional governments, actually to carry out the projects assigned to them, as well as "account and report for the funds provided by UNDP."
Instead, the watchdogs reported, UNDP assessed future capacity on "earlier experience in working the with prospective partner." As a result, the auditors said, UNDP was in no position to take timely action to "mitigate risks of irregularities" or of potential fraud.
And, in fact, the auditors noted, "several cases of alleged fraud by implementing partners" were already under investigation by OAI while UNDP's haphazard management progressed through 2013. In response to questions from Fox News, a UNDP spokesman confirmed that the fraud cases involved Somali government partners of the U.N. organization.
What the office did best, according to the auditors, was raise money and track donor contributions for U.N. projects: a total of $213 million out of $220 million called for in UNDP's 2011-2015 Country Program Document (CPD) for Somalia.
(Ironically enough, the CPD itself notes that "UNDP Somalia commits to continue to improve its accountabilities through enhanced monitoring and evaluation, thereby ensuring a more effective oversight, especially where accessibility remains a challenge.")
In explanation of the situation, a UNDP spokesman noted an unquestionable truth: that "Somalia is one of the most dangerous places in the world for international development, with ongoing and specific threats to U.N. and other international development and humanitarian personnel."
Many projects, he noted, "are in insecure places and verification missions are contingent on the insecurity level in that area and threats to staff."
As a result, UNDP operations were "constrained by extremely restricted travel, heightened security risks and access restrictions within Mogadishu and South Central Somalia"—all reasons, by implication, for the lack of oversight.
That explanation glided over the fact that many of those conditions were known in advance, and outlined in the country program document UNDP had ostensibly been following since 2011.
Among many other things, that CPD called for creation of a special program monitoring unit and "a more astute focus on improved results-based management and result reporting," because "insecurity is likely to remain a significant obstacle" to direct contact in the then-future.
CLICK HERE FOR THE COUNTRY PROGRAM DOCUMENT
The auditor-watchdogs put it more bluntly. Adequate oversight and management are even more essential, they observed , "particularly in high risk operating environments like Somalia."
Despite its explanations, UNDP now apparently agrees. The organization's spokesman told Fox News that the Kenya office "is now rolling out arrangements for third-party monitoring in order to address this and provide additional field verification if UNDP staff cannot travel to these areas." In other words, someone else will do it.
For other problems the auditors discovered, however, UNDP apparently still has a way to go. The management says that "as of 2014, all new project documents are reviewed and cleared in line with corporate guidelines" that were ignored in the past.
The deadline for clean-up of the previous mess is the end of December, 2014.
Meantime, European donor nations, the U.N. and Somalia's government in September 2013 announced a new Somali Compact, marking "a new beginning for a sovereign, secure, democratic, united and federal Somalia at peace with itself and the world."
The aim of the compact is to assist a Somali government elected in 2012 to restore "the Somali people's trust in the state and its ability to protect and serve their basic needs for inclusive politics, security, justice, an economic foundation and revenue and services, in full respect of human rights"
UNDP's spokesman told Fox News that in the wake of the new Somali Compact, "it is also a time for international development partners to change the way we do business" in Somalia, and give more room to Somalis themselves to take over "in a way that was not possible during the previous long period of state collapse."
To that end, the Western nations involved in the compact have pledged roughly $2.4 billion additional dollars to the still shaky Somali government to build up "core public sector capacities"—much like the efforts, in many cases, that UNDP was apparently not supervising adequately.
George Russell is editor-at-large of Fox News and can be found on Twitter: @GeorgeRussell or on Facebook.com/George Russell