UN-linked disarmament panel taps Iran to lead talks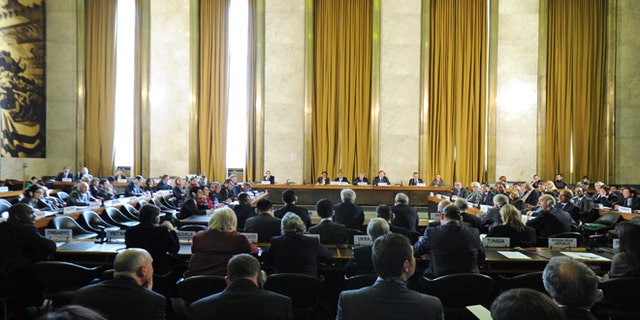 NEWYou can now listen to Fox News articles!
Iran will preside over the UN-sponsored Conference on Disarmament, tapped to chair the panel later this month despite longstanding accusations the Islamic Republic has a secret nuclear weapons program and has helped provide weapons to terrorists.
The 65-member nation forum, which picks its chairs by rotation, has previously been led by North Korea. It is charged with negotiating international regulations for biological and chemical weapons, among other things. Critics say having Iran lead the talks makes a mockery of a process designed to make the world more peaceful.
[pullquote]
"We understand how the UN works, but they are allowing protocol to trump principle," said Hillel Neuer, executive director of UN Watch. "Iran has assisted in multiple mass murders. People have a moral obligation to speak out. Saying that, 'Hungary held the chair last time and now it's Iran's turn'…that just doesn't cut it."
Although the Conference on Disarmament is not technically part of the United Nations, it works closely with the world body and a representative of the UN general secretary serves as the conference's secretary general. According to the UN, "the Conference is funded from the UN regular budget, reports to the General Assembly and receives guidance from it."
"The General Assembly stipulated that the Conference adopts its own agenda, taking into account the recommendations made to it by the General Assembly and the proposals presented by the members of the Conference," said Ewen Buchanan, spokesman for the UN Office for Disarmament Affairs. "The CD adopts its own rules."
Neuer said the appointment is a "fundamental conflict of interests" and that the Iranian regime could exploit the position to "legitimize the mullahs' cruel regime."
"Any member state that is the subject of UN Security Council sanctions for proliferation -- and found guilty of massive human rights violations -- should be ineligible to hold a leadership position in a UN body," Neuer said. "The U.S. and Canada have asserted this principle in the past, and should do so again.
"It's fair to ask: 'Has the U.S. done anything in response to this,' " Neuer told FoxNews.com
Iran officially assumes the chair position for the conference on disarmament on May 27 and will hold the position until June 23. The chair helps organize the work done at the conference and assists in putting together the agenda.
In years past, the 65 nations involved in the conference have negotiated such agreements as a treaty on the non-proliferation of Nuclear Weapons and a comprehensive nuclear-test ban treaty.