UK's Cameron pays tribute to Paris victims, vows parliamentary push for Syria airstrikes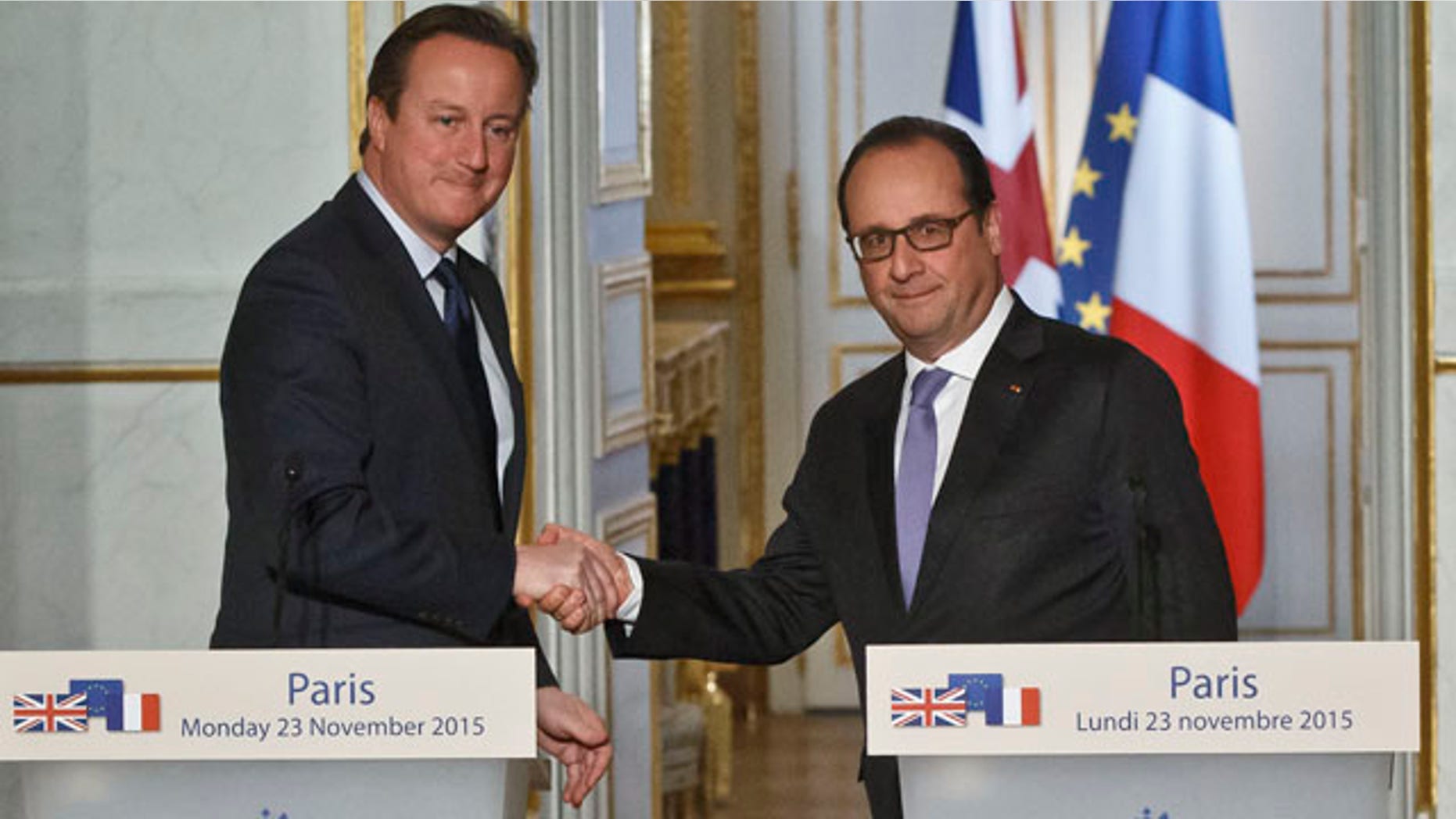 British Prime Minister David Cameron said Monday he would seek parliamentary approval this week to join the U.S.-led coalition's airstrikes against ISIS targets in Syria.
Cameron spoke at a join news conference with French President Francois Hollande moments after the two leaders paid tribute to the victims of the Nov. 13 terror attacks by visiting the Bataclan concert hall, where 89 people were killed after ISIS terrorists attacked a rock-and-roll show.
The decision to head to the Bataclan was not announced in advance and came amid tight security in both Paris and Brussels, home to many of the men identified as suspects in the attack.
The British leader also offered France the use of a British air base in Cyprus for anti-ISIS actions in Syria, and called for greater European Union-wide efforts to share intelligence to stop extremists.
The visit by Cameron was the first in a series of meetings between Hollande and world leaders as the French president presses for a "grand coalition" against the terror group. Hollande is scheduled to visit President Obama in Washington Tuesday before traveling to Moscow for talks with Russian President Vladimir Putin Thursday.
On Friday, the United Nations Security Council backed a French-drafted resolution urging countries to "combat by all means" the "unprecedented threat" of ISIS. Cameron said the vote "shows beyond doubt the breadth of international support for doing more in Syria and for decisive action to eradicate" ISIS.
"We cannot expect, we should not expect, others to carry the burdens and risks of protecting our country," the Prime Minister said last week.
Cameron is expected to deliver his plan for tackling ISIS on Thursday. Sky News reported that the first bombing raids would begin within hours of a "yes" vote.
The Associated Press contributed to this report.