U.S. aid worker re-arrested in Sudan after being freed by judge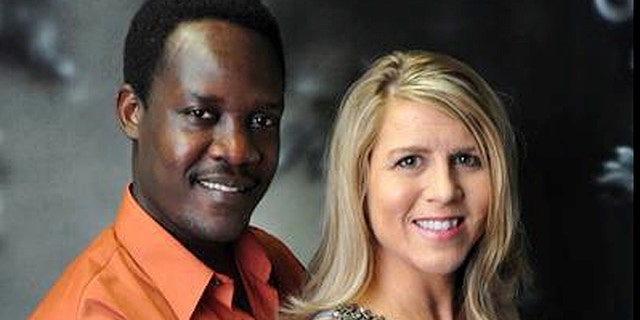 A Sudanese activist and permanent U.S. resident who was facing the death penalty was ordered freed by a judge in Khartoum - then re-arrested moments later, sources close to the matter told FoxNews.com.
Charges against Rudwan Dawod, including forming a terrorist organization, were dropped on Monday by a judge in the case, but the 30-year-old Oregon political activist was ordered to pay a fine of 500 Sudanese pounds — roughly $100 — for planning to burn tires during a protest.
Dawod, whose wife is in Oregon and expecting their first child next month, was then taken into custody by Sudan's National Intelligence and Security Services (NISS) after the fine was paid by Dawod's associates and he was released on time served, according to Tom Prichard, executive director of Sudan Sunrise, a U.S.-based organization where Dawod works as a project director.
[pullquote]
"The judge said you're free to go and they kind of ushered him out," Prichard told FoxNews.com. "They said, 'Before you can be released from the custody of the court, come this way,' and they put him in a police car and took him off."
Prichard said he believes the judge — identified in reports as Abbas Khalifah — was "under pressure" to mete out severe punishment to Dawod, who was working to rebuild a Catholic cathedral in South Sudan after Sudanese forces burned it down. He was arrested on Khartoum on July 3 while visiting relatives and attempting to renew his Sudanese passport.
Prichard has said Dawod was targeted while participating in a peaceful protest against the ongoing violence in the region and the Sudanese government under President Omar Hassan Al-Bashir. The "fluid" situation is now largely unpredictable since no official word on what — if any — new charges have been filed against Dawod has been released, he said.
"We could hear some very distressing news," Prichard said. "People are stunned and confused. I've been told [NISS forces] have done this type of thing before — turn around and re-arrest somebody — but this has taken the people on the ground by surprise."
U.S. State Department officials, in a statement to FoxNews.com., called on the Sudanese government to honor the judge's decision to release Dawod.
"The government of Sudan must respect its citizens' rights, including due process, freedom of assembly and the ability to petition the government for reform," the statement read. "We strongly urge the Government of Sudan to honor the decision by the judge, which was rooted in Sudanese criminal law as well as established precedent, in his decision to release Dawod."
State Department officials did not have any information pertaining to new charges filed against Dawod.
Dawod's wife, Nancy Williams Dawod, of Springfield, Ore., is expecting the couple's first child — whom they will name Sudan — next month. She told FoxNews.com by phone that she's now primarily concerned with learning that her husband — a native Darfurian who became actively involved in humanitarian causes after meeting late NBA star Manute Bol — is safe half a world away.
"It's been really unbelievable," she said when told of the U.S. State Department's statement. "I just want to know that he's safe where ever he is and to find out what's happening. I'm trying to remain hopeful, but we may not hear anything now until tomorrow. We still just don't know."