Two Puerto Rican Soldiers Killed in Iraq Arrive Home to San Juan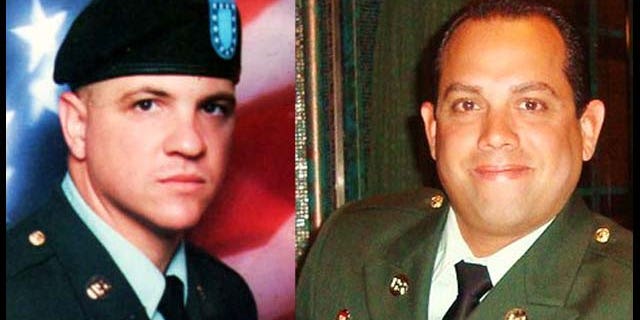 The heroic and sad journey of two Puerto Rican soldiers – from San Juan and Vega Alta, to Taji, Iraq, to the Dover Air Force Base, and finally back home to the Caribbean island – is nearly complete.
Sgt. José M. Cintrón Rosado, 38, and Spc. José Delgado Arroyo, 41, who were killed Jan. 2 when an improvised explosive device detonated in the path of their convoy, are scheduled to be flown to their native Puerto Rico Friday. The repatriation of their bodies – dressed in proper ranks and resting in American-flag-draped caskets – will be welcomed home ceremoniously with an honor guard, the Puerto Rico National Guard said.
"Any loss is tragic and tough," said Major Paul Dahlen of the Puerto Rico National Guard, where the soldiers were assigned. "We're a pretty close group. We consider ourselves a family."
The deaths of Cintrón Rosado and Delgado Arroyo, the third and fourth soldiers from the Puerto Rico National Guard killed since Sept. 11, are a somber reminder of the sacrifice Puerto Ricans and Latinos have made to the wars in Iraq and Afghanistan.
In all, 593 Latino members of the military have been killed since Oct. 7, 2001, when U.S. soldiers and Marines first landed in Afghanistan, according to the Department of Defense. And that number doesn't include casualties who have committed suicide after returning from their tours.
The most recent example of that ultimate sacrifice is embodied in Cintrón Rosado and Delgao Arroyo. Best friends, the soldiers, part of an engineering unit responsible for clearing roadways of so-called IEDs, were deployed together in April.
"It's a tough job, a dangerous job," said Dahlen. "They're the ones looking to...ensure roadways, so that everyone can continue their jobs and peace in the area."
The soldiers were in the lead vehicle of a convoy of about half a dozen vehicles when, at 8:30 p.m. Iraqi time, the IED exploded. They were the only casualties.
"My husband adored the military," said Cintrón Rosado's widow, María Robles, during a press conference Wednesday, a portion of which was aired on Primera Hora's Web site. "It was his life, his passion. He was committed to do it for his country."
In addition to his wife, Cintrón Rosado is survived by his sons, Kevin and Carlos, who are 12 and 14 years old, respectively; Delgado Arroyo leaves behind his wife, Zugeily Colón del Valle, a daughter and a son.
The soldiers were posthumously promoted: Cintrón Rosado to staff sergeant, Delgado Arroyo to sergeant.
Their bodies will be viewed on Saturday, and will be buried shortly thereafter in the Puerto Rico National Cemetery in Bayamón.
Their loss underscores the commitment Puerto Rican soldiers have demonstrated in the military efforts in Iraq, Afghanistan and other parts of the world where the United States has a presence.
Before Cintrón Rosado and Delgado Arroyo, two Puerto Rican National Guardsmen died in Iraq in 2003 and in 2007. There are still 100 soldiers based there, Dahlen said.
There are only a handful of Puerto Rico National Guard soldiers in Afghanistan, but approximately 1,000 members at different posts worldwide, he added.
"Soldiers from the Puerto Rican National Guard have played a major role in every conflict and military operation for the past 100 years," Dahlen said. "From World War II to Vietnam to the current wars, we have been very much involved, and very proud to do so."
Follow us on twitter.com/foxnewslatino
Like us at facebook.com/foxnewslatino