Twin bombings in Afghanistan's capital kill 38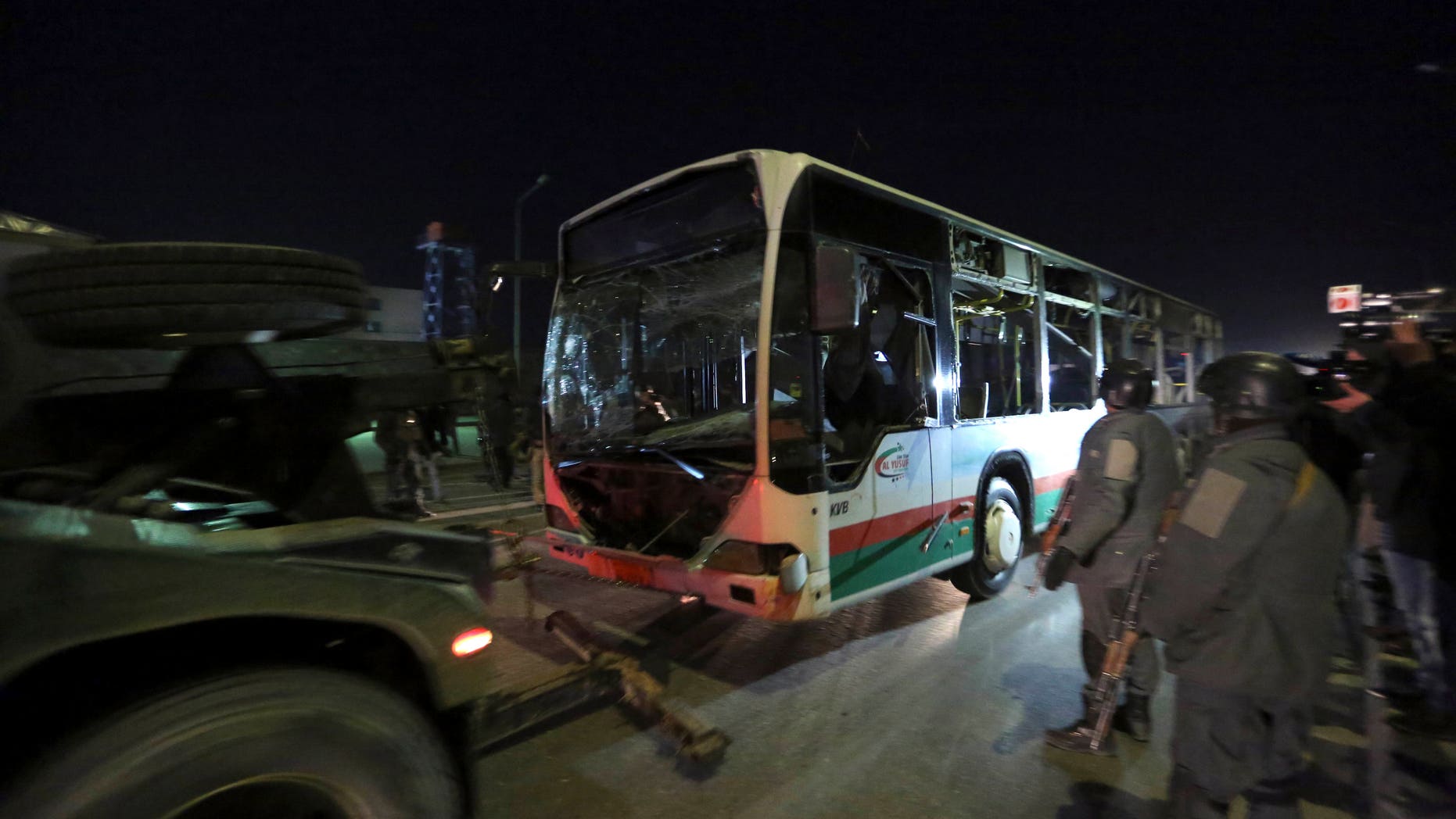 Two large bombings near government offices in Afghanistan's capital -- not far from the gates of the American University of Afghanistan -- killed at least 38 people Tuesday, including civilians and military personnel, officials said.
2016 WAS THE DEADLIEST YEAR ON RECORD FOR SUICIDE ATTACKS, ANALYSTS SAY
Another 72 people were wounded in the attack, Public Health Ministry official Mohibullah Zeer said.
"We've seen the reports of the explosions in Kabul this afternoon and we're monitoring the situation closely. We condemn any attack that seeks to undermine the Afghanistan government and undermine the government's efforts to create a peaceful, stable, secure Afghanistan," Brig. Gen. Charles Cleveland, a U.S. military spokesman in Kabul, told Fox News.
SUSPECTED BOMBER REPORTEDLY KILLED IN ATTEMPTED ATTACK IN TURKEY
In southern Afghanistan, another attack at a guesthouse belonging to the governor of Kandahar province killed five people and wounded 12. An ambassador from the United Arab Emirates and other UAE diplomats were among the wounded, authorities said.
A suicide bomber struck first in Kabul, followed by a car bomb, Interior Ministry spokesman Sediq Sediqqi said, adding that four police officers were among those killed.
The Taliban, waging a 15-year war against the U.S.-backed government, claimed responsibility for the attack, which unfolded near government and legislative offices.
Ghulam Faroq Naziri, a lawmaker from the western Herat province, said another MP from the same province, Rahima Jami, was wounded.
In the Kandahar attack, two explosions inside the governor's compound killed five people and wounded 12, including several officials and the United Arab Emirates diplomats, authorities said.
Among the wounded was Gov. Homayun Azizi, his spokesman said. The spokesman, Samim Khpolwak, who also was slightly wounded, said it was not yet clear what caused the blasts.
Also hurt was UAE Ambassador Juma Mohammed Abdullah al-Kaabi and "a number of Emirati diplomats," the UAE Foreign Ministry said in a statement. It had no other details on how many UAE envoys were wounded in what it called a "heinous" attack.
Earlier in the day, a suicide bomber struck in the southern Helmand province, killing at least seven people, said Gen. Agha Noor Kemtoz, the provincial police chief. The target of the attack was a guesthouse used by a provincial intelligence official in Lashkar Gah, the provincial capital, he said.
Those killed included civilian and military personnel, and six others were wounded in the attack, Kemtoz said. A car full of explosives turned up nearby.
No one claimed responsibility for the Helmand attack, but it bore the hallmarks of the Taliban.
Fox News' Conor Powell, Lucas Tomlinson and The Associated Press contributed to this report.