Trump's mixed signals on Puerto Rico add confusion to Ryan's debt relief efforts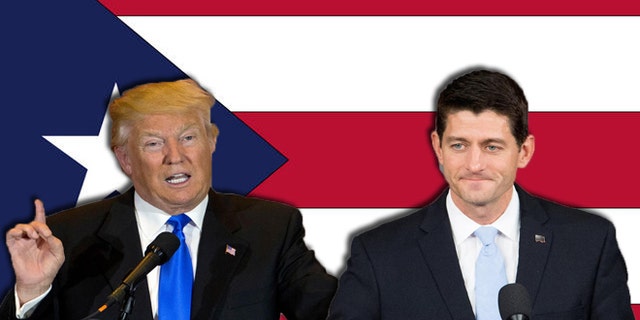 NEWYou can now listen to Fox News articles!
Donald Trump's recent comments about Puerto Rico have added more confusion to the House's effort to approve a debt relief package for the island.
In a pair of interviews over the last week, the presumptive Republican nominee laid out competing impressions on whether or not he actually supports the debt relief plan currently emerging from the House — a proposal that is one of Speaker Paul Ryan's biggest legislative priorities.
The bill being considered would create an outside control board for the U.S. territory's finances and also allow the island to restructure its $70 billion debt.
Trump first said last week that he opposes any form of bailout for Puerto Rico, but a day later appeared to somewhat contradict himself by saying that it appears inevitable that the island would have to restructure its debt.
"You can restructure the debt without a bailout," he told Fox News on Thursday. "You can restructure the debt. Bondholders are going to take a hit; let the bondholders take a hit."
The mixed message comes as tensions continue to simmer between Trump and Ryan after the Wisconsin lawmaker said he was not ready to back the billionaire's bid for the White House.
The last attempt to pass an aid package for Puerto Rico fell apart at the end of April.
Republican leaders in the House now say they are close to finishing the reworked legislation and that if the bill is not passed it could force hundreds of thousands of Puerto Ricans, who are American citizens, to move to the mainland.
"A lot of folks in Puerto Rico are going to have to come to the United States to make ends meet," former New Hampshire Sen. Judd Gregg who now represents a group of Puerto Rico bondholders, told the Hill. "Most of those folks getting started are going to have support from our social safety net, so it's going to cost our taxpayers money."
"It's really a profile in courage that the Speaker has taken on this issue," he added.
Puerto Rico missed a nearly $370 million bond payment last week, the largest in a series of missed payments since last year. The island has payments totaling nearly $2 billion due on July 1, including about $700 million in general obligation bonds that are supposed to be guaranteed under the island's constitution.
The Associated Press contributed to this report.
Like us on Facebook
Follow us on Twitter & Instagram