Trump attending dinner at birthplace of Winston Churchill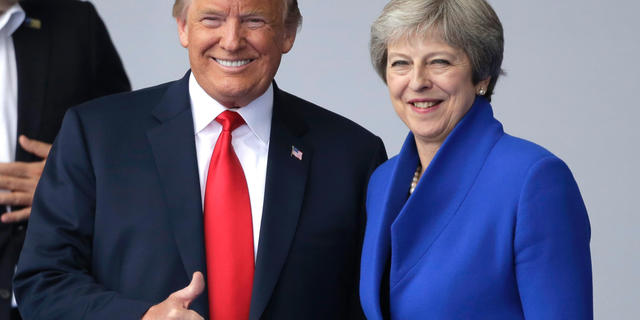 BRUSSELS – President Donald Trump is all in for Winston Churchill during his first visit to the United Kingdom as president, paying his respects to an icon of American conservatives who coined the phrase the "special relationship."
Trump was joining British Prime Minister Theresa May for a black-tie dinner Thursday at Blenheim Palace, Churchill's birthplace near Oxford, at the start of his trip to England. Trump has expressed admiration for Churchill even as the president's critics contend that the parallels between the two leaders are limited, and even contradictory.
"If Trump truly wanted to emulate Churchill, he would celebrate the peace and prosperity of Europe and seek to strengthen rather than destroy trans-Atlantic ties," said Amanda Sloat, a senior fellow at the Brookings Institution and a former State Department official in the Obama administration.
Trump was making his first trip to Great Britain as president after a tense summit with NATO leaders in Brussels that began Wednesday and on the heels of ruptures in May's government because of the crisis over Britain's exit from the European Union. Trump was largely steering clear of London, where protests are planned and where organizers had permission to fly a blimp over Parliament portraying the president as an orange crying baby.
For Trump, there has been no such tension with Churchill, who is revered by American conservatives for his stalwart leadership of Great Britain during World War II and his role in defeating the Nazis. During Trump's address at CIA headquarters, on his first full day as commander in chief, Trump noted that Churchill "doesn't come from our country but had a lot to do with it."
The president reinstalled a bust of Churchill in the Oval Office shortly after his inauguration and screened the 2017 film "Darkest Hour" at the White House last winter in a sign of his affinity for the British leader.
"The president knows how important the special relationship is firsthand and that's why the bust of Churchill is actually in the Oval Office as we speak. This is not an accident," said Woody Johnson, Trump's ambassador to the U.K. "He knows that he has an opportunity to make this special relationship even stronger."
Johnson said the gathering at Churchill's birthplace would be a "tribute to the great history behind our deep relationship."
In the weeks before the American president's inauguration, May sent Trump a copy of the text of Churchill's 1941 Christmas Eve radio address to Americans, delivered while the prime minister was staying with U.S. President Franklin Roosevelt after the attack on Pearl Harbor.
Churchill spent three weeks at the White House, cementing his close ties with Roosevelt and forming the basis for future relations between the U.S. and Great Britain.
During a 1946 speech at Westminster College in Missouri, Churchill described the alliance between the two nations as the "special relationship" that required not only "the growing friendship and mutual understanding" but also the "continuance of the intimate relationship between our military advisers, leading to common study of potential dangers."
Former House Speaker Newt Gingrich, the author of "Trump's America," said parallels can be drawn between Churchill's years in the wilderness during the 1930s and Trump's emergence in Republican politics from outside the establishment.
"'Darkest Hour' would appeal to Trump because it combines courageous self-direction, standing up to the old order, with an almost mystic sense of speaking for the people," Gingrich said in an email. "Both represent national patriotism."
Gingrich noted that in the darkest days, Churchill watched "That Hamilton Woman," the 1941 film about Britain's fight against Napoleon, "over and over and cried as Sir Laurence Olivier as (Lord Horatio) Nelson gave a stirring talk about saving England. Trump would share that level of national identity and patriotism."
___
Thomas reported from Washington.