Tropical Storm Karen Continues Push Toward Gulf Coast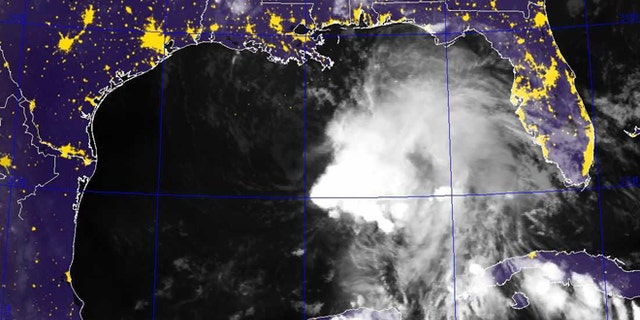 BRAITHWAITE, La. – While it may have weakened over night, Tropical Storm Karen continued chugging toward the northern Gulf Coast on Saturday, with forecasters predicting rain, potential flooding and a decrease in speed later in the day.
The National Hurricane Center reported early Saturday that Karen's maximum sustained winds had dropped to 40 mph, making it a weak tropical storm. It was moving north at 10 mph (16 kph), and center forecasters said in their advisory that they expect Karen to decrease in speed later Saturday and turn toward the northeast.
"This is certainly something that you can remain safe in — it's a lot weaker than it was, no chance of it becoming a hurricane — as long as you follow advice from local officials," Rick Knabb, the director of the National Hurricane Center, said.
Vulnerable areas of Louisiana remained under evacuation orders with possible high winds, heavy rain and storm-driven tidal waters still a concern in areas not protected by levees. More than 80 evacuees from Plaquemines Parish at the state's southeastern tip took refuge at a public shelter.
Elsewhere along the coast, some tourists ventured out onto beaches to watch the heavy surf.
Ray and Lynn Walls of Shepherdsville, Ky., had the beach to themselves Saturday on the western tip of Dauphin Island, Ala. It was sunny and mild as big waves pounded the seawall protecting nearby homes, and a locked gate blocked the entrance to a public beach that was closed because of Karen.
The trip had been planned for four people, but only two showed up, Ray Walls said. "The rest of them got a little scared of the storm."
A tropical storm warning is in effect from Morgan City to the mouth of the Pearl River, which forms part of the border between Louisiana and Mississippi. A tropical storm watch covers the New Orleans area and a stretch from east of the Pearl River's mouth to Indian Pass, Fla.
Forecasters expected the storm's center to be in the warning area Saturday night or Sunday morning, and they note that an increase in speed is possible Sunday. Rain accumulations of 1 to 3 inches over the central Gulf Coast and southeastern U.S. are possible through Monday night, with isolated totals up to 6 inches.
Karen began losing some of its punch late Friday, after a busy day of preparations along the Gulf Coast for the storm. Karen is a late-arriving worry in what had been a slow hurricane season in the U.S. Karen would be the second named storm to make landfall in the U.S. — the first since Tropical Storm Andrea hit Florida in June.
Alabama, Louisiana, Mississippi and Florida had each declared a state of emergency as of Friday. The Federal Emergency Management Agency and Interior Department recalled workers, furloughed because of the government shutdown, to deal with the storm and help state and local agencies.
And in low-lying areas of southeast Louisiana, pickups hauling boat trailers and flatbed trucks laden with crab traps evacuated. Officials in Plaquemines Parish, La., an area inundated last year by slow-moving Hurricane Isaac in 2012, ordered mandatory evacuations Friday, mostly on the east bank of the Mississippi River. The parish, home to oil field service businesses and fishing marinas, juts out into the Gulf of Mexico from the state's southeastern tip.
Guy Laigast, head of emergency operations in the parish, noted an earlier forecast with a westward tick. "The jog to the west has got us concerned that wind will be piling water on the east bank levees," he said. Overtopping was not expected, but the evacuations were ordered as a precaution, he said.
Evacuations also were ordered on Grand Isle, a barrier island community where the only route out is a single flood-prone highway, and in coastal Lafourche Parish.
Traffic at the mouth of the Mississippi River was stopped Friday in advance of the storm, and passengers aboard two Carnival Cruise ships bound for weekend arrivals in New Orleans were told they may not arrive until Monday.
In New Orleans, Sheriff Marlin Gusman announced that he had moved more than 400 inmates from temporary tent facilities to safer state lockups as a precaution. Mayor Mitch Landrieu said a city emergency operations center would begin around-the-clock operations Friday evening.
In the Plaquemines Parish town of Braithwaite, swamped last year by Isaac, Blake Miller and others hauled paintings and valuables to the upper floor of the plantation home he owns.
"We came out to move the antique furniture upstairs, board up the shutters, get ready. We don't know for what, we hope not much, but we have to be ready," Miller said.
"I'm not expecting another Isaac, but we could get some water, so I'm moving what I can," said Larry Bartron, a fisherman who stowed nets and fishing gear in his 26-foot fishing boat, which he planned to move inside the levee system.
Along the Mississippi, Alabama and Florida coasts, officials urged caution. Workers moved lifeguard stands to higher ground in Alabama and Florida. But there were few signs of concern among visitors to Florida's Pensacola Beach, where visitors frolicked in the surf beneath a pier and local surfer Stephen Benz took advantage of big waves.
"There is probably about 30 days a year that are really good and you really have to watch the weather, have the availability and be able to jump at a moment's notice," Benz said.
Based on reporting by The Associated Press.
Follow us on twitter.com/foxnewslatino
Like us at facebook.com/foxnewslatino