Hurricane, Tropical Storm Threaten Mexico On The Eve Of Independence Celebrations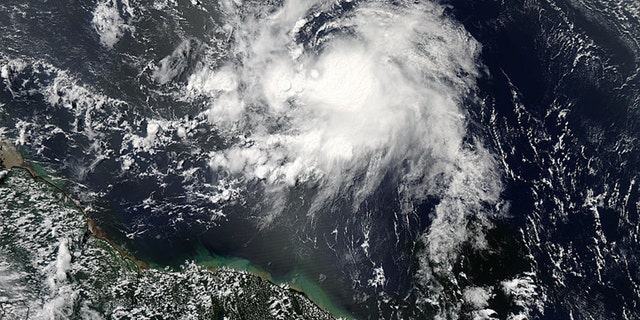 Amid the threat of heavy rains, dangerous flash floods and mudslides thousands on Mexico's Gulf rim sought shelter from Tropical Storm Manuel and approaching Hurricane Ingrid, giving the country a one-two punch on its planned celebrations in observance of Independence Day.
The U.S. National Hurricane Center in Miami said Ingrid, the second hurricane of the Atlantic storm season, could reach the Mexican mainland early Monday after gathering strength over the warm waters of the Gulf of Mexico. It was packing top sustained winds of 85 mph (140 kph) as it slowly crawled toward land with little change in strength in hours.
Manuel, sustaining maximum winds of 70 mph (120 kph), was about 75 miles (120 kilometers) from the Pacific coast near the Mexican port city of Lazaro Cardenas early Sunday. Forecasters said that storm was moving toward imminent landfall over the coming hours.
The Mexican government late Saturday issued a hurricane warning for the country's Pacific Coast from Lazaro Cardenas to Manzanillo. The storm was expected to rapidly weaken once it began heading into the Mexican interior through the afternoon.
Forecasters warned, meanwhile, that both storms presented dangers.
Manuel was expected to dump 10 to 15 inches of rain over parts of the Mexican states of Oaxaca and Guerrero with maximums of 25 inches possible in some isolated areas. Authorities said those rains would present an especially dangerous threat in mountains, where flash floods and mudslides were possible.
Hurricane Ingrid also was expected to dump very heavy rains. It was centered Sunday about 150 miles (240 km) east of Tampico, Mexico, and moving northwest at 7 mph (11 km). A hurricane warning from Ingrid was in effect from Cabo Rojo to La Pesca.
In Tamaulipas state to the north, where Ingrid is expected to make landfall, the government said in a statement that Independence Day festivities were cancelled in the cities of Tampico, Madero and Altamira. The Sept. 15 and 16 celebrations commemorate Mexico's battle of independence from Spain.
Officials in the Gulf state of Veracruz began evacuating coastal residents Friday night, and civil protection authorities said that more than 5,300 people had been moved to safer ground. Of those, about 3,500 people were being housed in official shelters with the rest staying with family and friends. There were no immediate reports of injuries blamed on the storm.
More than 1,000 homes in Veracruz state have been affected by the storm to varying degrees, and 20 highways and 12 bridges have suffered damages, according to the state's civil protection authority.
A bridge collapsed near the northern Veracruz city of Misantla on Friday, cutting off the area from the state capital. Thirteen people died when a landslide buried their homes in heavy rains spawned by Tropical Depression Fernand on Monday.
State officials imposed an orange alert, the highest possible, in parts of southern Veracruz.
Based on reporting by the Associated Press.
Follow us on twitter.com/foxnewslatino
Like us at facebook.com/foxnewslatino