The Latest: Syrian fire hits Golan during Netanyahu visit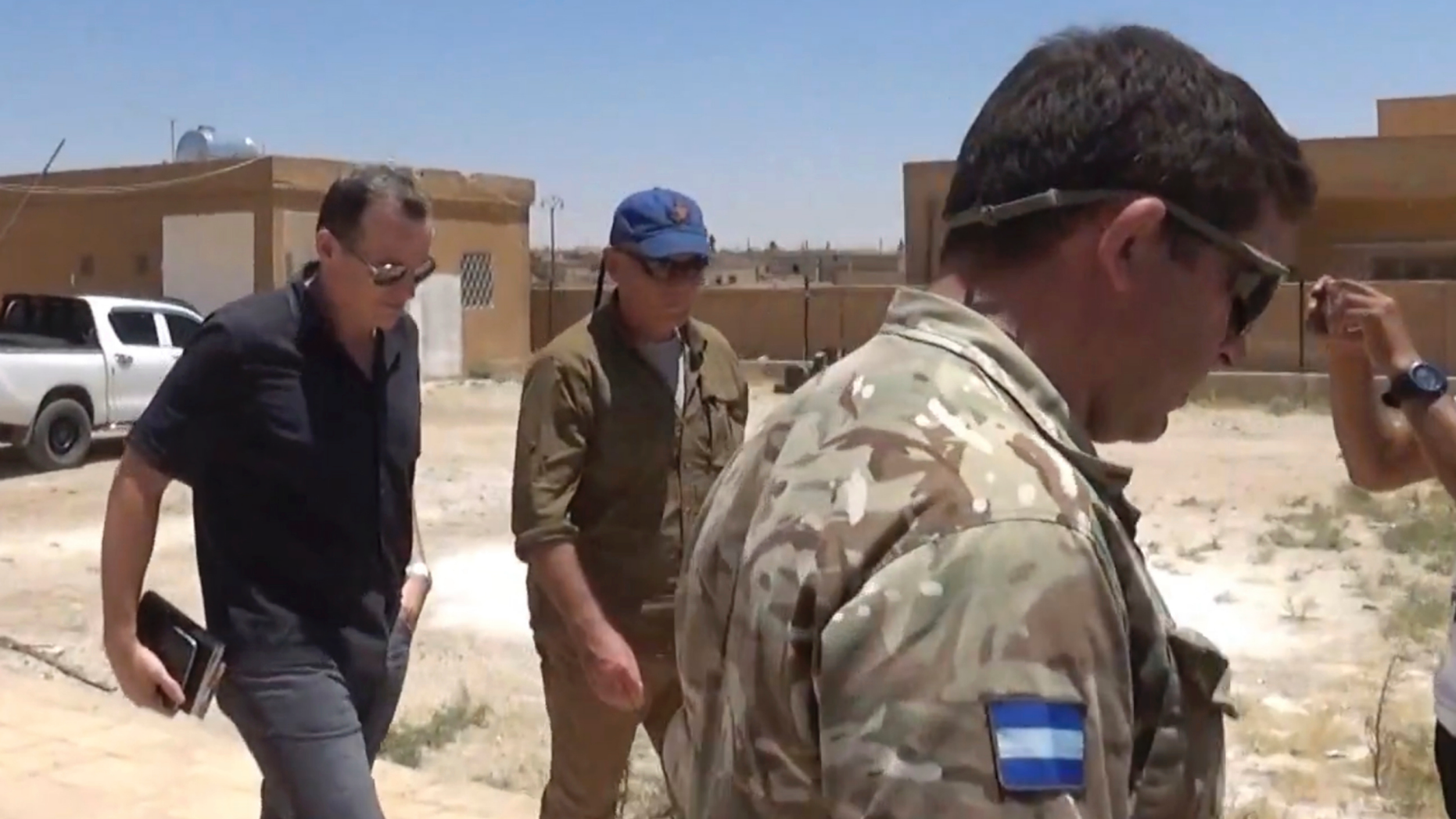 ANKARA, Turkey – The Latest on the conflict in Syria (all times local):
11:30 p.m.
Israel's military targeted a Syrian military post that fired a mortar into the Israeli-controlled side of the Golan Heights during Prime Minister Benjamin Netanyahu's visit to the area.
Netanyahu was visiting an Israeli town in the Golan Wednesday. He said Israel's policy is "whoever attacks us, we will attack him."
The military said the mortar was "errant fire" from Syria and landed in an open area causing no injuries near the border, far from where Netanyahu visited.
It was the latest shell in several such incidents this week.
Israel has tried to stay out of the six-year civil war in Syria. It has carried out airstrikes on suspected weapons convoys to Hezbollah, whose Iran-backed militants are fighting in Syria.
Israel captured the Golan Heights from Syria in the 1967 war.
___
9:30 p.m.
Turkish officials say U.S. Defense Secretary Jim Mattis has told his Turkish counterpart that Washington's decision to back Syrian Kurdish fighters battling Islamic State militants in Syria was out of "necessity" and not by choice.
Mattis met with Turkish Defense Minister Fikri Isik in Brussels on Wednesday ahead of a NATO meeting.
Turkey has been angered by a U.S. decision to arm Syrian Kurdish fighters which Ankara says are affiliated to Kurdish militants fighting Turkey.
Turkish defense officials said in a statement that Isik reiterated Turkey's concerns to Mattis. They quoted Mattis as telling Isik that Washington's ties to the Kurdish fighters were a "temporary, short-term arrangement that derives from necessity and not from choice."
Last week, Turkish officials said Washington pledged to reclaim weapons provided to the Kurds.
___
7 p.m.
The U.N. human rights chief is urging world powers fighting the Islamic State group in Raqqa to review their operations after his office tallied at least 173 civilian deaths by air and ground strikes in the Syrian city this month.
Zeid Ra'ad al-Hussein says the "conservative estimate" of the civilian death toll since June 1 comes as up to 100,000 others remain "effectively trapped" in Raqqa.
Zeid, a prince from neighboring Jordan, also cited "worrying reports" about looting, abductions, arbitrary detention, and "the recruitment of children" by the U.S.-backed Syrian Democratic Forces in areas they control — like the town of Tabqa.
In Raqqa, intense bombardment has left civilians "confused about where they can seek refuge as they are caught between ISIL's monstrosities and the fierce battle to defeat it," the rights chief said in a statement.
He said civilians "must not be sacrificed for the sake of rapid military victories," and urged all sides to help civilians who wish to flee the fighting to do so safely. 1
___
5:15 p.m.
The top U.S. envoy for the international coalition combatting the Islamic State group has met with members of a local council expected to administer the city of Raqqa in Syria following its capture from the militants.
A member of the Raqqa Civil Council, Abdullah el-Erian, told the Kurdish-run ANHA news agency, that Brett McGurk's visit Wednesday is an "important message" as the U.S- backed fight to seize Raqqa continues. The two-hour meeting took place in Ayn Issa, a town about 30 miles north of Raqqa city, where the council is based.
Details of the meeting were not immediately available. The fight for Raqqa began in earnest in early June, as Kurdish-led forces, backed by airstrikes from the international coalition, slowly advanced on several neighborhoods of the city considered the de-facto capital of the militant group.
The local council was formed in April, including Arab and Kurdish local leaders, and has been assuming its duties to administer liberated areas in the province.
___
2:45 p.m.
Activists say a cluster bomb attack on an Islamic State-held village in eastern Syria has killed at least 15 people, including women and children.
Two Syrian monitoring groups, Deir Ezzor 24 and Justice For Life, say the weapons were dropped by an unidentified jet over Doblan, a village on the Euphrates River. Russian, Syrian, and U.S.-led coalition aircraft are all known to fly sorties in the area.
Cluster bombs are designed to spread small bomblets across a wide area. But many fail to explode, endangering civilians long after the fighting has ended.
Omar Abou Layla, the head of Deir Ezzor 24, says the bodies of 15 victims have been recovered in the village. He said residents expect to find many more killed.
The Britain-based Syrian Observatory for Human Rights put the initial toll at 30 dead.
At least 57 people were killed in an airstrike on an IS-run jail in the Euphrates River Valley on Monday.
___
9:30 a.m.
Turkey's military says it has returned fire after a cross-border attack by Syrian Kurdish forces.
A statement Wednesday said the People's Protection Units, or YPG, fired on Turkish territory overnight with anti-aircraft weapons from Syria's Afrin region. Turkish artillery units returned fire, destroying the "detected targets."
The YPG is the main component of the Syrian Democratic Forces, a U.S.-backed militia that is battling the Islamic State group in the extremists' de facto capital, Raqqa. Turkey views the YPG as an extension of the Kurdish insurgency raging in its southeast.
Turkey was angered by a U.S. decision last month to arm the Syrian Kurds, fearing the weapons will end up in the hands of Kurdish rebels in Turkey.