The Latest: France has long been a target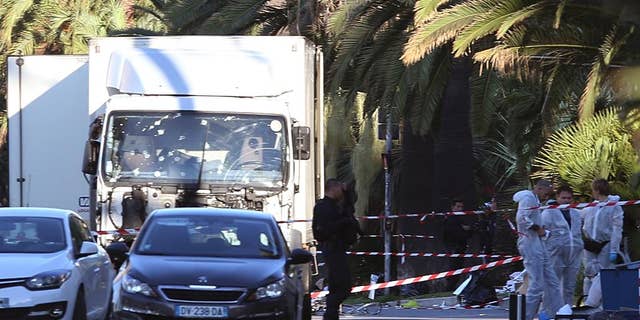 NEWYou can now listen to Fox News articles!
NICE, France – The Latest on a truck that drove into the crowd in Nice (all times local):
7 a.m.
France, hit with two waves of attacks last year that killed 147 people, has long known it is a top target for the Islamic State group. In September 2014, then-spokesman Abu Mohammed al-Adnani referred to "the filthy French" in a statement telling Muslims within the country to attack them in any way they could, including "crush them with your car."
The message was not limited to France. It addressed "disbelieving Americans or Europeans — especially the spiteful and filthy French — or an Australian or a Canadian."
___
4:30 a.m.
French Interior Minister Bernard Cazeneuve says 80 people have died in the truck attack on the seaside avenue of Nice, and 18 people are in critical condition.
Numerous others have been wounded, he said after traveling to the scene.
"The identification of the criminal is in progress," he said, refusing to confirm reports that an ID card was found after police shot the truck driver dead.
"We are in a war with terrorists who want to strike us at any price and in a very violent way," the minister said.
___
4:15 a.m.
President Francois Hollande says he will call a defense council meeting Friday that brings together defense, interior and other key ministers, before heading to Nice.
Besides ensuring continuation of the state of emergency and the Sentinel operation that puts 10,000 soldiers on patrol, he said he was calling up reserve to help police, particularly at French borders.
___
4 a.m.
French President Francois Hollande says "the terrorist character" of the Bastille Day truck attack in Nice cannot be denied.
Hollande confirmed that 77 people, including some children, were killed when the truck drove through the crowds who had just watched a fireworks display on seafront in the city. He said 20 wounded people are in critical condition.
Just hours after announcing in the traditional Bastille Day interview that the state of emergency, in place since November attacks that killed 130 in Paris, was to be removed, Hollande said it must be extended for three months. That decision will need parliamentary approval.
He also said other measures will be put in place to counter the threat.