The Latest: 2 German students, teacher dead in truck attack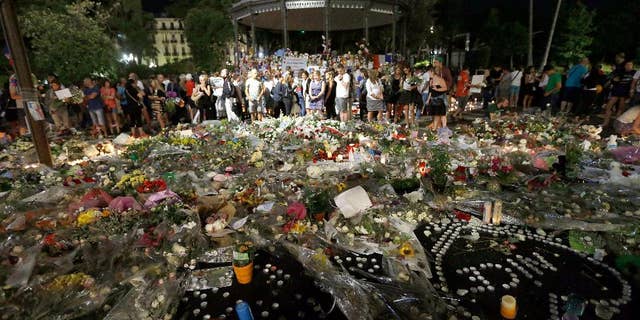 NEWYou can now listen to Fox News articles!
NICE, France – The Latest on the Bastille Day truck attack in Nice, France, that killed 84 people (all times local):
12:15 p.m.
Germany's foreign minister says two students and a teacher from a school in Berlin died in the Bastille Day attacks on the French Riviera.
Another student was injured and continues to receive treatment.
Foreign Minister Frank-Walter Steinmeier says "This terrible attack shows that terror is directed against everyone without distinction."
Eighty-four people were killed when Tunisian Mohamed Lahouaiej Bouhlel drove through crowds watching fireworks on Nice's famed Promenade del Anglais.
Fifty-nine people are still hospitalized, 29 of them in intensive care.
___
12:05 p.m.
The Estonian Foreign Ministry says that two of the 84 people killed in the Nice truck attack were Estonians.
The ministry said it had received confirmation of their deaths late Monday from French officials but it did not identify them or provide any details.
Earlier, the ministry had said that three Estonians were among those injured in the attack.
The Baltic News Agency identified one of the victims as Rickard Kruusberg, age 21, who attended an innovation academy program in Nice. The other victim was a woman who had been on holiday with her husband, daughter and grandchildren, BNS said.
___
11:25 a.m.
Italy says five of the 84 dead in the Nice truck attack were Italians, including two couples celebrating a recent retirement.
The Foreign Ministry identified the dead as Maria Grazia Ascoli, 77, and Mario Casati, 90, of Milan; Angelo D'Agostino, 71, and his wife Gianna Muset, 68, both of Voghera; and Carla Gaveglio, 48, of Piasco, in the Piedmont region.
Italian news reports said Ascoli and Casati, along with D'Agostino and Muset, had traveled to Nice together to celebrate D'Agostino's retirement.
In a statement Tuesday, the Foreign Ministry said French authorities had formalized the identification overnight. It said the families had been notified and that the ministry expressed its solidarity "to the family and friends of the victims of the barbarous attack."
___
10:05 a.m.
Joggers, cyclists and sun-seekers are back on Nice's famed Riviera coast, a further sign of normal life returning on the Promenade des Anglais where dozens were killed in last week's Bastille Day truck attack.
Under a blazing sun, there were few visible reminders of the carnage, save for a handful of flags flying at half-staff and a number of armed soldiers patrolling the promenade.
Some of Nice's beachside restaurants were reopening for business on Tuesday, and the final section of the Promenade des Anglais was set to reopen to traffic following three days of official mourning.
Late Monday evening, mourners formed a human chain to remove candles, flowers and other mementos honoring the victims of the attack, when Tunisian Mohamed Lahouaiyej Bouhlel drove through crowds watching fireworks.